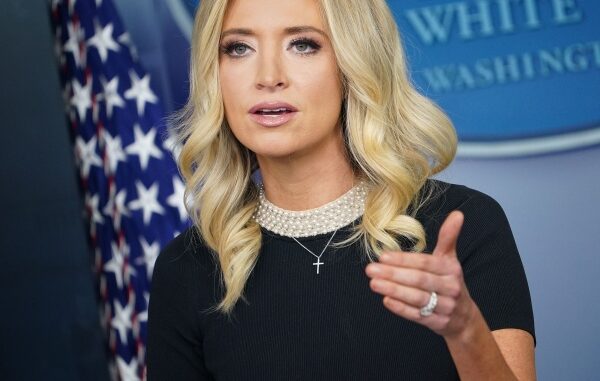 The numbers of President Donald Trump's voters were underestimated in 2016 and they're also being underestimated now, and that could lead to a win for him on Election Day, White House press secretary Kayleigh McEnany said Wednesday.
"When you look at the polling and when you look at polls that don't specifically ask the head to head matchup question of Trump versus [Joe] Biden, what you see are on questions like, 'Are you better off now than four years ago?' 56% tell Gallup, 'yes,'" McEnany said on Fox News' "Fox and Friends." "When people say, 'Who's your neighbor voting for?' This was a Fox article a few weeks ago, by a 10-point margin, the president wins."
Also, internal polling is showing that the race is much closer than what published polls are showing, said McEnany. 
She also commented on the ongoing controversy concerning Twitter's blocking of the New York Post story concerning Hunter Biden and a laptop said to contain several damaging emails and photographs, noting that she was locked out of her own account for trying to post the article.
"This is a New York Post story, the oldest newspaper in the country, the fourth-largest newspaper in the country," McEnany said. "Fox News has had sourcing that has verified this. These are major outlets, and they censor it and hide it from the more than people because they don't think the American people can recognize truth, can think for themselves, so they must censor one side of the aisle."
She agreed that people should be able to post their opinions on social media and let the public decide what they believe.
"That is the American way," she said. "That is what we do in the public square where we give our opinion and we jostle and have our ideas and go back and forth … Big Tech is acting like big government. That is what is done in North Korea, that is what is done in Iran and rogue regimes. That is not what should be done in the United States of America where we value free expression."
Via Newsmax