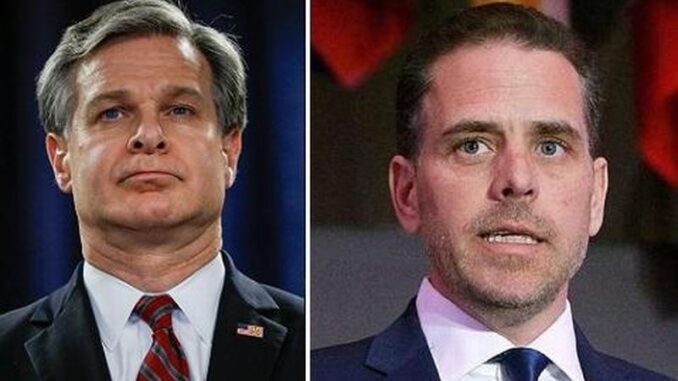 Senate Homeland Security Committee Chairman Ron Johnson (R-WI) has fired off a Saturday letter to FBI Director Chris Wray demanding answers over the agency's handling of Hunter Biden's laptop.
According to the letter, after Johnson released his a report on Hunter Biden's activities abroad which raised "counterintelligence and extortion concerns," Johnson's committee was contacted by a whistleblower – ostensibly Delaware computer shop owner John Paul Mac Issac – who "informed my staff that he had possession of a laptop left in his business by Hunter Biden."
Issac told Johnson that "he provided its contents to the Federal Bureau of Investigation (FBI) in response to a December 9, 2019 grand jury subpoena," to which the FBI responded that they "would not confirm or deny any information identified by the committee."In other words, Wray's FBI stonewalled when confronted with direct questions by the Senate Homeland Security Committee.
To review the timeline – according to an associate of Issac, Hunter Biden left three laptops at the repair shop on April 12, 2019. In September of 2019, after Hunter failed to respond to come pick them up, Issac walked into the FBI office in Albuquerque, New Mexico and spoke with an agent.
Two months later, while Democrats were holding Trump-Ukraine impeachment hearings, two FBI agents from the Wilmington, DE office, Joshua Williams and Mike Dzielak, paid Issac a visit. He offered them one of Biden's hard drives, which they declined to take with them. Two weeks later, they came back with a subpoena for the drive.
After months of silence from the FBI, Issac contacted Rudy Giuliani and offered him a copy of the drives.
The FBI, of course, is laughably investigating the Hunter Biden emails as a potential Russian influence operation despite the above timeline.
Johnson, meanwhile, asks the FBI the following questions:
1. Does the FBI possess material from Hunter Biden's laptop(s)? If yes. how and when did the FBI obtain this information?
2. Is it accurate that FBI officials obtained contents from Hunter Biden's laptop from a business located in Delaware? If so:
When did the FBI first examine these records?
Has the FBI concluded its examination of these records?
Has the FBI found any evidence of criminal activity based on its examination of these records?
Has the FBI determined whether the records on the computer was generated on that computer. Is genuine, or has been altered in any way?
Has the FBI determined whether these records were generated or authored by Hunter Biden?
Has the FBI determined whether these records are a result from someone hacking Hunter Biden's computer?
3. Is it accurate that the FBI issued a grand jury subpoena from the U.S. District Court for the District of Delaware to obtain this information? If so, when and why was this subpoena issued? Was this information ever offered to the FBI voluntarily?
4. When and how were you made aware that the Delaware computer repair shop owner possessed a computer and its electronic contents that he claimed originally belonged to Hunter Biden?
5. In addition to these records allegedly provided in response to a subpoena, has the FBI ever been in possession of any other of Hunter Biden's laptops) or material from Hunter Biden's laptop?
Via ZeroHedge