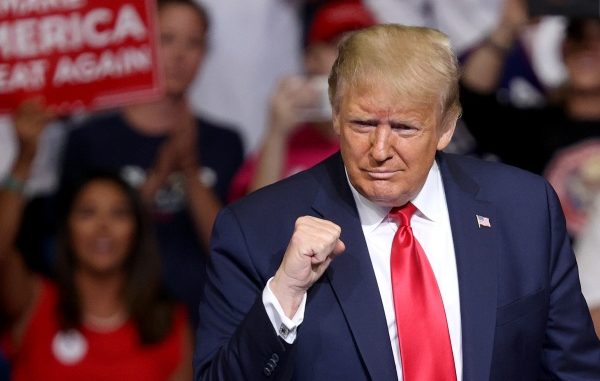 The Trump campaign will request a recount in too-close-to-call Wisconsin.
Democrat presidential candidate Joe Biden leads President Donald Trump in the battleground state, 49.6% to 48.9%, with 95% of the votes counted.
No networks have called the state for Biden. The winner picks up 10 key Electoral College votes.
"Despite ridiculous public polling used as a voter suppression tactic, Wisconsin has been a razor thin race as we always knew that it would be," Bill Stepien, Trump campaign manager, said in a statement.
"There have been reports of irregularities in several Wisconsin counties which raise serious doubts about the validity of the results. The president is well within the threshold to request a recount and we will immediately do so."
A candidate who is within 1% of the winner can request a recount in Wisconsin after the Wisconsin Election Commission completes the canvass from county election boards.
Biden's team was confident of a win in Wisconsin.
"We are going to win Wisconsin, recount or no recount," Biden campaign manager Jen O'Malley Dillon said on a Zoom call with reporters.
Trump, who became the first Republican candidate to win Wisconsin in more than three decades when he defeated Hillary Clinton by less than 30,000 votes, will have to pay about $3 million for the recount unless the margin is less than one quarter of a percent, according to The New York Times.
Bob Bauer, a Biden campaign adviser and former White House counsel, told Politico Wednesday that there is no legal basis for Trump to challenge the ballots. He also said lawsuits filed in Nevada, Pennsylvania, and other states alleging irregularities and seeking to disqualify ballots were without merit.
"Time and again, Republicans enter into the judicial process, and have from the very beginning, to stall the count, to disqualify ballots and undermine the process and the president's statement last night was the last in that venture," Bauer said. "If at some point he arrives before the Supreme Court with a novel proposition that ballots that were lawfully cast by eligible voters, but not yet counted by the time Donald Trump wanted them counted, that somehow they don't count anymore, he will be in for one of the most embarrassing defeats a president ever suffered before the highest court of the land."
Via Newsmax