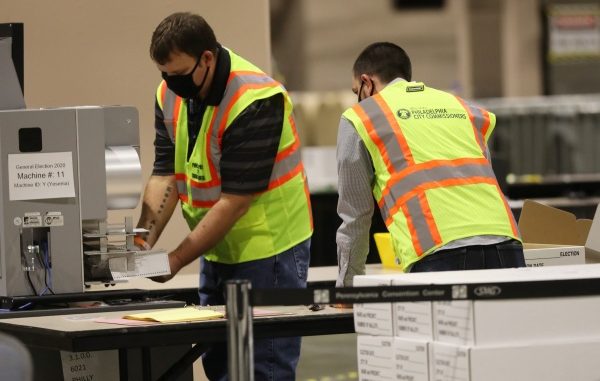 Trump 2020 campaign pollster Jim McLaughlin Wednesday accused officials in Philadelphia of trying to steal the election by stopping the vote count there Tuesday and insisted that the race between President Donald Trump and Democrat nominee Joe Biden is "not even really that close."
"Our polls were right," McLaughlin told Fox Business' Maria Bartiromo. "This was going to happen. We thought all along this president was going to win a close, competitive election."
Trump was up by 600,000 votes in Pennsylvania, McLaughlin said, or nearly 12 percentage points, 55% to 44%, but then the decision to stop the count in Philadelphia hit.
"I'm just looking at President Trump's lead," he said. There's no way they should be able to make that up."
Stopping the vote count was "like a sports team calling a time out," said McLaughlin. "That's what they did right there to try to figure out what to do to get enough votes out of Philadelphia to steal this thing."
The Philadelphia city commissioners, the elected officials who oversee elections, said Wednesday that ballots will continue to be counted after experiencing a delay with counting in-person votes Tuesday, reports ABC affiliate WPVI in Philadelphia.
As of about 10 a.m. Wednesday, roughly 141,000 mail-in ballots had been counted, with more than 200,000 to go.
Meanwhile, Republicans and a voter have filed a federal lawsuit accusing officials in suburban Philadelphia's Montgomery County of illegally processing mail-in ballots before Tuesday to allow voters to fix problems with their ballots. A federal judge set a hearing for Wednesday to stop the count of 49 ballots that were changed.
McLaughlin accused the national media of "being in on" the push to elect Biden.
"These are the same people giving us the bogus polls telling us we're going to have a Biden landslide," he said. "Why can't they count votes in Philadelphia? You have a partisan attorney general trying to put his finger on the scale there. He's announcing a Biden victory even before the votes are cast."
McLaughlin said it "makes no sense" what is going on but pointed out that at one time, he worked for former Philadelphia Mayor Frank Rizzo, a Democrat-turned-Republican.
"He used to warn us all the time about all the Democrat cheating that went on there," he said. He added that also in Philadelphia Wednesday, Republican poll watchers were being turned away from polling places in the city.
Via Newsmax