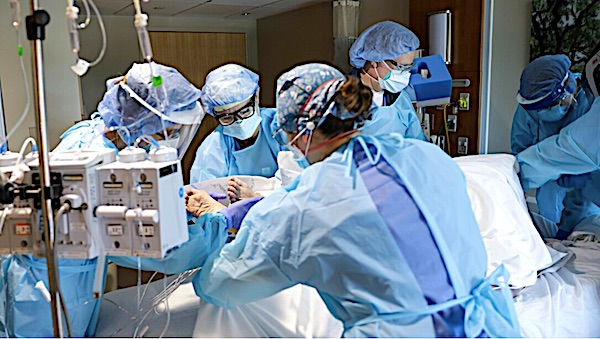 Some hospitals receiving federal Medicare and Medicaid funding say they have been forced to scale back on services and face being shut down due to severe staff shortages caused by the Biden administration's vaccine mandate.
Administrators in hospitals across the nation face a dilemma, Just the News reported, unable to sustain either the loss of federal funding or the loss of staff.
At Brownfield Regional Medical Center in Texas as much as 25% of the staff will be lost, according to CEO Jerry Jasper.
But the hospital also cannot afford to lose its Medicare and Medicaid money, which comprises about 80 to 85% of its funding due to the high poverty levels in its community.
Lewis County General Hospital in New York is no longer delivering babies because six maternity unit employees resigned to avoid getting the COVID-19 vaccine, reported WWNY-TV. Seven other maternity unit workers are undecided.
Lewis County Health System CEO Gerald Cayer said 165 hospital employees have not received a COVID-19 vaccine, which is 27% of the workforce.
On Monday, New York Democratic Gov. Kathy Hochul declared a state of emergency ahead of the state's deadline for medical workers to receive their first COVID-19 shot, allowing out-of-state licensed health-care workers and National Guard medical workers to try to fill the gap.
A day earlier, Hochul told worshippers at Christian Cultural Center in Brooklyn that people who choose not to be vaccinated are not "listening to God."
Some 175 workers for the North Carolina-based hospital system Novant Health who refused to be vaccinated were fired Monday.
Gundersen Health System, based in La Crosse, Wisconsin, is facing a severe shortage, with about 15% of its 7,600 employees choosing not to get vaccinated, reported Wisconsin Spotlight.
A nurse who has been at Gundersen for about 10 years told the Spotlight that colleagues who have been there for as many as three decades said they've never seen a staffing situation that bad.
"Rooms can't get clean towels and sheets. The cafeteria is serving cold cut sandwiches and peanut butter and jelly because they don't have enough people to serve hot meals," the nurse said.
Some leaders in the health-care industry are calling on the Biden administration to address the shortage. The CEO of the National Rural Health Association, Alan Morgan, advocates drawing from the U.S. Public Health Service, the National Guard or the Federal Emergency Management Agency to help rural hospitals, NPR reported.
The American Nurses Association sent a letter to Department of Health and Human Services Secretary Xavier Becerra warning "it is imperative that the Administration acknowledge and take concrete steps to address … a crisis-level human resource shortage of nurses that puts our ability to care for patients in jeopardy."
The association urged the administration to "declare a national nurse staffing crisis and take immediate steps to develop and implement both short- and long-term solutions."
Here's Who Actually Makes Costco Kirkland Products (No.1 Will Surprise You)
MoneyWise.com
The vaccine mandate for health-care workers "absolutely creates a challenge," Centers for Disease Control and Prevention Director Rochelle Walensky told "Good Morning America" on Monday.
"What I would say is [we need] to do some work, to educate these healthcare workers, to meet them where they are, to understand where their hesitancy is so we can get them vaccinated and get them back to work," she said.
Via Wnd