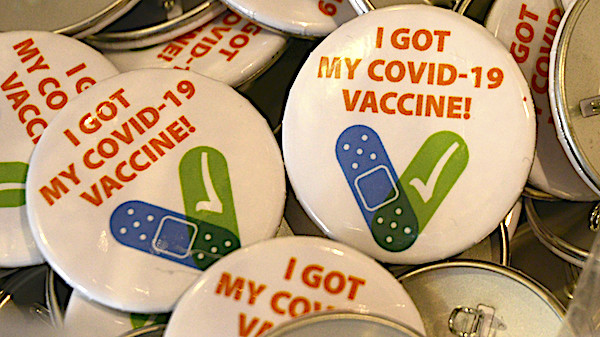 Presenting a chart showing the timeline of coronavirus cases and deaths in relation to the COVID-19 vaccines, Sen. Ron Johnson, R-Wis., argued on the Senate floor that the vaccines are not working as advertised.
Johnson showed in his remarks to colleagues Wednesday that the number of coronavirus cases and deaths had dropped significantly before the vaccine was introduced, the Gateway Pundit reported.
Deaths surged again this summer, he pointed out, while the rate of vaccination spiked in early in 2021 and now is about 60% of the population.
"Our federal agencies have not been transparent. They have not given the American public information that we need to make an informed choice," he said.
On Wednesday, Johnson unveiled new legislation that would block federal vaccine mandates by utilizing the Interstate Commerce Clause of the U.S. Constitution.
"The Biden administration's decision to mandate vaccines for working Americans is an outrageous trampling of civil liberties and a dangerous precedent for what a U.S. president can unilaterally impose on the American public," Johnson said in a statement.
"The American people deserve transparency and as much information as possible from the federal government so they may make an informed choice about their own health," he said.
See Johnson's presentation to the Senate:
Our federal agencies have not been transparent. They have not given the American public information that we need to make an informed choice. pic.twitter.com/MuVFjIj5Kd

— Senator Ron Johnson (@SenRonJohnson) September 30, 2021
This is misinformation. An overwhelming amount of evidence shows long lasting protection from previous infection. This is not just about COVID. This is what the state of science has been with previous viruses for years. Almost every study shows it holds up. https://t.co/XqAHG6TR0q

— Kyle Lamb (@kylamb8) September 29, 2021
In an op-ed Wednesday for the Washington Times, Johnson questioned the science behind the COVID-19 vaccine mandates and argued they are exacerbating social divisions that will only increase the harms caused by the pandemic.
"Those who have asked questions have been vilified, scorned, suppressed, and censored," he wrote. "There is so much about how governments and societies have responded to the pandemic that simply makes no sense, so legitimate questions and public skepticism continue to grow."
He said the "COVID-19 gods" — federal agencies, mainstream media and social media — insist "they alone represent science, and any other interpretation of data or opinion is labeled dangerous misinformation."
This "Food Add-on" Manages Blood Sugar with Every Bite
Trending Reports
"This attitude contradicts what we've generally been told regarding any serious medical diagnosis: 'Always try to get a second or even third opinion.' Such advice makes sense because every human body is different and reacts differently to medical treatments and drugs, and no one doctor has perfect information. "
He said that unlike the NIH, CDC and FDA, many physicians have been treating COVID patients with vaccine injuries.
The senator argued the data show COVID-19 vaccines reduce the severity of symptoms and the chance of death but do not prevent infection or transmission.
A new study by researchers at the University of California at Davis found found no difference in COVID-19 viral loads between the vaccinated and the unvaccinated, and the symptomatic and the asymptomatic.
Johnson asked: "Since both the vaccinated and unvaccinated can transmit COVID-19, what is the rationale for discriminating against the unvaccinated and imposing such a freedom-robbing mandate?"
Because there is "much we don't know about the coronavirus, COVID-19 and COVID-19 vaccines," Johnson wrote, a "little modesty on the part of those in authority admitting they don't possess perfect knowledge or policy prescriptions would be welcome."
Despite the vaccination campaign, more than half of restaurant operators surveyed by the National Restaurant Association say that business conditions are worse now than three months ago, CNBC reported
Broadway's "Aladdin" shut down Wednesday due to breakthrough cases among the cast and crew.
On Thursday, Melbourne's COVID-19 cases surged to record levels despite a hard lockdown to combat the delta variant that neared two months.
Via Wnd