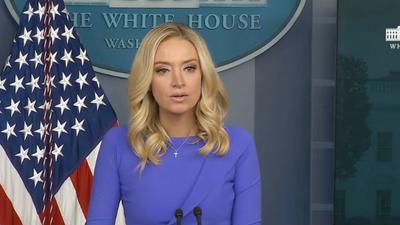 Speaking during a press briefing on Tuesday called to celebrate the start of the vaccination rollout, White House Press Secretary Kayleigh McEnany slammed the MSM for rebutting Trump's campaign claims (later vindicated) that a COVID-19 vaccine would be ready within weeks, while also affirming that President Trump still doesn't accept the results of the election.
Though SCOTUS declined to hear court challenges to various swing state counts before yesterday's Electoral College vote, the vote has reportedly – according to the MSM, at least – precluded the possibility of more challenges, although Trump and his team are still pushing ahead with some legal efforts, McEnany said.
She refused to say whether or not Trump accepts the results, once again withholding an admission of defeat, which the combative White House Press Corp has been eager to hear (and not because it might 'restore faith in Democracy').
"The President is still involved in ongoing litigation related to the election. Yesterday's vote is one step in the constitutional process," she added, before referring the reporter to the campaign for more information on that.
Pressed about this morning's comments from Mitch McConnell congratulating Biden on the electoral college vote, McEnany said she hadn't yet touched base with President Trump about that.
Moving on to the purpose of the briefing, McEnany told a reporter that Trump would be "open" to taking the vaccine (despite having already been infected and claiming to be immune), though she added that several senior officials (whom she didn't specify) will be taking it publicly to help "instill confidence".
Trump will wait for the advice of his medical team since he already has the monoclonal antibodies, McEnany said, added that the president sees "our long-term care facility residents and our front line workers are paramount and important".
Meanwhile, Joe Biden tweeted earlier that he had spoken with Mitch McConnell, and that he is looking forward to working with the GOP leader with whom he has a close and cordial friendship.
Biden says "I had a good conversation with Mitch McConnell today." He added: "I called him to thank him for the congratulations." Biden said that the two have always been straight with one another, and that they'd agreed they'd get together "sooner than later," via @sarahmucha

— Manu Raju (@mkraju) December 15, 2020
While MSNBC would have readers believe that the GOP is now abandoning Trump en masse now that Mitt Romney has also congratulated Biden on his victory (for like the 12th time)…
.@PressSec is lashing out at the press while one Republican after another is acknowledging that President Trump lost the election.

And now, Sen Alexander is calling on Trump to concede. https://t.co/pxxWGulZdm

— Yamiche Alcindor (@Yamiche) December 15, 2020
…the reality is much more complicated, as Sen. Rick Scott just affirmed.
Rick Scott, a Florida Republican, would not say if he views Biden as president-elect. He did say that the electoral college has voted and "there will be a smooth transition of power on the 20th of January." McCarthy and Scalise have not acknowledged Biden's win

— Manu Raju (@mkraju) December 15, 2020
Bottom line: McConnell's comments don't matter nearly as much to voters as Trump's comments do. And Trump has yet to acknowledge the Elecotral College vote or call Biden to concede or invite him to the White House, as is custom during the transfer of power. Some say he is refusing to concede, others that he is refusing to submit.
Meanwhile, McConnell is due to speak to reporters in short order as negotiations over spending and COVID-19 relief measures continue.
Readers can watch the full briefing below:
LIVE: @PressSec holds a briefing https://t.co/bBSwpPTQ28

— The White House (@WhiteHouse) December 15, 2020
Via Zero Hedge