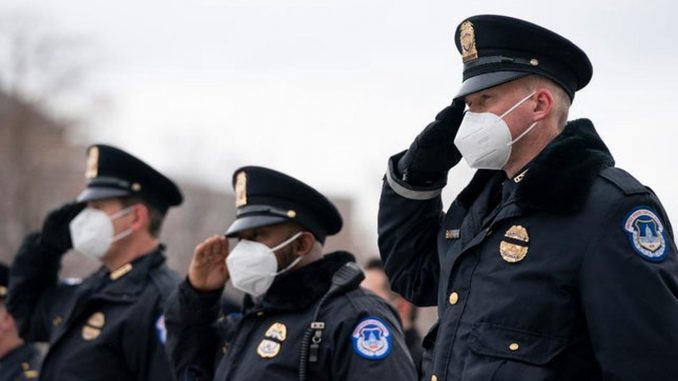 Two men were arrested and charged with assaulting U.S. Capitol Police Officer Brian Sicknick, who died following the Jan. 6 riot at the Capitol.
The two men — Julian Elie Khater, 32, of Pennsylvania, and George Pierre Tanios, 39, of West Virginia — were both arrested Sunday, the Justice Department said. They each face nine counts related to the Capitol attack, including the assault of Sicknick and two other federal agents with a chemical irritant.
That charge — assaulting an officer with a deadly weapon — carries a maximum of 20 years in prison.
The Justice Department said Khater was arrested as he got off a plane in Newark, N.J., and Tanios was arrested at his home in Morgantown, W.Va.
It's unclear if the two men have attorneys.
According to an FBI affidavit, investigators identified the two men with the help of a tipster who told law enforcement officials that Khater and Tanios had grown up together in New Jersey. Another tipster identified Tanios to investigators, saying that they had been business partners and were in a legal dispute over the tipster's allegation that Tanios had embezzled $435,000 from their former business.
The FBI affidavit also detailed aspects of the Jan. 6 attack on the Capitol, saying Khater and Tanios could be seen on footage of the riot "working together to assault law enforcement officers with an unknown chemical substance by spraying officers directly in the face and eyes."
In one video taken during the riot, Khater allegedly approaches Tanios and says, "Give me that bear shit," before reaching into Tanios's backpack.
"Hold on, hold on, not yet, not yet … it's still early," Tanios allegedly responds.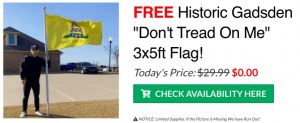 Minutes later, according to the affidavit, Khater approaches a line of police holding back rioters on the Capitol's lower west terrace. The court filing says footage from body-worn and surveillance cameras show Khater spraying Sicknick and two other officers — identified as U.S. Capitol Police Officer C. Edwards and Metropolitan Police Department Officer D. Chapman — in the face with the chemical.
"All three officers were incapacitated and unable to perform their duties for at least 20 minutes or longer while they recovered from the spray," the affidavit reads.
"Officer Edwards reported lasting injuries underneath her eyes, including scabbing that remained on her face for weeks. Officers Edwards and Chapman also described the spray to their face as a substance as strong as, if not stronger than, any version of pepper spray they had been exposed to during their training as law enforcement officers. Officer Sicknick reported to his supervisors and colleagues that he had been sprayed in the face with a substance."
Sicknick died a day later and authorities have released little information about the cause of his death, though he has been included as one of five who were killed as a result of the attack on the Capitol. Federal prosecutors have not alleged that Khater or Tanios were responsible for the officer's death.
Officials have disputed early reporting that Sicknick had been killed as a result of blunt force trauma after taking blows to the head by a rioter wielding a fire extinguisher, according to The Washington Post.
In a statement released Jan. 7, the U.S. Capitol Police said Sicknick had been "injured while physically engaging with protesters" and later "returned to his division office and collapsed." In another press release issued last month, the department said his death was still being investigated.
"The medical examiner's report on Officer Brian Sicknick's death, which followed the attack on the Capitol on January 6, is not yet complete," the Capitol Police said in a statement Feb. 26. "We are awaiting toxicology results and continue to work with other government agencies regarding the death investigation.
"Officer Sicknick's family has asked for privacy during this difficult time and that the spreading of misinformation stop regarding the cause of his death. The Department and the Sicknick family appreciate the outpouring of support for our fallen officer."
House Democrats had cited Sicknick's death in their impeachment case against former President Trump, who they accused of inciting the riot.
"Despite repeated entreaties, it took him three days to order the flag of the United States to be flown at half-staff to commemorate the death of a Capitol Police officer who had been killed by insurrectionists," House impeachment managers said.
Last month, Sicknick was laid in honor in the Capitol Rotunda as lawmakers paid their respects.
Via The Hill