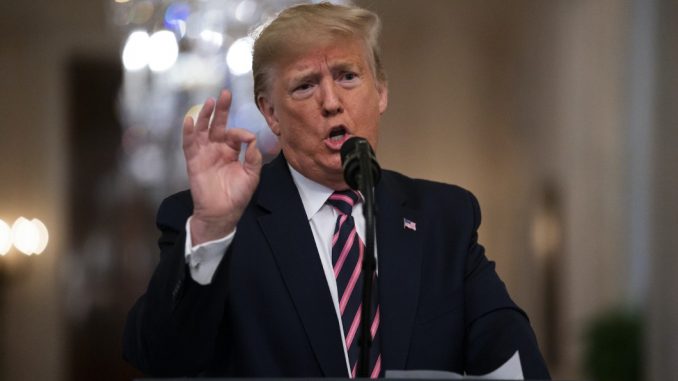 President Trump stepped in front of the White House press for the first time in more than a week to celebrate news of a successful COVID-19 vaccine and promise that his administration will not impose another lockdown.
At a time when he is under pressure to concede election defeat to Joe Biden, his appearance in the White House rose garden amounted to a lap of honor for Operation Warp Speed, his administration's effort to get a vaccine to market in record time.
The operation meant that a vaccine had been produced in less than a year – far faster than the ten to 12 years usually expected, he said.
"No medical breakthrough of this scope and magnitude has ever been achieved this rapidly, this quickly," he said. "And we're very proud of it."
Pfizer this week announced that its vaccine had been more than 90% effective in protecting patients against a virus that has killed more than 220,000 people in the United States. It plans to report more safety data next week and apply for an emergency use authorization.
Criticism of Trump's handling of the pandemic overshadowed his reelection effort, and the vaccine amounts to a rare bit of good news, even as a second wave of infections accelerates.
The progress was enough to coax the president into public for only the second time since Saturday, when news organizations projected Biden as the election winner, although he declined to take questions from the White House press corps.
Critics are likely to question Trump's attempt to take credit for the Pfizer vaccine. The company has repeatedly said it did not take money from the government as part of Operation Warp Speed. Instead, it has a $1.95 billion contract to supply 100 million doses of a vaccine once approved, a distinction apparently lost on the president.
"Pfizer said it wasn't part of Warp Speed, but that turned out to be an unfortunate misrepresentation," he said.
He also used the occasion to hit out at opponents in the form of New York Gov. Andrew Cuomo, who had accused the president of politicizing vaccine development.
"As soon as April the vaccine will be available to the entire general population. With the exception of places like New York state," he said, saying that Cuomo would need to request the vaccine if he wanted to use it.
For a brief moment, he also hinted that he knows his time in the White House was coming to an end, contrasting his approach with that of his successor.
"I will not go … this administration will not be going to a lockdown," he said. "Whatever happens in the future … who knows which administration will be? I guess time will tell, but I can tell you this administration will not go to a lockdown."
The update came with the coronavirus on the rise around the country and inside the White House.
Chief of staff Mark Meadows, White House political director Brian Jack, former aide Healy Baumgardner, and Trump campaign adviser David Bossie are all believed to have caught the virus at an election night party.
Elsewhere, states have begun reimposing stricter measures as the increase in cases shows no sign of slowing. Public health officials reported more than 160,000 new coronavirus cases on Thursday, another daily record.
Minutes before Trump appeared, Biden issued a statement warning that a vaccine would not come soon enough to tackle surges in cases.
"Urgent action is needed today, now, by the current administration – starting with an acknowledgment of how serious the current situation is," he said.