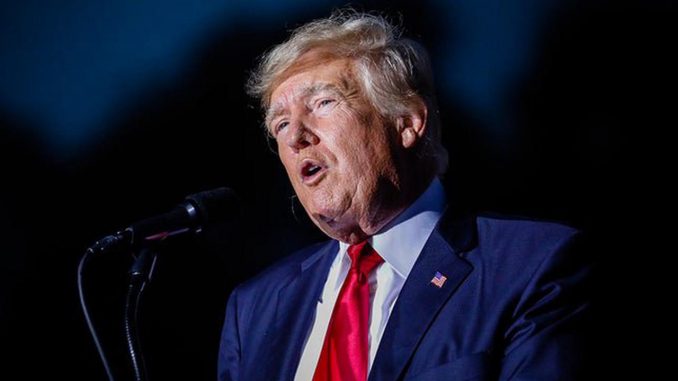 Former President Trump on Tuesday filed a lawsuit against his niece, Mary Trump, along with The New York Times and three of its reporters over a 2018 story on his tax records, arguing they "engaged in an insidious plot" to gain access to sensitive records and were "motivated by a personal vendetta."
The complaint, filed in New York's Dutchess County, specifically named Times reporters Susanne Craig, David Barstow and Russell Buettner, who together published a series in 2018 based on Trump's confidential tax and financial records, which the former president has for years resisted making public.
The reporting revealed, among other findings, that Trump made the equivalent today of at least $413 million from his father's real estate empire, with the help of efforts to dodge taxes.
The Times reporters won the 2019 Pulitzer Prize for Explanatory Reporting for their extensive series into the Trump family's tax history.
Trump noted in his lawsuit that while his niece had signed a confidentiality agreement in 2001, she was "convinced" by Times journalists "to smuggle the records out of her attorney's office and turn them over to The Times."
The former commander in chief went on to argue that the Times "attempted to capitalize on their receipt of the confidential record through their publication of various news articles," while Mary Trump also engaged in "an ill-conceived effort to profit from these same events" by publishing her memoir, "Too Much and Never Enough: How My Family Created the World's Most Dangerous Man."
A judge in 2020 ruled in a legal effort to try and stop Mary Trump and publisher Simon & Schuster from releasing the book that the 2001 confidentiality agreement she signed along with other family members had been too vaguely defined, and the book's publisher was not a signatory to the agreement and could, therefore, not be forced to comply.
Nevertheless, Trump argued in his Tuesday suit that his niece "committed a material breach of the Settlement Agreement by disclosing, assisting and/or providing confidential information to The Times."
The former president argued that the Times was aware of the agreement but still "relentlessly sought out Mary Trump and intentionally procured her breach of the Settlement Agreement."
Trump in the complaint, which was first reported by The Daily Beast, wrote that he is seeking damages from the defendants for a total of "no less than One Hundred Million Dollars."
In response to the lawsuit, Mary Trump told the Daily Beast, "I think he is a f—ing loser, and he is going to throw anything against the wall he can."
"It's desperation," she added. "The walls are closing in and he is throwing anything against the wall that will stick."
"As is always the case with Donald, he'll try and change the subject," she said.
"The Times's coverage of Donald Trump's taxes helped inform citizens through meticulous reporting on a subject of overriding public interest," a Times spokesperson said in a statement. "This lawsuit is an attempt to silence independent news organizations and we plan to vigorously defend against it."
Via The Hill