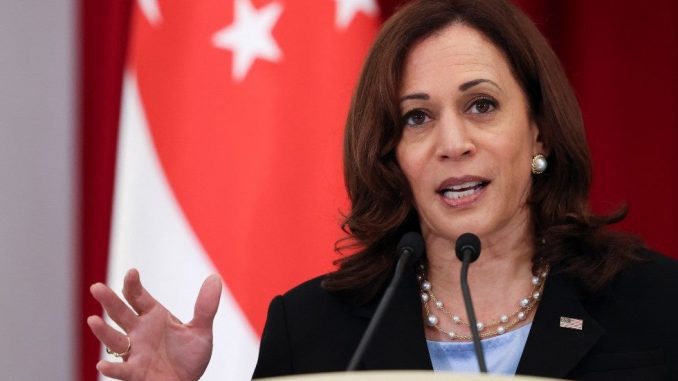 Vice President Harris on Tuesday condemned the treatment of Haitian migrants at the southern border after images circulated appearing to show border patrol agents on horseback grabbing individuals seeking to enter the U.S.
"What I saw depicted, those individuals on horseback treating human beings the way they were was horrible," Harris told reporters after an event to promote the White House's economic agenda.
"I fully support what is happening right now, which is a thorough investigation into what is going on there. But human beings should never be treated that way, and I'm deeply troubled about it," she said.
The Department of Homeland Security (DHS) earlier Tuesday announced it is investigating the treatment of Haitian migrants by Customs and Border Patrol agents after video and images surfaced of the agents on horseback chasing down migrants at the southern border.
"DHS does not tolerate the abuse of migrants in our custody and we take these allegations very seriously," the department said in a statement on Twitter. "We are committed to processing migrants in a safe, orderly, and humane way. We can and must do this in a way that ensures the safety and dignity of migrants."
Harris was tasked by President Biden earlier this year with overseeing efforts to address root causes of migration from Central America. Asked if her responsibilities will extend to Haiti, Harris expressed sympathy for the plight of Haitians in the wake of multiple natural disasters and the assassination of their president.
"I mean, talk about a country that has just experienced so much tragedy," Harris said. "And we really have to do a lot more to recognize that, as a member of the western hemisphere, we've got to support some very basic needs that the people of Haiti have to get back up and to do what folks naturally want to do, be them from Haiti or in the countries in Central America. People want to stay home. They don't want to leave home. But they leave when they can not satisfy their basic needs."
While some reports referred to border patrol whipping migrants in recent days, it later appeared the agents merely had reins for the horses in their hands. Still, the images and videos provoked outrage from advocacy groups over the general treatment of migrants.
White House press secretary Jen Psaki said Tuesday morning Biden believes the images are "horrific and horrible," though the president has not publicly addressed them himself.
Via The Hill