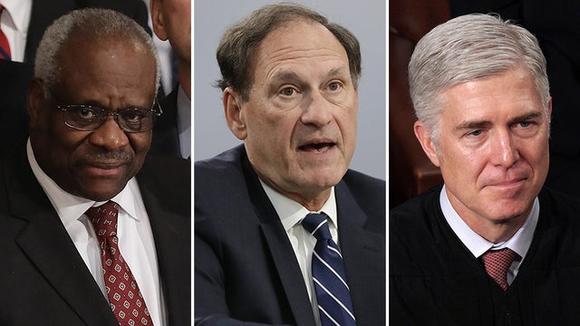 The Supreme Court's most conservative justices are signaling an interest in issues closely associated with former President Trump, from rules on social media platforms to how elections are governed.
Justice Clarence Thomas this week opined on how Twitter might be more strictly regulated after it banned Trump from its platform and predicted the court would soon be called upon to address Big Tech's "highly concentrated control" of speech.
He and fellow conservative Justices Samuel Alito and Neil Gorsuch also recently made clear their hope to address whether state officials and courts have the power to make changes to election rules after a number of states relaxed voting restrictions amid the coronavirus pandemic.
Court watchers say these signals can be read as an open call for lawsuits that would tee up the legal issues for the 6-3 conservative majority court to decide.
"Justices have long used public statements or published opinions to invite litigation or legislative reform," said Robert Tsai, a constitutional law professor at Boston University. "It reminds us that they are part of the political community and that the modern Supreme Court is not simply a neutral institution but one that participates in determining the nation's values."
It's unclear the degree to which politics or public opinion may have motivated the conservative trio to publicly state their interest in legal issues underlying these hot-button topics, and they did not explicitly say how they would rule in potential disputes.
But their avowed interest in the controversial areas may further incentivize litigation against some of Trump's nemeses, from Silicon Valley behemoths to state election officials, the likes of whom Trump has falsely blamed for his 2020 election defeat.
Thomas's concerns about the powers of Big Tech came Monday in a solo opinion. His statement appeared alongside the court's unsigned order vacating a ruling that found Trump had violated the First Amendment by blocking several of his critics on Twitter.
Thomas, the court's staunchest conservative, concurred with the other justices that the particular case should be dismissed since Trump is no longer president. But he wrote separately to voice concern that Trump's removal from Twitter reflected a troubling degree of power concentrated in a handful of tech billionaires.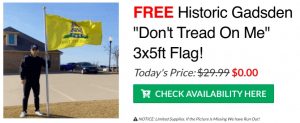 Twitter banned Trump's account days after his supporters mounted a deadly insurrection at the Capitol, with the company saying that his posts threatened to incite more violence. The Jan. 6 attack had been fueled in part by Trump's repeated false assertions on social media that the 2020 election had been stolen.
A study by Zignal Labs showed that misinformation related to false election fraud claims fell by 73 percent after Trump and several others were suspended from Twitter and other mainstream social media platforms.
Using the president's official Twitter account, @POTUS, Trump lashed out after his ban. In a series of posts that were quickly deleted by Twitter, Trump claimed without evidence that the company's move had been "coordinated with the Democrats and Radical Left."
Trump also attacked Section 230 of the Communications Decency Act, which largely allows tech companies to moderate their own platforms without government oversight and shields them from lawsuits.
"Twitter may be a private company," Trump wrote in a since-deleted tweet, "but without the government's gift of Section 230 they would not exist for long."
In his Monday opinion, Thomas also raised doubts about Section 230's viability in the social media era. He noted that Twitter's ban of Trump had barred all users — including Trump's 89 million followers — from interacting with his messages on the platform and suggested that social media companies could one day face First Amendment restrictions.
"As Twitter made clear, the right to cut off speech lies most powerfully in the hands of private digital platforms," Thomas wrote. "The extent to which that power matters for purposes of the First Amendment and the extent to which that power could lawfully be modified raise interesting and important questions."
Jeff Kosseff, a professor of cybersecurity law at the U.S. Naval Academy, said Thomas's opinion was something of an outstretched hand for new legal challenges.
"By once again raising questions about Section 230, Justice Thomas appears to be inviting plaintiffs to challenge both the constitutionality of Section 230," he said, "or at least the ways that lower courts have interpreted the statute."
Kosseff said it's unclear at this time whether other justices share Thomas's views on regulating Silicon Valley.
When it comes to election law, however, Thomas has clear allies. He, Alito and Gorsuch have each expressed interest in confronting a politically fraught issue that has become central to Trump's grievances over his defeat last year.
The legal question at issue deals with how much authority the U.S. Constitution gives to state lawmakers over election administration. A number of Trump-backed lawsuits, filed before and after the election, asked the justices to rule that the Constitution gives that power exclusively to state lawmakers.
Had the justices sided with Trump and his allies, it would have invalidated a number of pandemic-era accommodations like expanded mail voting that were put in place not by state legislatures, but by state election officials and judges.
Trump continues to promote this argument — known by election lawyers as the "independent state legislature" doctrine — as the only sound constitutional interpretation. As recently as late March, he blasted the Supreme Court for not adopting the view.
"Democrats could not get Republican Legislatures in Swing States to approve many of the voting changes which took place before the Election, which is mandated under the Constitution of the United States," Trump said in a March 20 statement. "For that reason alone, we had an Illegitimate Election."
"The Supreme Court and other Courts were afraid to rule," Trump continued. "They were 'gutless,' and will go down in history as such."
But at least a third of the justices — Thomas, Alito and Gorsuch — are eager to confront the issue head on and are likely to give the conservative arguments at least a warm reception. They dissented forcefully when the court in February declined to take up pro-Trump election lawsuits that could have teed up the independent state legislature issue for a Supreme Court ruling.
Rick Hasen, a law professor at the University of California Irvine, said the fact that three or more justices believe in a "strong version" of the independent state legislature doctrine sends a clear signal to would-be litigants to raise the claim in future lawsuits.
"Sooner or later, the Supreme Court is going to have to weigh in on the issue," he said. "I only hope it is in a case that is not of national prominence, like a presidential election."
Via The Hill