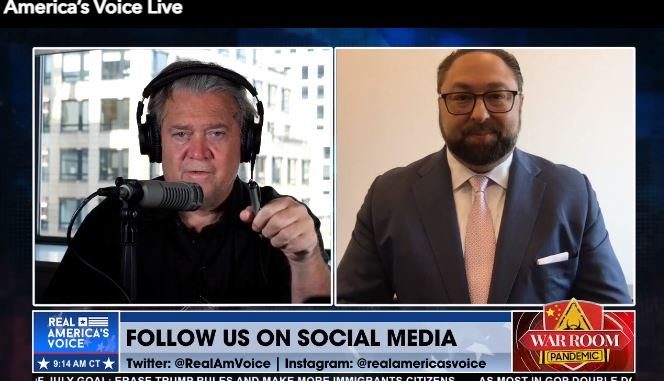 Jason Miller, the CEO of GETTR and former Trump senior adviser, joined Steve Bannon on The War Room on Monday, July 5th to talk about his new platform.
The new social media option GETTR is already #2 on Google Play store and currently at #9 on App store. Its competitor Twitter is at #87 on Google Play store and #28 on App store as of July 5, 2021.
Steve Bannon told his audience he started an official account on GETTR this weekend. GETTR is also taking off in Japan and Brazil.
The platform promises not to cancel users based on their political leanings like Facebook and Twitter are famous for.
** You Can Follow JimHoft on GETTR to get our updates soon.
** We are contacting GETTR to reserve our GatewayPundit account and get that going soon.
Jason Miller was on The War Room this morning.
FOX News reported on GETTR on Sunday.
Former Donald Trump senior adviser Jason Miller launched a new social media platform on Sunday, using the July 4 holiday to declare "independence" from Big Tech.

Miller announced that the platform, which he calls "GETTR" and says evolved from the idea of "getting together" as a community on social media, officially launched at 10 a.m. ET.
"GETTR is a direct challenge to the social media oligarchs from Silicon Valley, and what better day to declare independence from their woke tyranny than July 4th?" Miller, GETTR's chief executive officer, said in a statement. "GETTR is the marketplace of ideas. We will not cancel people for their political opinions, and GETTR offers far more features and better technology than anything else out there."
Miller last week told Fox News – which was first to report on the new platform – that the July 4 launch was "very much intentional." He emphasized that it "ties in with Independence Day….Independent from social media monopolies, independent from cancel culture; embracing free speech."
#GETTR now #2 in the Google Play store.

Keep it up! 💪 https://t.co/lXXBc8GMe0

— Jason Miller (@JasonMillerinDC) July 4, 2021