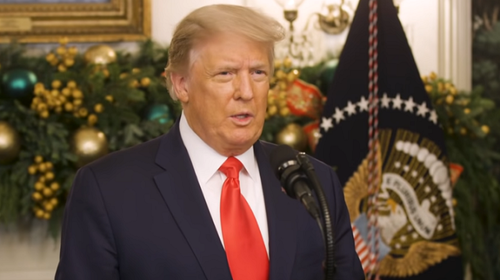 A new Rasmussen survey indicates 72 percent of Republican voters want their legislators to be more like President Trump.
In fact, in their view, Trump is an extraordinarily better role model than most members of Congress.
The national telephone and online survey "finds that 72% of Likely Republican Voters think their party should be more like Trump than like the average GOP member of Congress," Rasmussen reports.
By contrast, 24 percent see the average Republican in Congress as a better example for their party.
Overall, voters gave the "average member of Congress" 45 percent to just 40 percent for the President.
72 Percent of Republicans See Trump as Model for Future of GOPhttps://t.co/P1eJFOxOjJ pic.twitter.com/00Pf9rNgTw

— HYVE (@HYVEE7) December 29, 2020
Republican Voters Want Congress to be More Like Trump
It's really no surprise that Republican voters want to see their congressional representatives emulate Trump, a political outsider who actually fights for the people.
As bad as his approval ratings are thanks to Democrat-controlled media, President Trump is easily more admired by Republicans than members of Congress.
In fact, in 2020, he was even more admired than Barack Obama.
"Trump tied former President Barack Obama for the honor last year but edged out his predecessor this year," Gallup reports.
They add, "Trump's first-place finish ends a 12-year run as most admired man for Obama, tied with Dwight Eisenhower for the most ever."
Gallup: President Trump is most admired man of 2020. Ends Barack Obama's 12-year most-admired run. https://t.co/k1E8VufMMe pic.twitter.com/XoXx6OaO9f

— Byron York (@ByronYork) December 29, 2020
Congress meanwhile, fared much worse in a recent survey asking Americans to rank professions by their honesty and ethics.
Congressional members actually tied car salespeople with a mere 8 percent rating them highly, while advertising practitioners came in slightly better at 10 percent.
Rounding out low-ranking groups were business executives at 17 percent, lawyers at 21 percent, and journalists at 28 percent.
Nurses, medical doctors, grade-school teachers and pharmacists top Gallup's annual Honesty and Ethics of Professions poll. https://t.co/iLaJiqqX6D

— GallupNews (@GallupNews) December 22, 2020
Trump in 2024?
Still, Rasmussen notes that 52 percent of Republican voters think their party should put a new candidate on the presidential ticket in 2024, while 33 percent say the GOP should promote a candidate who has already run.
At a Christmas party in December, the President hinted that he would be back in the White House in 2024.
"It's been an amazing four years," Trump is heard saying in a live stream of the party by former Oklahoma Republican Party Chair Pam Pollard.

"We're trying to get another four years," the President continued, "but otherwise I'll see you in four years."
Trump at the White House Christmas party: "It's been an amazing four years. We're trying to do another four years, otherwise I'll see you in four years."

h/t @ZekeJMiller, @colvinj pic.twitter.com/72Q3bVY3jP

— Andrew Solender (@AndrewSolender) December 2, 2020
A similar Rasmussen survey six years ago saw Republican voters clamoring for a new face to run for President.
That new face turned out to be Donald Trump, as he easily dispatched with establishment politicians during the Republican primaries, and eventually defeated another entrenched swamp creature in Hillary Clinton.
Is there anyone who might surprise in a similar manner and emerge in 2024?


Via Zero Hedge