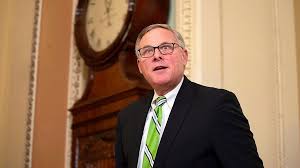 The North Carolina Republican Party's central committee voted unanimously on Monday to censure Sen. Richard Burr (R-NC) over his vote on Saturday to convict former President Trump.
The committee announced the censure in a statement that argued Burr's vote to convict went outside the authority of the Constitution.
"Tonight, the North Carolina Republican Party Central Committee (NCGOP) voted unanimously to censure Senator Richard Burr for his vote to convict former President Trump in the impeachment trial which he declared to be unconstitutional," the committee said in a statement, adding that "the Democrat-led attempt to impeach a former President lies outside the United States Constitution."
"Now that the Senate has voted to acquit President Trump, we hope that Democrats will set aside their divisive partisan agenda and focus on the American priorities of tackling the COVID-19 pandemic, safely reopening schools and restarting the economy," it concluded.
Burr, who has said he does not plan to run for reelection, initially voted that trying Trump in the Senate was unconstitutional because the former president was no longer in office. But he ultimately joined six other Republicans to vote to convict Trump.
"It is truly a sad day for North Carolina Republicans," Burr said in response to the censure. "My party's leadership has chosen loyalty to one man over the core principles of the Republican Party and the founders of our great nation."
Republicans who voted to convict Trump are now facing fierce criticism from conservatives and Trump allies within their party.
Burr's censure comes as Sen. Mitt Romney (R-Utah) and Sen. Susan Collins (R-Maine) are facing calls to be censured over their votes to convict.
The Louisiana Republican Party censured Sen. Bill Cassidy (R-La.) over the weekend and several county-level GOP parties have censured Sen. Pat Toomey (R-Pa.).
The North Carolina Democratic Party blasted the censure, with Chair Wayne Goodwin saying in a statement that the state's GOP is "is in an all out civil war."
"Today's censure vote against their senior Senator for a vote of conscience in the most bipartisan conviction of a president in history proves this is the Donald Trump Party above all else," Goodwin said in a statement. "North Carolinians are already fleeing the party by the thousands, donors are closing their checkbooks, and political leaders are withdrawing their support after North Carolina Republicans helped incite a dangerous attack on our Capitol, and the fallout is only growing."
Senators voted 57-43 Saturday on whether to convict Trump for "willfully inciting violence against the Government of the United States," falling 10 votes short of the required 67 votes for conviction.
Via The Hill