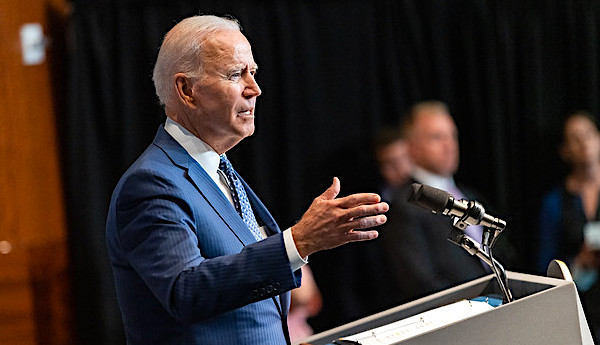 President Joe Biden's job approval rating remains underwater, according to a new Quinnipiac University national poll of adults, which also found that a significant majority of Republicans would like former President Donald Trump to run for the presidency during the 2024 election.
Biden's approval rating remains upside down in the new poll, with just 37% approving of how he is handling his role as president, compared to 52% who disapprove. The survey was conducted from Oct. 15 to Oct. 18 and has a margin of error of +/- 2.7 percentage points.
A Quinnipiac poll conducted earlier this month had found that just 38% approved of how the president was handling his job, while 53% disapproved.
GOP Sen. John Kennedy of Louisiana remarked during an interview last week that the president's "poll numbers are going down like a fat guy on a seesaw."
The newly released Quinnipiac poll also found that while 41% believe the nation is better off now than it was a year ago, 52% think it is worse off now than it was a year back.
More than three-quarters (78%) of Republicans would like to see Trump run in 2024, while just 16% would not like to see him run. That marks a shift from a Quinnipiac poll conducted in May which found that 66% of Republicans wanted Trump to run, while 30% did not want him to run.
Trump has continued to publicly voice his opinions on various issues since exiting the White House earlier this year.
"COVID is raging out of control, our supply chains are crashing with little product in our stores, we were humiliated in Afghanistan, our Border is a complete disaster, gas prices and inflation are zooming upward—how's Biden doing? Do you miss me yet?" he said in a statement last week.
Via The Blaze