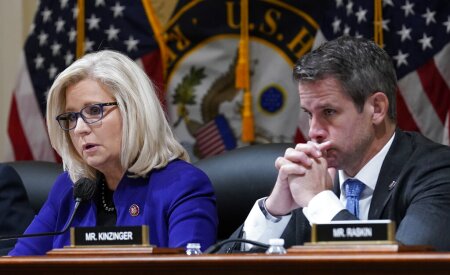 Rep. Liz Cheney said former President Donald Trump appears to have been "personally involved" with the Capitol riot on Jan. 6.
The congresswoman, one of two Republicans on the House Jan. 6 Select Committee, drew a line connecting Trump to the siege of Congress during a meeting Tuesday in which the panel unanimously voted to recommend charging Trump ally Steve Bannon with contempt of Congress for defying a subpoena.
Arguments made by Trump and Bannon that relevant information sought by the committee is protected by executive privilege, Cheney said, "appear to reveal one thing: They suggest that President Trump was personally involved in the planning and execution of Jan. 6, and this committee will get to the bottom of that."
Cheney and Rep. Adam Kinzinger are the two Republicans on the panel who were also part of the group of 10 GOP House members to vote with Democrats to impeach Trump on a charge of inciting the Jan. 6 siege of Congress, when rioters stormed the Capitol complex and disrupted lawmakers as they worked to certify President Joe Biden's electoral victory. However, Trump was acquitted by a GOP-led Senate despite seven Republicans voting to convict him.
Trump  directed several close advisers not to comply with subpoenas issued by the House Jan. 6 Select Committee. Eleven others tied to the organization of the Jan. 5 and Jan. 6 rallies that led up to the Capitol riot have also been subpoenaed . One facet of the scrutiny on Trump is the speech he delivered to rallygoers at a rally near the White House on Jan. 6 before the Capitol riot in which he claimed there was widespread fraud in the 2020 election. He urged the crowd to "fight much harder" and "stop the steal."
Trump's legal team filed a complaint in federal court on Monday that seeks to block the release of documents to the Jan. 6 panel and challenge Biden's decision to waive executive privilege .
Ahead of the contempt vote, Trump chastised "low-polling" Cheney and "Cyrin'" Kinzinger in a statement released by his Save America PAC on Tuesday. He also slammed the panel as being the "fake, highly partisan Unselect Committee" that is "composed of absolute political hacks who want to destroy the Republican Party and are decimating America itself."
Bannon, who was Trump's chief strategist for much of 2017 but not a White House official around the time of the Capitol riot, drew scrutiny for his comments on the day leading up to the chaos.
"It's not going to happen like you think it's going to happen. OK, it's going to be quite extraordinarily different. All I can say is, strap in. … You made this happen, and tomorrow it's game day. So strap in. Let's get ready," Bannon said on his podcast.
"All hell is going to break loose tomorrow. … So many people said, 'Man, if I was in a revolution, I would be in Washington.' Well, this is your time in history," he also said, according to a select committee report .
Bannon has defended his "hell" comment , saying it was in reference to then-Vice President Mike Pence rejecting the 2020 election results as he presided over the certification process in Congress on Jan. 6.
Pence, however, did not try to send the results back to certain states Trump  lost in November. In fact, he sent a letter to Congress  saying he did not have the power to reject Electoral College votes, dealing a further blow to Trump's increasingly futile hopes to deny victory to then-President-elect Biden.
"Based on the committee's investigation, it appears that Mr. Bannon had substantial advanced knowledge of the plans for Jan. 6 and likely had an important role in formulating those plans," Cheney said at the select committee meeting. "Mr. Bannon was in the 'war room' at the Willard on Jan. 6, he also appears to have detailed knowledge regarding the president's efforts to sell millions of Americans the fraud that the election was stolen."
The resolution recommending contempt for Bannon is now set to go to the full House for consideration. A vote is set for Thursday. If the Justice Department prosecutes Bannon and he is convicted, he could face fines up to $100,000 and up to a year in prison.