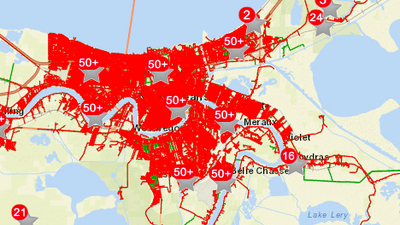 Summary:
All of New Orleans is currently without power
Hurricane Ida made landfall at 12:55 p.m. near Point Fourchon, Louisiana with winds tied for the most intense hurricane on record to strike Louisiana, at 150 mph.
As of 7pm ET, Ida was a strong Category 3 storm with maximum sustained winds up to 125 MPH.
Max sustained winds of 150 mph, tied with two other hurricanes for record landfall.
Over half a million residents without power
Surge could result in 12-16 feet of inundation; so far the surge has reached at least 4 to 7 feet in southeast Louisiana and coastal Mississippi, engulfing roads, homes, businesses and marinas. New Orleans' flood protection system, bolstered by a $14.5 billion investment post-Katrina, will be tested by Ida's surge and torrential rain.
The storm could unload up to two feet of rain in parts of southeast Louisiana, causing severe flash flooding.
Downed trees and widespread power outages could last weeks
The core of the storm's hurricane-force winds could pass through Houma and Baton Rouge and very close to New Orleans, producing structural damage, downed trees and widespread power outages, which could last weeks.
All of New Orleans is without power after Hurricane Ida inflicted "catastrophic transmission damage," according to Energy New Orleans.
JUST IN: Hurricane Ida has left all of New Orleans without power due to "catastrophic transmission damage," according to Entergy New Orleans.https://t.co/RdkgVmqDKW

— NOLA.com (@NOLAnews) August 30, 2021
According to a c ompany spokesperson, the storm caused a "load imbalance to the company's transmission and generation" that the company is "making every effort to identify and rectify.
Hurricane Ida has weakened to a strong Category 3 storm with maximum sustained winds up to 125 MPH, and is currently located 30 miles SW of New Orleans, moving NW at 10 MPH.
A flash flood warning is in effect for New Orleans, with places like shell Beach has seeing over 8 feet of storm surge. Area in New Orleans such as Venetian Isles, Lake Catherine & Irish Bayou and are mandatory evacuation.
Power outages in Louisiana surge as Hurricane Ida rotates through the state, according to data from utility Entergy Corp.  As of 6pm local time, some 538,173 customers were affected the utility said on its website. Outages stood at 133,722 half an hour after Ida made first landfall. Outages are currently affecting 31 of state's 64 parishes, including those that are homes to oil refineries:
East Baton Rouge Parish, where Exxon's Baton Rouge refinery sits
St. Charles Parish, home to Valero's St. Charles and Shell's Norco facilities
St. Bernard Parish: PBF Chalmette and Valero's Meraux plant
St. John the Baptist Parish: Marathon Garyville
Plaquemines Parish: Phillips 66's Alliance plant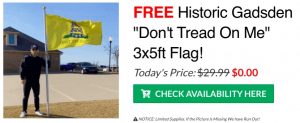 New Orleans hit with 70mps wind gusts.  With the northwestern core of Ida surging into New Orleans, winds have rapidly increased and rain is pouring down. For the next six hours or so, tropical-storm to hurricane-force winds will lash the city, causing widespread flooding, downed trees and power outages, which are already mounting. With peak wind gusts over 80 mph possible, some structural damage is also probable. New Orleans Lakefront Airport has reported a wind gust as high as 76 mph.
Social media photos and video have shown toppling trees and wires around the region and even part of a roof peeled off in the French Quarter. These dangerous conditions will probably worsen through the early evening and not abate significantly until around midnight.
1:45pm: Remarkable wind damage already taking place on Decatur Street in the French Quarter. pic.twitter.com/xs8387Ngtx

— Markie Martin (@MarkieMartin) August 29, 2021
Meanwhile, to get a sense of just how powerful this storm is, hours before landfall, NOAA and Air Force Reserve Hurricane Hunter aircraft flew into Hurricane Ida, capturing the dramatic video shown above. The footage shows the clearing associated with the eye of the storm and the towering thunderstorms surrounding it. The military aircraft reported peak flight-level winds around 168 mph between 8,000 and 10,000 feet as they sampled the storm environment.
Stunning video taken from inside the eye of #Ida this morning by the NESDIS Ocean Winds Research team during a flight on the @NOAA_HurrHunter P3 aircraft @NOAASatellites pic.twitter.com/sjt970Yeiq

— National Hurricane Center (@NHC_Atlantic) August 29, 2021
Colonial Pipeline, the primary fuel artery from Houston to the South and East Coast, said it temporarily shut down its Lines 1 and 2 systems from Houston to Greensboro, North Carolina. Colonial said the rest of the network from North Carolina to New Jersey is operating normally. Colonial said the closure is precautionary and should resume full service after Ida passes and the system is evaluated.
Louisiana and other Gulf Coast utility crews also were adding extra personnel in preparation for widespread power outages across the region, and Entergy warned much of the region could lose power for close to a month.
As of about 2 pm CT, Louisiana had about 255,000 electricity customers without power, according according to poweroutage.us.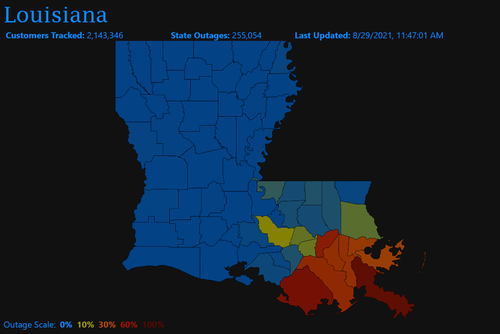 A hurricane typically causes power demand destruction, as it severs transmission and distribution lines to loads. With weaker demand, lower prices would be expected, but much of the nation's natural gas flows through Louisiana, and Ida could disrupt that infrastructure and increase pressure on gas prices.
* * *
(Update 1430ET):  According to Bloomberg calculations, Hurricane Ida could cause more than $40 billion in damages and losses based on its projected path according to an estimate from Chuck Watson, a disaster modeler at Enki Research. That would put it among the top 10 costliest U.S. storms, if a far cry from Katrina's $176 billion.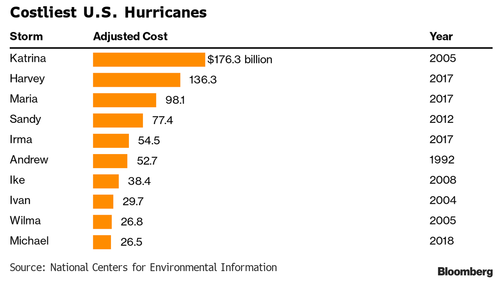 In addition to ripping through New Orleans, the storm is poised to batter oil refineries, chemical plants and ports. Meanwhile, according to BSEE, Gulf Operators have shut 95.7% of oil output on the hurricane. Oil explorers in the U.S. Gulf of Mexico have shut 1.74 million barrels a day of crude production and 93.8% of natural gas output as Hurricane Ida approaches, according to the Bureau of Safety and Environmental Enforcement. 288 platforms have been evacuated as of 11:30 CT Sunday.
As Platts adds, close to 4.4 million b/d of operating refinery capacity is in the path of Ida as well, primarily in Louisiana, and at least half of that at-risk capacity came offline ahead of Ida as Phillips 66, Shell, ExxonMobil, Valero and others closed refining units. Ida's wind speed will play a major role in how hard it strikes at the heart of USGC refining centers, according to S&P Global Platts Analytics. The greatest impacts are expected in the eastern Louisiana refining and petrochemical hubs from Baton Rouge to New Orleans and potentially to Mississippi.
If the hurricane comes in with 120 mph winds or stronger, it could be "a major factor" in disrupting refining and petrochemical operations, Platts Analytics said. Ida would become a Category 5 hurricane if its winds hit 157 mph.
"Hurricane Ida is expected to come ashore along the same path as other storms, which did extensive damage to USGC refining and petrochemical facilities. Many plants have been hardened against hurricanes, but disruptions in operations are still very likely due to flooding, power outages and personnel dislocations," Platts Analytics said.
Gasoline inventories in PADD III heading into the weekend were adequate at 2.5 million barrels higher relative to the five-year average, Platts Analytics said, but the storage levels could be rapidly depleted in a week to the lowest levels since February.
 Hurricane Ida has made landfall in Louisiana with stronger winds than Hurricane Katrina – which hit New Orleans exactly 16 years ago today, killing over 1,800 people and leaving the area in ruins – not to mention disarmed.
Only two other storms on record have hit Louisiana with winds this powerful, Last Island Hurricane in 1856 and Hurricane Laura (2020).
"I feel sick to my stomach watching," National Hurricane Center forecaster Eric Blake tweeted on Sunday (via BBG). "This is a very sobering morning."
"This will be the most severe test of that system," said Louisiana Gov. John Bel Edwards in an appearance on CNN, adding "We believe that the integrity of that system is going to be able to withstand the storm surge."
Earlier in the day, Ida was projected to drive ocean levels as high as 16 feet, with rainfall in excess of two feet.
Winds will be strong enough to rip roofs from houses, and snap trees and power poles. Blackouts could last weeks. About 33,000 homes and businesses were without power at 9:30 a.m. local time, according to Poweroutage.us, which tracks utility outages. -Bloomberg
The live cams should get interesting over the next several hours:
Hurricane Ida has rapidly strengthened into a major hurricane with maximum sustained winds of 150 MPH, just seven mph shy of a Category 5. The storm is set to strike Louisiana later this afternoon/evening, and on the same day, 16 years ago, Hurricane Katrina struck the area.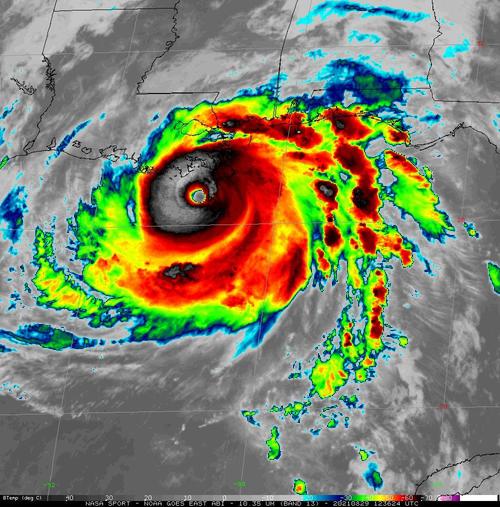 As of 0600 ET, National Oceanic and Atmospheric Administration (NOAA) plane flew into the storm and found Ida is an "extremely dangerous Category 4 hurricane about to make landfall in southeastern Louisiana later today."
Reports from an NOAA Hurricane Hunter aircraft indicate that maximum sustained winds have increased to near 150 mph (240 km/h) with higher gusts. The latest minimum central pressure estimated from reconnaissance aircraft data is 935 mb (27.61 in).

An elevated NOAA C-MAN station at Pilot's Station East near Southwest Pass, Louisiana, recently reported a sustained wind of 82 mph (131 km/h) and a gust to 107 mph (172 km/h). Another NOAA elevated C-MAN station at Southwest Pass recently reported a sustained wind of 77 mph (124 km/h) and a wind gust of 93 mph (150 km/h).
Ida is currently over the Gulf of Mexico where it could strengthen even more before making landfall around 1800 ET.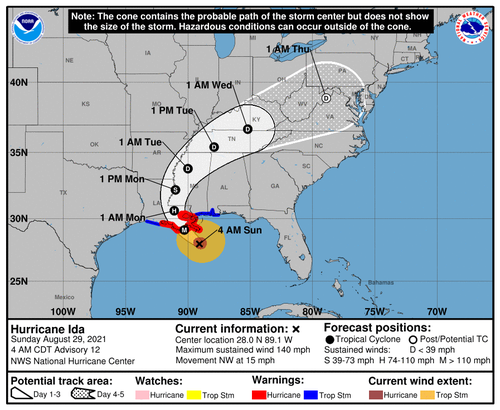 A Hurricane Warning has been posted for Intracoastal City, Louisiana, to Pearl River, Mississippi.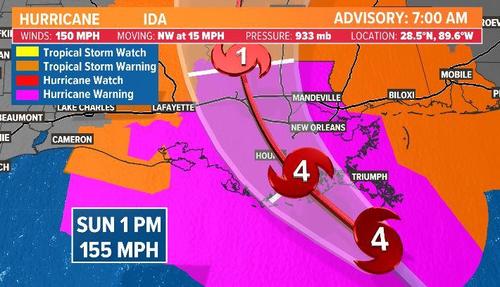 Storm surges could be significant across Louisiana and Mississippi. For instance, a 10-foot to 15-foot storm surge is forecasted from Morgan City, Louisiana, to Ocean Springs, Mississippi. A storm surge of 5-8 feet is possible for Lake Pontchartrain.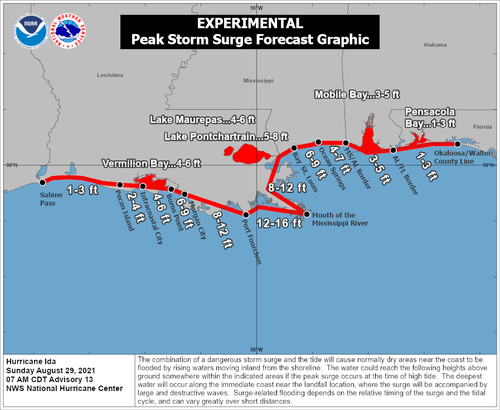 The Weather Prediction Center warns Southeast Louisiana could expect up to 8-16 inches of rain.
Metropolitan New Orleans is expected to get swamped by the hurricane and has prompted residents to evacuate or shelter in place. Bloomberg says, "the levee gates will close in many areas, hospital wards in the region are being cleared out, oil refineries and offshore production are shutting down, and thousands of residents are fleeing for their lives."
The menacing hurricane "could damage close to 1 million homes along the U.S. Gulf Coast" and cause upwards of "$220 billion," CoreLogic report said Saturday.
The property and data analytics firm is worried that a dangerous storm surge could hit 941,392 properties in Louisiana, Mississippi, and Alabama.
Finally, as Mike Shedlock notes, oil production is going to face serious disruptions:
Ida's projected path has made it a threat to the vast oil refining and petrochemical complex situated along the U.S. Gulf Coast, though the storm's more easterly track Friday suggested it would miss the heart of those operations in Texas and along the Texas-Louisiana border.
Refineries in Louisiana and Mississippi had started to reduce or halt output, which will lead to some gasoline-delivery delays.
Projections have Ida sweeping through the bulk of U.S. offshore oil production, located south and southeast of Louisiana, said Andy Lipow, president of Houston-based consulting firm Lipow Oil Associates. He expects as much as 90% of offshore oil output to close ahead of the storm.
"Hurricane Ida is showing up probably in the worst possible location for oil production," Mr. Lipow said.
Here's a list, courtesy of Bloomberg, of all major oil and gas production sites shuttered and their capacity in barrels per day.
BP Plc

Atlantis, 200,000 b/d
Mad Dog, 100,000 b/d
Na Kika, 130,000 b/d
Thunder Horse, 250,000 b/d

Royal Dutch Shell Plc

Turritella (including Stones field) 50,000 boe/d (at peak), Stones field working to resume partial production
Mars, 60,000 boe/d
Olympus, 100,000 boe/d
Appomattox, 175,000 boe/d
Ursa, 150,000 boe/d
Auger, 130,000 boe/d
Enchilada/Salsa, capacity not specified

Equinor SA

Titan, 2,000 boe/d (producing rate in the second quarter)

BHP Group

Shenzi, 100,000 b/d and 50 mmcf/d gas

Murphy Oil Corp.

Shutting in production, up to 4,100 boe/d

Chevron Corp.

Shutting all oil and natural gas platforms; volume not specified

Average net daily production in 2018 was 186,000 barrels of crude, 105 million cubic feet of natural gas and 13,000 barrels of NGLs: website

Exxon Mobil Corp. began evacuating personnel from its Hoover platform; minimal impact on production
Ports:
Coast Guard sets condition Zulu for New Orleans
LOOP paused deliveries until after storm
Refineries:
Phillips 66's 255k b/d Alliance began idling units Friday
PBF is reducing rates at 190k b/d Chalmette
Shell began shutting 230k b/d Norco
Marathon is shutting production at 578k b/d Garyville
Valero is idling production units at 125k b/d Meraux
ExxonMobil's 520k b/d Baton Rouge is running at ~50% capacity ahead of Ida
Expect higher gas prices and energy outages especially in the impacted regions.
Here's a live feed of the New Orleans skyline.
As the storm makes landfall this afternoon/evening, we will provide updates as needed.
Via Zero Hedge