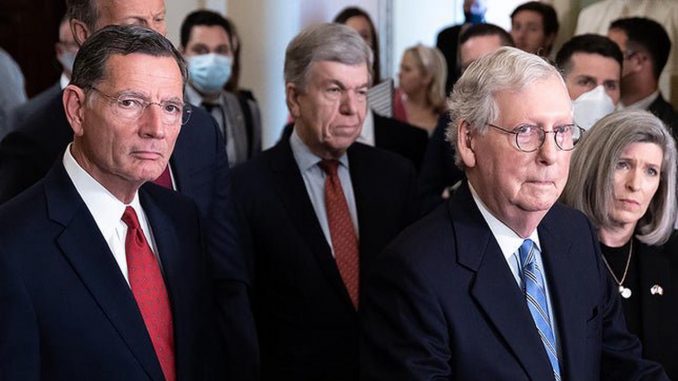 The backlash Senate Minority Leader Mitch McConnell (Ky.) received from fellow Republican senators last week is a wake-up call to the GOP leader that he doesn't have any more political capital to spend on helping Democrats raise the debt limit again, say GOP aides and strategists.
McConnell is still secure in his position as Senate Republican leader, despite regular attacks from former President Trump, who has called for him to be replaced.
Yet at the same time, Senate Republican aides and strategists say McConnell's reputation took a hit last week when he agreed to a two-month increase of the debt ceiling after saying for weeks that Republicans wouldn't help Democrats on the issue.
McConnell didn't announce his offer to Senate Majority Leader Charles Schumer (D-N.Y.) until he released a statement Wednesday, and many Senate Republicans were kept in the dark about it until the statement was made public.
Even at a Senate Republican Steering Committee lunch shortly before the statement came out, McConnell kept his plans close to his vest as fellow Senate Republicans discussed various options for getting out of the stalemate.
What made last week's internal Republican fight different from previous intrafamily spats was that McConnell heard criticism from allies such as Senate Republican Policy Committee Chairman Roy Blunt (Mo.), a member of his leadership team, and Sen. Lindsey Graham (S.C.), the top-ranking Republican on the Senate Budget Committee who has tried to bury the hatchet between McConnell and Trump.
Even Sen. Mitt Romney (Utah), who has become known as a moderate in the Senate GOP conference, voiced his misgivings.
"I think this was a crisis entirely of McConnell's making when he decided to announce the caucus's position this summer. He created drama and thought it would go a lot differently than he expected and then he blinked," said a Senate Republican aide who requested anonymity to frankly assess McConnell's standing after the debt limit fight. "He put his caucus into a tough position."
"He prides himself on protecting the caucus from tough votes and that obviously took a major blow," the aide added.
Sen. Ted Cruz (R-Texas), a longtime McConnell antagonist, sensed weakness after Thursday's Senate GOP conference meeting and immediately took to the floor to pounce on his leader.
"I believe Democratic Leader Schumer was on the verge of surrendering and then unfortunately … Republicans blinked. I think that was a mistake," he said on the Senate floor.
A Republican strategist allied with McConnell, however, argued that last week's fight won't have any lasting effect on the GOP leader.
"In the grand scheme it's irrelevant, because we're six weeks away from another showdown," the strategist said, predicting that public attention will quickly shift to other issues.
"What matters is how the [Senate Republican] members feel" about McConnell, "and the members enthusiastically" support McConnell, the strategist said.
McConnell won't be able to wrangle 10 Republican votes to help Democrats raise the debt ceiling again, something he told President Biden in a letter on Friday that was also a message to Republicans.
"I will not be a party to any future effort to mitigate the consequences of Democratic mismanagement," he wrote. "They cannot invent another crisis and ask for my help."
A second Senate Republican aide said McConnell didn't have a politically viable exit plan in case Schumer refused to back down in the fight and use the budget reconciliation process to raise the debt ceiling.
"It hurts him, which is why he sent that letter to Biden saying he wouldn't do it again. That's because he can't do it again. There won't be 10 Republican votes unless we get something," the aide said.
"McConnell was calling and begging people to do this," the source added, describing how tough it was to round up GOP votes just for a two-month extension.
The aide noted that McConnell's position in the conference has weakened since the last time there was a big internal fight over the debt limit in 2014, because loyal McConnell allies such as former Sens. Pat Roberts (R-Kan.) and Lamar Alexander (R-Tenn.) have retired.
Another wave of McConnell allies are due to retire at the end of next year when Sens. Rob Portman (R-Ohio), Richard Shelby (R-Ala.), Richard Burr (R-N.C.) and Blunt step down.
All of this is likely to make McConnell's job even harder, especially as he deals with barbs from Trump, who frequently weighed in publicly on the debt fight.
The next battle will come up toward the end of November as the Senate nears a new debt ceiling deadline.
"This puts McConnell in a box canyon where he has to be tough and fight the debt limit," said Brian Darling, a GOP strategist and former Senate aide. "He lost face during that debate and now he's going to have to step up and actually be tougher on the second go on the debt limit and force Democrats to use reconciliation."
McConnell and the 10 other Republicans who did vote to help raise the debt ceiling were criticized by the former president during a rally in Iowa.
"To think we had 11 Republicans go along with an extension. Headed up by Mitch McConnell, can you believe that?" Trump said before a cheering crowd in Des Moines.
McConnell, three members of his leadership team, moderate Sens. Susan Collins (R-Maine) and Lisa Murkowski (R-Alaska), and Portman and Shelby, who are both retiring, were among the 11. That vote could come back to haunt Murkowski and Senate Minority Whip John Thune (R-S.D.) in a primary next year, if they decide to run for reelection.
Via The Hill