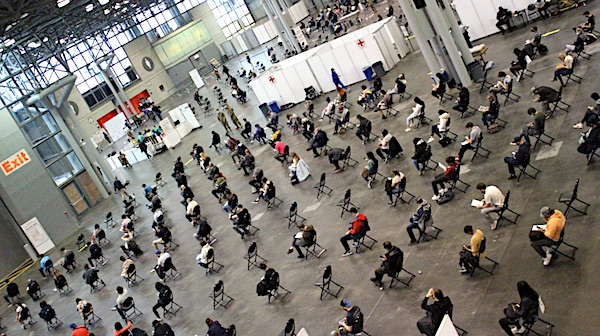 A video montage shows how health officials, pharmaceutical companies and media declared the coronavirus shots to be 100% effective against symptomatic COVID-19 at the launch of the vaccines then gradually lowered their estimations to as low as 20% after only six months.
White House coronavirus adviser Dr. Anthony Fauci is seen in a media interview touting the vaccines as "virtually 100% efficacious" and stating in congressional testimony that the "real world effectiveness is even more impressive than the results of the clinical trial."
The video, posted by a Twitter user, was highlighted by Grabien.com.
Moderna, a headline said, boasted its vaccine was 100% effective in teens. And Pfizer said its vaccine was 100% effective in preventing COVID infections. Others said their shot was 100% protection against severe disease, hospitalization and death.
But as the months wore on, the headlines showed incrementally lower rates of effectiveness.
By October, a study of real world data showed Pfizer's COVID vaccine was only 20% effective against infection after six months.
The final headline, from CNN in October 2020, before the vaccines were launched: "Past vaccine disasters show why rushing coronavirus vaccine now would be 'colossally stupid."
See the video:
A video showing the shifting narrative in vaccine efficacy. A 🤡 science world of the left. pic.twitter.com/BieFB1p4hy

— Americanka🇺🇸🦅🇵🇱 (@Americanka4) October 12, 2021
Via Wnd