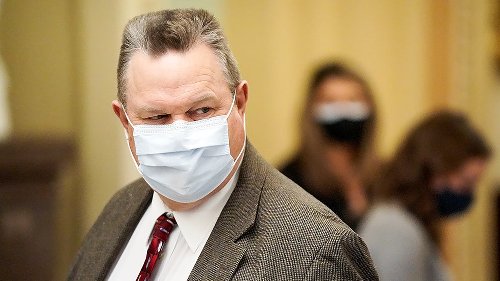 Lawmakers on Capitol Hill say Congress has little role to play in fixing the border crisis, arguing the responsibility falls largely on President Biden and federal agencies.
While most members say they'll provide more resources if the president asks, they also point out that there's not much they can do on the legislative front.
Sen. Jon Tester (Mont.), a moderate Democrat, says he doesn't know what Congress can do immediately to address the surge of migrants at the border, many of them unaccompanied children.
"I don't know you need legislation. I think what we need is to make sure we get the people and the technology down there to stop it," he said.
"We also need to work with the other countries to make sure that they're not sending folks up," he said. "That's how I would approach it."
Sen. Sheldon Whitehouse (D-R.I.), a member of the Senate Judiciary Committee, said, "Most of what's going on there is within the purview of the executive branch."
"If they feel they need additional resources, obviously we're here to help," he said.
Sen. Joe Manchin (W.Va.), often an outlier in the Democratic caucus, said after visiting the U.S.-Mexico border last week that it's "past time" for Congress to take up immigration reform to address the growing crisis.
But most Democrats aren't eager to dive into a divisive and politically dangerous debate over immigration when it's unlikely they'll be able to get the 10 Republican votes needed to overcome a GOP filibuster and pass legislation in the Senate.
Democratic senators say they see little real desire from Republicans to work with them on bipartisan immigration legislation and seem more interested in seizing on the border crisis to score political points.
A delegation of 19 Senate Republicans traveled to the southern border last week to call public attention to the growing problem. They said migrant children are being kept in cramped conditions and criticized the Biden administration for not allowing media to access the facilities.
Republicans want to keep the focus on Biden's policies instead of highlighting their own opposition to various Democratic ideas to overhaul the nation's immigration laws.
Some of the president's senior advisers are discussing potential reforms to the nation's asylum system to address a backlog of more than 1 million cases clogging up the courts. One approach under discussion would authorize the Department of Homeland Security to process more cases.
Sen. Lindsey Graham (R-S.C.), who played a key role in crafting comprehensive immigration reform that the Senate passed in 2013 before failing in the GOP-led House, said there "could be" a role for Congress to play now.
But he argued the problem would be addressed more quickly if Biden returned to the Trump-era policies he rescinded.
"They need to go back to the policies that were working," Graham said.
In a departure from former President Trump's immigration agenda, the Biden administration is allowing migrant children or teenagers to enter the country.
The Department of Homeland Security has also reversed Trump's policy of requiring immigrants seeking asylum to wait in Mexico while their cases are processed in U.S. immigration courts.
Data from U.S. Customs and Border Protection for February separately showed that fewer than half of the families apprehended at the southern border have been sent back to Mexico or their home countries under a federal statute that allows for closing the border to nonessential travel based on public health concerns. The Trump administration made wide use of the statute after the coronavirus pandemic took hold.
Additionally, Biden ordered a halt to the construction of a wall along the U.S.-Mexico border, a signature policy of the Trump administration that sparked debate over its efficacy.
Sen. Bob Menendez (D-N.J.), a proponent of comprehensive immigration reform and a co-sponsor of the 2013 Senate immigration reform bill, said Congress can provide more resources and oversight but that the White House needs to approach lawmakers with a formal request.
"There's resources. There's the question of standing up the places in Central America where people can apply [for asylum] directly," he said of things Congress can do.
"If the administration says that's what they need, then they should come to Congress," he added.
Senate Majority Leader Charles Schumer (D-N.Y.) made only a passing mention of immigration reform in the "Dear Colleague" letter he circulated before the April recess when he laid out the agenda for when lawmakers return on April 12.
"In the coming weeks and months, the Senate will consider legislation to rebuild our infrastructure and fight climate change, boost R&D and domestic manufacturing, reform our broken immigration system, and grow the power of American workers," Schumer wrote on March 25.
Senate Majority Whip Dick Durbin (D-Ill.) told reporters last month that the prospects of passing a comprehensive immigration bill aren't good, citing the challenges facing Speaker Nancy Pelosi (D-Calif.).
"I think Speaker Pelosi has discovered that she doesn't have support for the comprehensive bill in the House," Durbin told reporters. "And it indicates where it is in the Senate as well."
Some Democrats argue that the current border surge began before Biden took office and that Republicans are exaggerating the situation on the ground for political purposes.
Biden asserted at a press conference last month that there's nothing unusual about the flow of migrants from Central America, many of whom are fleeing violence in their home countries of El Salvador, Honduras and Guatemala.
"The truth of the matter is nothing has changed," Biden said. "It happens every single solitary year."
The number of migrants apprehended at the border reached a 15-year high in March, with more than 170,000 crossings, up from 78,000 in January, according to preliminary Customs and Border Protection data obtained by The Washington Post and The New York Times on Friday.
Via The Hill