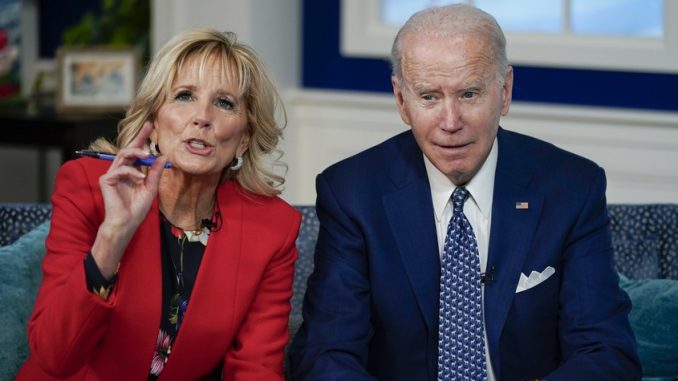 Michael LaRosa, Jill Biden's press secretary is leaving. It's being reported now but CNN reports that his departure has been known in the East Wing for several weeks. LaRosa extended the timeline of his departure in order to assist with three high-profile foreign trips for the first lady.
This is the latest communications team staffer to leave the White House. Does the rumored White House communication team chaos in the West Wing and in Kamala's office extend into Jill Biden's office, too? It would be understandable. Do we have any reason to think she runs her office any better than Biden or Kamala runs theirs? Her speeches, for example, often make headlines for gaffes. Breakfast tacos in San Antonio, anyone? Someone in her communications office wrote that for her. It is reported that the search for LaRosa's replacement is underway. If his departure has been known for weeks, why hasn't Jill already chosen his replacement? This administration procrastinates on everything.
LaRosa is staying in Washington and will join a public relations firm as a managing director. He's leaving government service to make some real money in the private sector. Who can blame him? That is why people work in prestigious government jobs in places like the White House for less money than they would make in the private sector – to pad their resumes and move to the private sector to make the big bucks. Think of Jen Psaki's departure from being Joe Biden's White House secretary. She went to MSNBC and a show host gig on one of its platforms.
He released a statement
As you may have heard, this Friday will be my last day in the East Wing. For a kid from Easton, Pennsylvania, who only ever dreamed of stepping foot into this history-rich residence for a tour, working for First Lady Jill Biden in the White House has been the proudest and most rewarding experience of my life.

I am forever grateful to her for taking a chance on me nearly three years ago, bringing me on this journey with her around the country, and the privilege of being a small part of the history that she and President Biden made. From long drives in minivans, jumping on and off planes, and 'No Malarkey' busses on the campaign to traveling to 10 countries, nearly 40 states, and over 75 cities in the first year and a half of the Biden-Harris Administration, I am now moving on to a new adventure. But my FLOTUS team has become and will remain my family and I am thankful for their constant mentoring, support, and friendship.

I want to express special gratitude to Anthony Bernal and Elizabeth Alexander, who along with Dr. B, gambled on an unconventional choice for this job, taught me so much more than I ever expected to learn, and whom I consider the very best in the business, as well as dear friends and partners on this journey.
Note he refers to Jill as "Dr. B.". I wonder if she makes her staff address her as Dr. Biden. She released a statement, too.
'For nearly three years, from the campaign to the White House, Michael has brought an encyclopedic knowledge of politics and media to my team as my spokesperson and adviser,' Dr. Biden told CNN.

'On a small team, loyalty and friendship are lifelong – we will miss Michael. However, we are excited for him to begin a new chapter in his career.'
LaRosa's resume includes years as a Hill staffer and a former MSNBC producer. He joined the Biden campaign in 2019 as Jill's spokesman. He became her press secretary in January 2021 and then last September, he was appointed as a special assistant to Joe Biden. With them, he traveled to 10 countries and 40 states.
Here is an interesting tidbit as we continue to report about the steady stream of departures from the Biden White House – Biden's staff shrank at a faster rate than the staff of his immediate predecessors, including Trump.
The White House has been required to publish its full payroll dating back to 1995. In total, 2022's report lists 474 people employed by the Executive Office of the President as of July 1, 16 of whom are listed as unpaid detailees, fellows, policy staffers, and one staff secretary. The report shows a more than 15% decrease in the total number of White House staff. The 2021 report listed 560 employees, with 41 not taking salaries.

For comparison, the White House saw 4% and 1% staff reduction after Presidents Barack Obama's and Donald Trump's first years in office, according to Open the Books. Obama employed 485 and 466 staffers in 2009 and 2010, while Trump employed 377 and 372 in 2017 and 2018.

The Biden White House stressed to the Washington Examiner that its 2021-2022 turnover rate, not to be confused with the change in the number of total staff, is on par with that of Obama's first to second years in office. According to senior White House officials, 146 of the 498 staffers who were not explicitly brought into the administration in a temporary capacity departed between Biden's first and second year for a turnover rate of 29%. In turn, Obama's second year produced a turnover rate of 28%, seeing 127 of the 455 staffers working in the White House in 2009 depart in 2010.
Team Biden always tries to use some clever explanation to explain their incompetence or failures, don't they? It's like changing the definition of a recession. They can describe it any way they want to do but it's still a recession. In this case, it's still a noticeably steady stream of staffers leaving the White House, whether it is the West Wing or Kamala's office. Now it looks as though it is beginning in Jill's office, too.
Via            Hot Air