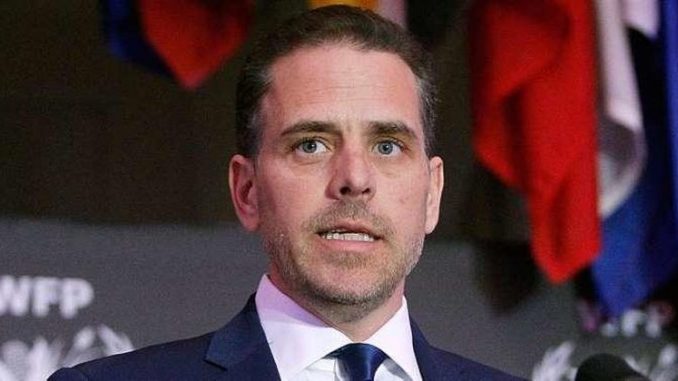 Hunter Biden has been subpoenaed by federal investigators over his involvement with at least two dozen entities – including Ukrainian gas company Burisma, according to the Associated Press, citing a 'person familiar with a Justice Department tax investigation."
News of the subpoena follows a joint announcement from Hunter and his father Joe Biden's campaign last week which acknowledged that he was under investigation for tax fraud, with the Washington Post noting that Hunter had yet to be interviewed by the FBI or served with subpoenas.
The subpoena, issued Tuesday, covers a wide swath of Hunter's taxes and international business dealings – in what could be a serious case against the Biden family (or a serious attempt to put a DOJ 'bow' on the 'matter'). AP notes that it's unclear if Burisma is a central part of the investigation – despite Joe Biden admitting on tape that he had Ukraine's chief prosecutor fired during the same period as said investigator, Viktor Shokin, was investigating Burisma's founder for corruption.
The subpoena also covers Hunter's Chinese business dealings and other financial transactions. AP also notes that Hunter fell under investigation in 2018 – knowledge which somehow didn't leak from the DOJ until after the 2020 election. During the election, of course, Hunter was completely off limits – with a virtual press blackout on the subject, and President Trump receiving a sharp rebuke from debate moderator Chris Wallace for bringing it up.
The probe was launched in 2018, the year before his father announced his candidacy for president. At one point in the investigation, federal prosecutors were also examining potential money laundering offenses, two people familiar with the matter told the AP.

Hunter Biden said he only learned of the investigation on Tuesday.

The younger Biden joined the board of Burisma in 2014, around the time his father, then vice president, was helping conduct the Obama administration's foreign policy with Ukraine. President Donald Trump and his allies have long argued, without evidence, that Hunter Biden's work in Ukraine influenced the Obama administration's policies toward the Eastern European nation. –Associated Press
Meanwhile, Fox News reports that there are currently four investigations into Hunter.
FOX NEWS: There are now currently at least 4 Federal Criminal Investigations into the Biden Family. pic.twitter.com/zXxnEAocC8

— Benny (@bennyjohnson) December 12, 2020
We're sure Kamala Harris is genuinely concerned over the outcome of this investigation and hopes it doesn't result in Joe Biden's unceremonious exit from the teleprompter scene.


Via Zero Hedge