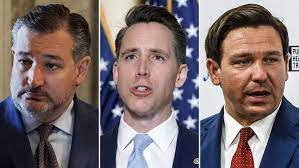 Republicans wrestling over the future of the party are debating whether to embrace the culture wars that helped former President Trump cement his popularity with the GOP base.
The internal rift, which involves congressional leaders and potential 2024 presidential contenders, comes as Republicans have struggled to dent President Biden's popularity and as they plot their strategy to win back the House and Senate in the 2022 midterms.
While some in the GOP are eager to double down on Trump's brand of populism, others argue the party needs to return to its roots.
"I think that the long-term future of the Republican Party requires it to be some version of the traditional Republican Party: strong on national security, low taxes, limited government, limited regulation and in the broadest sense of the word, pro-business," said Vin Weber, a Republican strategist, who espouses the more traditionalist party.
But he also acknowledged, "We're at a moment when cultural issues are pushing everything else aside."
"There's no escaping that cultural issues are dominating," Weber said.
Issues that have dominated the conservative mediasphere in recent weeks include Major League Baseball's decision to pull the 2021 All-Star Game out of Atlanta because of Georgia's new voting law; the guilty verdict in the Derek Chauvin trial; a company halting publication of certain Dr. Seuss books due to racist imagery; and a false report that the Biden administration would limit meat consumption as part of its fight against climate change.
The vanguard pushing the GOP to become more populist in Trump's image include Sens. Ted Cruz (R-Texas) and Josh Hawley (R-Mo.) — two potential 2024 presidential candidates — who say they will no longer accept corporate PAC contributions.
"Starting today, I no longer accept money from any corporate PAC. I urge my GOP colleagues to do the same. For too long, Republicans have allowed the left & their big-business allies to attack our values & ship jobs overseas with no response. No more," Cruz tweeted on Wednesday.
That prompted an enthusiastic response from Hawley, who retweeted Cruz the following day.
"Yes! Corporate America has put Americans last. They ship our jobs to China, mock middle America's way of life, try to control our speech and run our lives," Hawley wrote. "It's time we stood up to them. I won't take corporate PAC donations & I'll fight to break up their monopoly power."
The bashing of corporations is striking a discordant tone with other Republicans at a time when they're trying to marshal a unified defense against Biden's plan to raise the corporate tax rate to 28 percent, from 21 percent, to pay for his infrastructure agenda.
"It's repudiating a segment of the American economy and the American electorate that has traditionally been very loyal to the Republicans. It's an amazing example of ideological shapeshifting to wage war along cultural lines," said Ross K. Baker, professor of political science at Rutgers University and a former Senate fellow.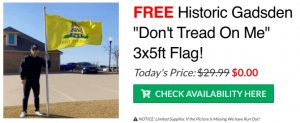 Trump has yet to say whether he will run for president again in 2024, but on Thursday he said that if he did he would "certainly" consider Florida Gov. Ron DeSantis (R) as a running mate. DeSantis is a staunch conservative and longtime Trump ally.
The competing GOP approaches in the post-Trump era are also reflected in the starkly different styles of Senate Minority Leader Mitch McConnell (R-Ky.), a strong defender of traditional Republicanism, and House Minority Leader Kevin McCarthy (R-Calif.), who has tied himself more to Trump's brand of conservatism.
McConnell hasn't spoken to Trump since mid-December and denounced the former president's role in the Jan. 6 insurrection. Since then, he has rarely invoked Trump by name.
McCarthy, by contrast, visited Trump at his Mar-a-Lago resort shortly after he left office and is now working closely with him ahead of the midterm elections.
Trump on Thursday renewed his call for Senate Republicans to replace McConnell as their leader, and promised to be a force in the midterms, citing his work with McCarthy.
But the lines in the internal debate over culture wars are fluid. McConnell joined in the tough talk directed at corporate America last month when he warned CEOs to "stay out of politics." He later backpedaled after being pressed on his longtime advocacy of allowing companies to spend freely on political campaigns.
More recently, McConnell led more than three dozen Senate Republicans in calling for the Education Department to abandon plans of offering grants to schools that include The New York Times's "1619 Project," which reframes U.S. history around the arrival of the first slave ship, in their curriculum.
"This is a time to strengthen the teaching of civics and American history in our schools. Instead, your Proposed Priorities double down on divisive, radical, and historically-dubious buzzwords and propaganda," the GOP senators wrote last week in a letter to Education Secretary Miguel Cardona.
Baker said Republicans see cultural hot-button issues as more effective in generating attention than attacking Biden, who has maintained strong approval ratings since taking office.
A Gallup poll released in April showed Biden's approval at 57 percent — 16 percentage points higher than Trump's numbers at the same point in his presidency.
"They realize that Biden himself isn't a very good target. But the one thing they can get the blood boiling with are cultural issues: the 1619 Project, Black history, Black Lives Matter," Baker said of Republicans.
Some Republicans want their party to focus less on those topics and more on the issues that unified Republicans before Trump: lower taxes, smaller government, deregulation and a strong national defense.
"I know there are these cultural issues … that get people very worked up and exercised but I think that there's plenty on the policy agenda, lots of ammunition to debate and a lot of contrasts to draw," said Senate Republican Whip John Thune (S.D.). "You can get distracted."
Thune called the false claims about Biden planning to ban Fourth of July burgers and similar blowups "a distraction."
With Biden looking to spend $4.1 trillion on infrastructure, raise taxes and pull troops out of Afghanistan, Thune sees a prime opportunity for Republicans to get back to what had long been their bread-and-butter issues.
"The public historically, at least, has trusted us on national security issues, I think with good reason. And I think that will continue to be a strong issue for us," said Thune. "The economic cluster of issues, taxes and spending will also be grist for a very robust debate about the future of the country."
Meanwhile, some GOP lawmakers are worried that even the party's base isn't concerned about increased government spending and the price tags on Biden's infrastructure proposals, which are shaping up to cost $4.1 trillion.
The U.S. added nearly $8 trillion to the federal debt during Trump's four years in office and the Republican Party's base is now less concerned about the deficit than it was during former President Obama's first two years in office, when the Tea Party was on the ascent.
Sen. Mitt Romney (R-Utah), who was the GOP presidential nominee in 2012, indicated he would prefer Republicans return to what he considered their traditional strengths.
"I'm not going to criticize other Republicans [and] the issues they tend to focus on. For me, the amount of our debt has been a concern and continues to be and I'm going to continue battling on that front," he said when asked about the recent penchant for fellow Republicans to focus on the culture wars.
Romney said traditional Republican positions on taxes, fiscal responsibility and foreign policy "are right for our economy and right for our future and will return, hopefully, to the centerpiece of our party."
Via The Hill