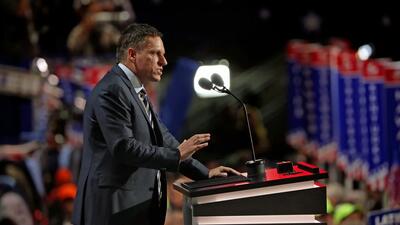 Billionaire venture capitalist and Paypal founder Peter Thiel has decided to leave the board of Meta Platforms (the company formerly known as Facebook) after its annual shareholder meeting in May, according to an announcement from the company released just after markets closed on Monday afternoon.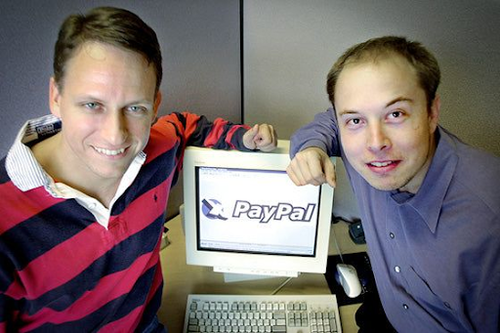 According to reports published by Bloomberg and the NYT, Thiel is leaving Meta's board so he can focus on backing political candidates who support President Donald Trump's agenda during November's midterms, which Thiel sees as "crucial to changing the direction of the country." Both reports cited anonymous sources familiar with Thiel's thinking. He doesn't want his political activities to be a "distraction" from his work at Facebook, one of the sources said.
"He thinks that the Republican Party can advance the Trump agenda and he wants to do what he can to support that," said the person, who was not authorized to speak publicly.

"His focus will be on supporting Blake Masters, JD Vance and others who support the Trump agenda," he added, referring to Republican candidates for U.S. Senate. "He wanted to avoid being a distraction for Facebook."
As such Thiel is clearly positioning himself as the conservative foil to the biggest financial banker of the Democrats, George Soros.
Soros vs Thiel

— zerohedge (@zerohedge) February 7, 2022
Thiel has been a member of Facebook's board since 2005, a year after CEO Mark Zuckerberg created the company in his Harvard dorm room. Thiel's Founders Fund bought its 10% stake in Facebook for a mere $500K, one of the best-performing VC investments in the history of the industry.
With his departure, Meta's board is losing its last conservative voice.
Mark Zuckerberg, Meta founder and CEO, praised Thiel for "believing in us when few others would."
"Peter has been a valuable member of our board and I'm deeply grateful for everything he has done for our company – from believing in us when few others would, to teaching me so many lessons about business, economics, and the world. Peter is truly an original thinker who you can bring your hardest problems and get unique suggestions. He has served on our board for almost two decades, and we've always known that at some point he would devote his time to other interests. I'm grateful he's served on our board for as long as he has, and I wish him the best in his journey ahead."
Thiel said in the press release that it had been "a privilege" working with Zuckerberg, whom he called "one of the great entrepreneurs of our time."
"It has been a privilege to work with one of the great entrepreneurs of our time. Mark Zuckerberg's intelligence, energy, and conscientiousness are tremendous. His talents will serve Meta well as he leads the company into a new era."
As one Twitter user pointed out earlier this month, another company backed by Thiel's Founders Fund demonstrated the ability to hack into Meta's Whatsapp, an encrypted SMS messaging service. But there's nothing to suggest this had any bearing on Thiel's decision to leave the board.
woah, I missed this. F*%&ing crazy. This NYT report is that, according to a presentation they reviewed, Peter Thiel – forever board member of Facebook – Founders Fund invested in a company that could hack into WhatsApp? Do I have that right? He's a remarkable board member. /1 pic.twitter.com/FgYr3Yk1N1

— Jason Kint (@jason_kint) February 1, 2022
Meta's other board members include Zuckerberg; Robert M. Kimmitt, Meta's lead independent director and senior international counsel at WilmerHale LLP; Peggy Alford, executive VP of global sales, Marc Andreessen of Andreessen Horowitz; Drew Houston, co-founder and CEO of Dropbox; Nancy Killefer, retired senior partner at McKinsey; Sheryl Sandberg, Meta's COO, Tracey Travis, executive VP and CFO at Estée Lauder and Tony Xu, co-founder and CEO of DoorDash.
Meta's shares have been struggling after shedding more than a quarter of the company's valuation following its latest earnings report, which stoked fears that TikTok and other rivals were poised to eat Meta's lunch.
As a reminder, Thiel helped elect Trump president in 2016 by donating money and speaking on his behalf at the Republican National Convention.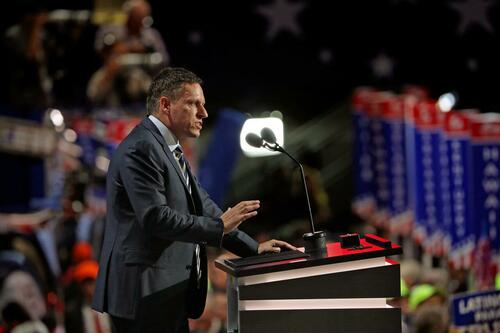 Here is a brief excerpt from a speech Thiel gave in October 2016 (forgive the Full Caps):
I DON'T AGREE WITH EVERYTHING DONALD TRUMP HAS SAID AND DONE, AND I DON'T THINK THE MILLIONS OF OTHER PEOPLE VOTING FOR HIM DO EITHER. NOBODY THINKS HIS COMMENTS ABOUT WOMEN WERE ACCEPTABLE. I AGREE, THEY WERE CLEARLY OFFENSIVE AND INAPPROPRIATE. BUT I DON'T THINK THE VOTERS PULL THE LEVER TO ENDORSE A CANDIDATE'S FLAWS.

IT IS NOT A LACK OF JUDGMENT THAT LEADS AMERICANS TO VOTE FOR TRUMP, WE ARE VOTING FOR TRUMP BECAUSE WE JUDGE THE LEADERSHIP OF OUR COUNTRY TO HAVE FAILED.

THIS JUDGMENT HAS BEEN HARD TO ACCEPT FOR SOME OF THE COUNTRIES MOST FORTUNATE, SOCIALLY PROMINENT PEOPLE. IT CERTAINLY HAS BEEN HARD TO ACCEPT FOR SILICON VALLEY, WHERE MANY PEOPLE HAVE LEARNED TO KEEP QUIET IF THEY DISSENT FROM THE COASTAL BUBBLE.

LOUDER VOICES HAVE SENT A MESSAGE THAT THEY DO NOT INTEND TO TOLERATE THE VIEWS OF ONE HALF OF THE COUNTRY.

THIS INTOLERANCE HAS TAKEN ON SOME BIZARRE FORMS. THE ADVOCATE, A MAGAZINE WHICH ONCE PRAISED ME AS A GAY INNOVATOR, EVEN PUBLISHED AN ARTICLE SAYING THAT AS OF NOW I AM, AND I QUOTE "NOT A GAY MAN" BECAUSE I DON'T AGREE WITH THEIR POLITICS.

THE LIE IN THE BUZZWORD OF DIVERSITY COULD NOT BE MADE MORE CLEAR. IF YOU DON'T CONFORM, THEN YOU DON'T COUNT AS DIVERSE, NO MATTER WHAT YOUR PERSONAL BACKGROUND.
When Trump became president, Thiel worked on his transition team.
So now we know what 2024 is shaping up to be…
LFG!