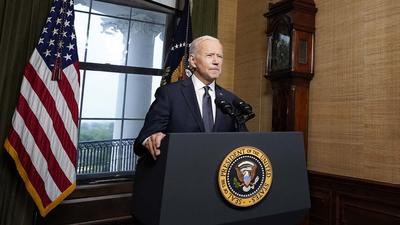 President Biden in his relatively brief remarks warned that he "could have gone further" with Thursday's already extensive anti-Russia sanctions, but he wanted to be "proportionate" – and he even underscored that the offer of a face-to-face summit with President Putin is still on the table, likely to be held over the summer, according to the remarks.
Biden said "If Russia continues to interfere with our democracy, I'm prepared to take further actions" while also at the tail-end of the remarks mentioning the Russian troop build-up near Ukraine. "Now is the time to de-escalate," he warned Moscow.
Proposed to Putin they meet this summer in Europe and @POTUS says he believes that summit will occur. pic.twitter.com/s9m3NJW70n

— Steve Herman (@W7VOA) April 15, 2021
Though just a month ago Biden in an ABC interview agreed that Putin is "a killer" who is "soulless", the president underscored that his Tuesday phone call with the Russian leader was "candid and respectful."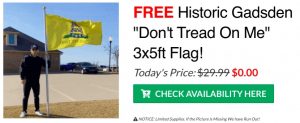 Biden also mentioned the agreed upon extension of the New START nuclear arms reduction treaty as a rare bright spot, suggesting hope for improved relations, as he also emphasized the US isn't seeking to "escalate".
Pres. Biden on Russia sanctions: "I was clear with Pres. Putin that we could have gone further, but…I chose to be proportionate."

"If Russia continues to interfere with our democracy, I'm prepared to take further actions." https://t.co/JGc4ljGUCO pic.twitter.com/XYMRsij3tI

— Evan McMurry (@evanmcmurry) April 15, 2021
All of this of course signals we are in for a long-haul "carrot and stick" approach by the Biden administration, but then again in the past Putin has proven he likely won't play Washington's game so predictably.
"The summit format will also please the Kremlin by effectively cutting Kyiv out of any negotiations, and allow Putin to project the image of two global superpowers deciding the future fate of the conflict."https://t.co/MWrvMu7foq

— Bruno Maçães (@MacaesBruno) April 15, 2021
After Biden imposed tough new sanctions on Russia in response to alleged election 'interference' and cyberhacks Thursday morning – foremost among them in response to the SolarWinds incident – the president is scheduled to follow-up with televised remarks on Russia around 4:30pm Eastern time.
LIVE FEED (address is due to start at 1630ET):
He's expected to address the Kremlin's "malign activities" including the current Russian troop build-up near Ukraine, the Alexei Navalny affair, the "Afghan bounties" allegations, and of course all things 'Russian election meddling'.
All of this will no doubt further chill US-Russia relations, already at a low-point, despite Tuesday's Biden-Putin phone call wherein the US president offered to meet with Putin face-to-face "in a third country in the coming months."
Later in the day Thursday following the White House and Treasury sanctions announcements, which further included the US banning banks from buying new Russian sovereign debt starting June 14, White House press secretary Jen Psaki fielded questions over the executive order and claimed, "Our objective here is not to escalate."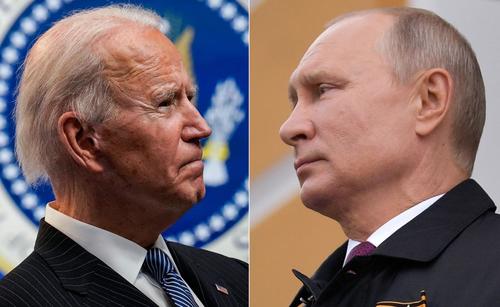 She explained: "Our objective here is to impose costs for what we feel are unacceptable actions by the Russian government," in the briefing.
"We can't predict what the impact will be, but we still believe that when there's unacceptable behavior, we should put consequences in place," Psaki said.
The Kremlin's first move was to summon the US ambassador for a "difficult conversation". The Moscow Times previews where things are expected to go from here as follows:
Russia has hit out at the imposition of sanctions, warning their introduction is not conducive to the proposed Biden-Putin summit going ahead in the near future.
Russia immediately summoned U.S. Ambassador John Sullivan to the Foreign Ministry for what spokesperson Maria Zaharova said would be "a difficult conversation."
Russia typically responds to diplomatic expulsions in a tit-for-tat move, and is expected to expel 10 American diplomats from the U.S. embassy in retaliation. The Foreign Ministry said Thursday a Russian response was "inevitable."
Yevgeny Prigozhin said he was being sanctioned for his "humanitarian actions" in Africa. 
And the report has a quick overview of the extensive US actions targeting Russian government entities, officials, companies, and the economy Thursday…
U.S. financial institutions will be banned from taking part in new Russian government bond auctions from June 14.
The U.S. expelled 10 diplomats from the Russian embassy in Washington D.C., a group it alleges "includes representatives of Russian intelligence services."
The U.S. sanctioned 32 other individuals and legal entities it deemed responsible for "carrying out Russian government-directed attempts to influence the 2020 U.S. presidential election, and other acts of disinformation and interference." They will not be able to travel to the U.S. and any assets based in the U.S. will be frozen.
Among the sanctioned outfits were a host of entities controlled by "Putin's Chef" Yevgeniy Prigozhin, who was recently added to the FBI's wanted list and is linked to the Wagner private militia group which has been deployed to various conflicts in Africa, Syria and eastern Ukraine.
Three companies involved in constructing the Kerch bridge, which links Crimea to Russia were sanctioned, as well as five Crimean government officials, including the head of the FSB security agency and the Investigative Committee on the peninsula.
Six Russian technology companies with links to Russia's Defense Ministry were also sanctioned for "developing tools and infrastructure to facilitate malicious cyber activities."
The U.S. "formally named" Russia's foreign intelligence service (SVR) — "also known as APT 29, Cozy Bear, and The Dukes" — as responsible for the SolarWinds cyber attack, described by the president of Microsoft as the most sophisticated and advanced hack in history. It follows earlier official comments that the U.S. believed Russia was "likely responsible" for the cyber attack.
No new measures against the controversial Nord Stream 2 pipeline were announced.
Via Zero Hedge