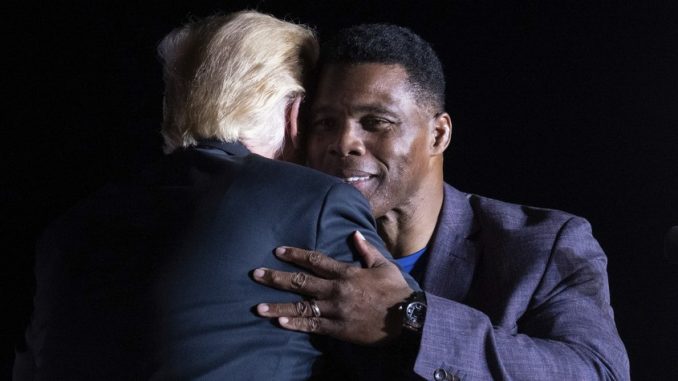 The Republican Accountability Project (RAP) is out with a 30-second ad against Hershel Walker. RAP is an anti-Trump Republican group led by Bill Kristol, editor at large of the Bulwark, and Sarah Longwell, Publisher of the Bulwark, according to its website. Walker is endorsed by Trump so he is on their radar.
The ad is somewhat odd, given how out of date it is. It features Walker's ex-wife, Cindy DeAngelis Grossman, as she describes threats Walker made to her. At the time of the interview from which her remarks are taken, Walker's 2008 book, "Breaking Free: My Life with Dissociative Identity Disorder", had been published.
It's cringey. It's not acceptable for anyone to threaten another person like that, especially a spouse. In a normal world, that kind of exposure would derail a political campaign. But, we don't live in a normal world and Walker's supporters likely already know about her statements against him and have drawn their own conclusions. That clip was from 2008. Today Walker says he considers himself and Cindy as "best friends." If that is true and she's willing, Walker's campaign should get on it and respond with their own video ad using Cindy describing her relationship with Walker today.
The reason for the ad is because Trump endorsed Walker. Trump takes credit for the fact that Walker is running in the first place. Walker lived in Texas for over twenty years and moved back to Georgia to run for office. He's a football legend, so that likely was behind Trump's reasoning. Trump is partial to celebrity candidates. The truth is, though, Trump has known Walker for many years. In 1984, then-New Jersey Generals owner Donald Trump signed Herschel Walker to play for the team.
The ad smacks of desperation by the anti-Trumpers. Most of them threw in with Democrats a long time ago so they don't carry much weight among Republican voters anyway. This ad just stands out because of the use of the old interview footage. According to HuffPo (I know), Cindy's sister is also on the record with a statement about the threat of violence from Walker. Walker takes responsibility for his actions and blames it on mental health problems. In a 2008 interview with ABC News' Bob Woodruff, he didn't deny Cindy's allegations against him. He said he "probably did it," but did not remember.
Grossman filed for divorce in December 2001, and returned to court in 2005 for a protective order after Walker repeatedly said he wanted to kill her and her boyfriend.

Walker "stated unequivocally that he was going to shoot my sister Cindy and her boyfriend in the head," her sister said, according to court records.

In December, 2021, Walker told Axios that he was "accountable" for past violent behavior toward his ex-wife and said people shouldn't feel "ashamed" about confronting mental health issues.
It's troubling, to be sure. The Georgia Senate race shows the importance of vetting candidates. Walker's Democrat opponent is incumbent Raphael Warnock. He, too, has domestic violence baggage. There is even video of him allegedly running over his ex-wife's foot that was released during his 2020 campaign. He won anyway.
The ad against Walker begins with, "Do you think you know Herschel Walker? Well, think again." The Georgia primary voters do know him. This ad is to move Independent voters or more conservative Democrat voters who are fed up with the Biden administration and Warnock's progressive votes. In 2020, Trump was on the ballot. In November he is not. Walker is currently behind Warnock but it's a closeable gap. According to Real Clear Politics, Walker is behind by 4.4 points. This is one of the crucial races for Republicans to flip the Senate. Let's hope that happens, despite the lame anti-Trump ads by Republicans who vote for Democrats anyway. Let's hope the red wave works in Georgia in November.
Via              Hot Air
The Death of Black Coffee:
Latest studies have found that 1 tiny tweak to your morning coffee puts your body into fat-burn ing mode for the rest of the day.
This coffee trick takes less than 10 seconds…
Yet, it instantly ignites your metabolism and boosts your health, energy and well-being at the same time!
Here's to an amazing start to your day 🙂
====> Try This 10 Sec Fat-Burning Coffee Trick!