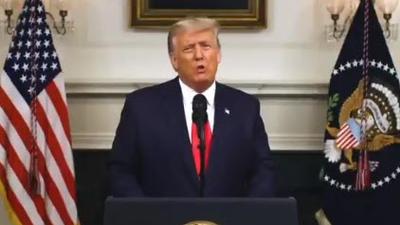 President Trump provides an update on the "constitutional election process."
Trump described his speech as "the most important" he's ever made, providing an "update" on the campaign's "ongoing efforts to expose the tremendous voter fraud that took place during the ridiculously long November 3rd elections."
The President noted that:
"Lots of bad things happened during this ridiculous period of time, especially when you have to prove almost nothing."
The short version on Twitter…
Statement by Donald J. Trump, The President of the United States

Full Video: https://t.co/EHqzsLbbJG pic.twitter.com/Eu4IsLNsKD

— Donald J. Trump (@realDonaldTrump) December 2, 2020
During the full speech (on Facebook), Trump summarized a number of allegations raised by former New York City Mayor Rudy Giuliani and other campaign lawyers. He claimed that "many people in the media, and even judges so far, have refused to accept it."
"They know it's true. They know it's there. They know who won the election but they refuse to say 'you're right,'" he continued.

"Our country needs somebody to say you're right."
Trump concluded:
"As president, I have no higher duty than to defend the laws and the Constitution of the United States," which – along with the election system – is under "coordinated assault and siege,"
Both Twitter and Facebook have already slapped warnings on the clips.
TRENDING: Trump's Announcement Terrifies Church Leaders
Via Zero Hedge