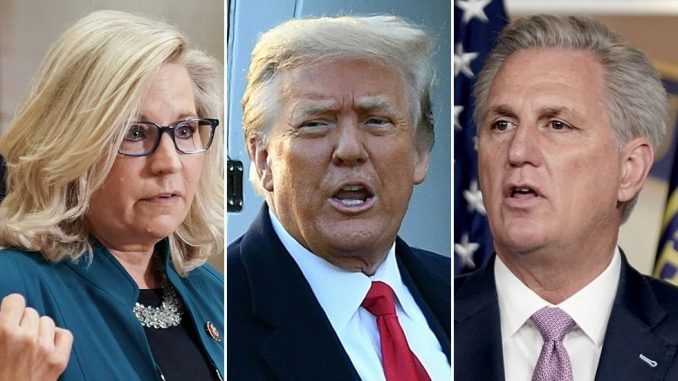 He's no longer in the White House, and was not invited to speak, but former President Trump remains an outsize presence at the House Republicans' policy retreat in central Florida this week.
The specter of Trump is looming over every move at the annual gathering in Orlando — a retreat designed to unify a fractured Republican Party that's simultaneously confronting a new Democratic president, racing to win back majorities in the House and Senate in 2022, and fighting to find its footing in a post-Trump Washington.
Yet even GOP leaders couldn't get on the same page at the retreat's opening news conference, as GOP Conference Chair Liz Cheney (Wyo.) on Monday broke with Minority Leader Kevin McCarthy (R-Calif.) over the scope of the investigation into the Jan. 6 Capitol attack.
In one camp are those, like McCarthy, who are embracing Trump. The former president relishes the sport of kingmaking — and retains enormous popularity within the party's conservative base — and leaders like McCarthy, who's in line for the Speakership if the House flips, have made the tactical decision that their best chance at retaking power is to keep in Trump's good graces.
With that in mind, McCarthy has championed Trump's false claims that the election was stolen; defended the former president for his role in egging on the supporters who ransacked the Capitol on Jan. 6; and stayed in close contact with Trump, including making at least two visits to his Mar-a-Lago resort this year.
In the other camp are those, like Cheney, who have been repeatedly critical of the former president and appear ready to move beyond the turmoil and controversy that accompanied his four years in office.
"I think right now, the Republican Party is headed by [Senate Minority Leader] Mitch McConnell and Kevin McCarthy in the House. I think our elected leaders, you know, are the ones who are in charge of the Republican Party," Cheney, one of 10 Republicans who voted to impeach Trump for his role in the insurrection, told reporters on Monday.
"And I think as we look at '22 and '24," she said, "we're very much going to be focused on substance and on the issues."
In recent weeks, Cheney has generated headline after headline with her public jabs at Palm Beach's most famous resident. In February, a month after her impeachment vote, Cheney appeared on Fox News and said Trump "does not have a role as a leader of our party going forward." Earlier this month, she appeared again on Fox and said she would not back Trump if he's the GOP nominee in 2024.
Then last week, when asked by The Hill if Trump would be making an appearance at the Orlando retreat, Cheney said, "I haven't invited him," prompting laughter from reporters who have been following the Cheney-Trump feud closely.
Unlike past GOP retreats in West Virginia and Baltimore, Trump wasn't invited to address this year's gathering by the Congressional Institute, the nonprofit sponsor, despite the fact that he's just a short flight away at Mar-a-Lago. A spokesperson said the institute also had not been asked by GOP leaders to invite him.
Trump is casting a long shadow over the Orlando gathering nonetheless. The anti-Trump Republican Accountability Project on Monday launched a new congressional scorecard based on lawmakers' support for Trump's efforts to overturn the election and whether they voted to impeach him after the siege.
The group handed an "F" grade to 136 pro-Trump House and Senate Republicans, including McCarthy, House Minority Leader Steve Scalise (La.) and Rep. Jim Jordan (Ohio), who was spotted golfing with Trump on Sunday at Trump International in West Palm Beach. All three voted to overturn the election result.
Cheney and others who voted for impeachment — including Reps. Jaime Herrera Beutler (Wash.), Adam Kinzinger (Ill.) and Anthony Gonzalez (Ohio) — received an "A" rating.
The public divisions are an unwelcome distraction for House GOP leaders who like their odds of winning back the chamber next year — a midterm cycle that's been historically favorable for the opposing party of the sitting president. Republicans are already accusing Biden of pushing a far-left policy agenda that defies his campaign vows to seek bipartisanship on major legislation. They're also pointing to the migrant wave at the southern border to accuse the administration of causing the crisis with overly tolerant immigration policies.
Despite their agreement when it comes to Biden, however, Republicans remain split over Trump. And at the heart of the GOP dispute is the Capitol attack of Jan. 6.
In his latest defense, McCarthy said this week that Trump was unaware of the Capitol siege until McCarthy phoned him while sheltering from the mob in the Capitol — an account disputed by other Republicans in the former administration and Congress. McCarthy has declined to address the account provided by Herrera Beutler, who said Trump berated McCarthy on that call, portraying the rioters as more angry with Trump's election loss than McCarthy was.
"I engaged in the idea of making sure we could stop what was going on inside the Capitol at that moment in time," McCarthy told "Fox News Sunday" host Chris Wallace. "The president said he would help."
Cheney has led the small but vocal group of Republicans who are holding Trump accountable for the attack. In her latest split from McCarthy, she's calling for the creation of an independent commission, modeled on the bipartisan 9/11 commission, to investigate the Jan. 6 assault as a standalone event.
"What happened on Jan. 6 is unprecedented in our history, and I think that it's very important that the commission be able to focus on that," she said Monday.
McCarthy and other GOP leaders have different ideas, pressing to have the outside commission investigate not only the Jan. 6 attack, but also other recent incidents of political violence, including episodes of looting that accompanied some of the protests for racial justice and police reform that followed the killing of George Floyd last May.
"If you're now going to put a commission together, why wouldn't you look at all the problems to solve?" McCarthy asked Wallace of Fox News.
Via The Hill