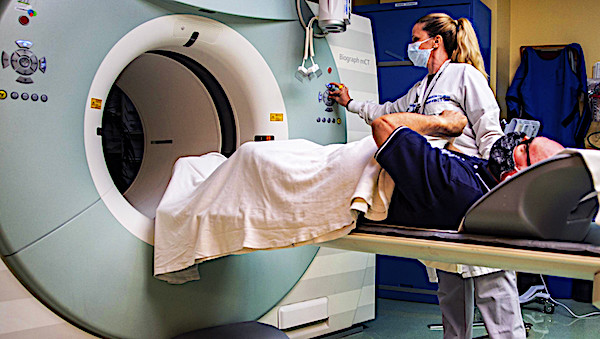 The federal Vaccine Adverse Event Reporting System has reported an astonishing explosion in the number of problems it is seeing with vaccines, as reactions to the COVID-19 shots that have been pushed by politicians over the last year have multiplied exponentially.
Now a doctor has said in a report from Lifesitenews that cancers also are surging.
"Since January 1, in the laboratory, I'm seeing a 20 times increase of endometrial cancers over what I see on an annual basis," reported Dr. Ryan Cole in a March 18 report.
Cole, a board-certified pathologist, owns and runs a diagnostics lab, and made the comments in a video from Idaho state government's "Capitol Clarity" project.
He warned of a huge surge in various autoimmune diseases and cancers in patients who have taken the experimental vaccines.
This doctor trained at the Mayo Clinic and runs the largest independent testing laboratory in Idaho.

Listen to what his lab testing is showing: pic.twitter.com/VtdjQMluzF

— ToTheLifeboats (@ToTheLifeboats) August 25, 2021
"I'm not exaggerating at all because I look at my numbers year over year, I'm like 'Gosh, I've never seen this many endometrial cancers before'," he explained.
Lifesitenews reported in his findings, Cole said that vaccines seem to be triggering serious autoimmune issues, and described the situation as a "reverse HIV."
"Cole explained that two types of cells are required for adequate immune system function: 'Helper T-cells,' also called 'CD4 cells,' and 'killer T-cells,' often known as 'CD8 cells,'" the report said. "According to Cole, in patients with HIV, there is a massive suppression of 'helper T-cells' which cause immune system functions to plummet, and leave the patient susceptible to a variety of illnesses. Similarly, Cole describes, 'post-vaccine, what we are seeing is a drop in your killer T-cells, in your CD8 cells,'"
Those, he explained, "keep all other viruses in check."
While HIV causes immune system problems by suppressing one type of cells, "the same thing happens when CD8 'killer' cells are suppressed," the report explained.
The result is that he's seeing an increase in cases of endometrial cancer, melanomas, herpes, shingles, mono, and HPV.
Lifesitenews noted, "this is not the first time the COVID-19 vaccines have been linked to serious issues regarding women's health. According to a German research study, polyethylene glycol, an ingredient found in the Pfizer and Moderna jabs, has been found to pose a 'potential toxicity risk' to women's ovaries."
One former Pfizer official, Dr. Michael Yeadon, has explained that study may suggest the reason for "the large number of menstrual irregularities and miscarriages being reported by vaccinated women," Lifesitenews said.
Cole warned that the cancers are more frequent, and worse, than usual.
"Most concerning of all, there is a pattern of these types of immune cells in the body keeping cancer in check," he said. "I'm seeing invasive melanomas in younger patients; normally we catch those early, and they are thin melanomas, [but] I'm seeing thick melanomas skyrocketing in the last month or two."
Via Wnd