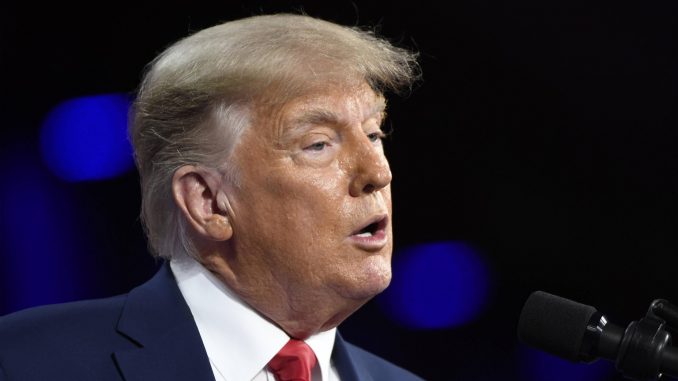 Former President Trump on Monday filed a federal lawsuit against the Jan. 6 select committee seeking to block the panel from obtaining his administration's records from the National Archives.
"The Committee's request amounts to nothing less than a vexatious, illegal fishing expedition openly endorsed by Biden and designed to unconstitutionally investigate President Trump and his administration," the lawsuit reads. "Our laws do not permit such an impulsive, egregious action against a former President and his close advisors."
The committee requested in August that the National Archives turn over an exhaustive list of records from Trump's time in office and in the aftermath of the Capitol riot.
President Biden declined to assert executive privilege over certain records that were requested. Trump's lawyers said in their lawsuit Monday that the former president had an interest in preserving such privilege over certain documents.
"As it relates to any materials being sought in situations like this, where fundamental privileges and constitutional issues are at stake and where a committee has declined to grant sufficient time to conduct a full review, there is a longstanding bipartisan tradition of protective assertions of executive privilege designed to ensure the ability to make a final assertion, if necessary, over some or all of the requested material," the lawsuit reads.
In a joint statement from the panel's Chair 
Bennie Thompson
 (D-Miss.) and Vice Chair 
Liz Cheney
 (R-Wyo.), the committee vowed to "fight the former President's attempt to obstruct our investigation."
"The former President's clear objective is to stop the Select Committee from getting to the facts about January 6th and his lawsuit is nothing more than an attempt to delay and obstruct our probe. Precedent and law are on our side. Executive privilege is not absolute and President Biden has so far declined to invoke that privilege," they said in a Monday statement.
"Additionally, there's a long history of the White House accommodating congressional investigative requests when the public interest outweighs other concerns. It's hard to imagine a more compelling public interest than trying to get answers about an attack on our democracy and an attempt to overturn the results of an election."
It's unclear how Trump's case will fare in court. The Supreme Court has previously ruled that former presidents have some authority to assert executive privilege, but the full scope of it has never been addressed by the courts.
Even if a court decides that Trump can assert executive privilege over certain documents, judges will have to weigh the former president's interest in confidentiality against the committee's investigative need for the records.
The complaint targets Thompson, the committee, U.S. Archivist David Ferriero, and the National Archives and Records Administration (NARA). NARA did not immediately respond to a request for comment.
The lawsuit argues that the committee has not demonstrated a legitimate legislative purpose for the documents that would override the former president's assertions of executive privilege.
Taylor Budowich, a spokesman for Trump, tweeted on Monday, "Today, President Trump filed a lawsuit in defense of the Constitution, the Office of the President, and the future of our nation, all of which the sham Unselect Committee is trying to destroy."
Biden greenlighted the release of the records last week, with White House counsel Dana Remus citing "unique and extraordinary circumstances."
The sweeping request from the committee asked the Archives to turn over documents and communications from within the White House "relating in any way" to Trump's wife, children and a who's who of aides within Trump's orbit, ranging from high-ranking White House officials to advisers such as Rudy Giuliani.
It has also issued numerous subpoenas to his former aides seeking their testimony.
The committee is set to vote Tuesday on whether to move forward with a criminal contempt referral for former Trump White House strategist Steve Bannon for refusing to comply with a subpoena for his testimony.
Bannon cited the coming suit from Trump in his refusal to comply.
"We must accept his direction and honor his invocation of executive privilege. As such, until these issues are resolved, we are unable to respond to your request for documents and testimony," Robert Costello, Bannon's attorney, wrote in the letter.
"We will comply with the direction of the courts."
Thompson, in addressing Bannon, said the former Trump adviser "has declined to cooperate with the Select Committee and is instead hiding behind the former President's insufficient, blanket, and vague statements regarding privileges he has purported to invoke. We reject his position entirely."
The other three Trump associates subpoenaed alongside Bannon are said to be "engaging" with the committee.
Via The Hill