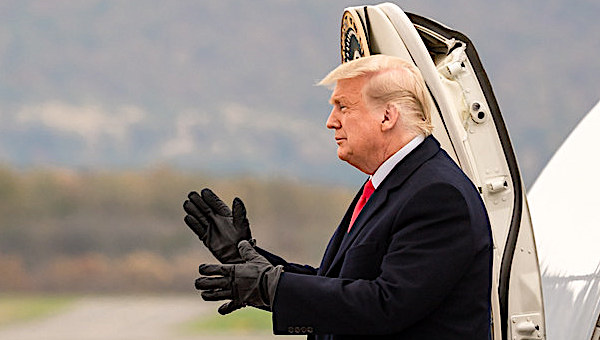 President Donald J. Trump applauds the crowd as he disembarks Air Force One Saturday, Oct. 31, 2020, upon his arrival to Reading Regional Airport in Reading, Pa., the second of President Trump's 4 stops in Pennsylvania. (Official White House photo by Shealah Craighead)
President Trump scored a legal victory Thursday in one of several cases in Pennsylvania in which his campaign is challenging the results of the presidential election.
Judge Mary Hannah Leavitt ordered that the state may not count ballots in which the voter failed to provide proof of identification by Nov. 9.
The judge ruled that Kathy Boockvar, the secretary of the commonwealth, lacked the authority to overrule the state legislature and extend the deadline to Nov. 12.
On Friday, a hearing is scheduled to take place regarding thousands of ballots the Trump campaign claims should not have been counted because they lacked required information.
The campaign also is awaiting action from the U.S. Supreme Court regarding the Pennsylvania Supreme Court's decision to overrule the state legislature and extend the deadline for receiving mail-in ballots three days past Election Day.
Boockvar extended the deadline for proof of identification to Nov. 12 after the Pennsylvania Supreme Court extended the deadline for mail-in ballots.
Trump campaign attorney Jenna Ellis told the Fox Business Network's Lou Dobbs the ruling shows "the secretary of state in Pennsylvania cannot unilaterally change the election law."
She said the next issue is to make sure the invalid ballots were segregated.
If the illegal ballots cannot be distinguished, she said, the Constitution has mechanisms "and the court just has to fashion an appropriate remedy."
Dobbs asked Ellis what gives her and the Trump team confidence they will prevail.
The thing that gives me the most confidence is that President Trump is willing to fight this fight and that we are still uncovering evidence," she said. "We're still only eight days after the election. We still have a lot of legal challenges coming."
She noted there will be hand recounts in Georgia and Wisconsin "to make sure that every legal vote is counted accurately."
"There is no need to rush through this process," she said.
Dobbs asked Ellis if she is confident the campaign can "stop the certification of fraudulent ballots."
"I'm confident that the court will look at this fairly and appropriately, and I hope so," she replied.
Via WND