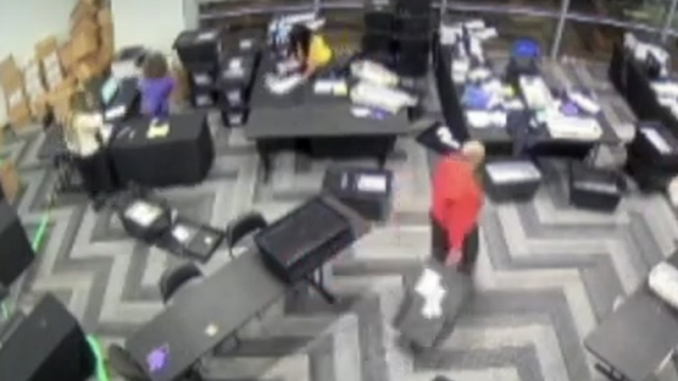 Disturbing election night footage has emerged showing Georgia poll workers waiting for observers and news outlets to leave State Farm Arena in Atlanta after calling an end to counting for the night, before pulling out several large suitcases containing ballots from under a table.
The footage, presented by an attorney working with Republicans during a Thursday state Senate hearing, is perhaps the strongest direct evidence of potential fraud, and demands serious inquiry. In it, a handful of poll workers can clearly be seen staying behind after GOP observers say they were told to clear out. After the media packs up their belongings, the workers can be seen pulling out the suitcases and opening them at approximately 11 p.m.
Of note, earlier in the day, counting was paused for approximately 90 minutes due to what officials blamed on a 'water main break' – which turned out to be a lie, and was in fact a 'slow leak,' according to news.com.au.
Here are two segments of the clip, which we recommend watching on full screen (as well as watching the full video):
First, watch the media in the lower-right quadrant at the long table at 10:40 p.m.
Second, watch what happens roughly 20 minutes later:
And so we ask; if this isn't election fraud, what is it? We're sure Snopes will say they were having a midnight snack, but people have questions.
— Jeff Carlson (@themarketswork) December 3, 2020
From today's hearing at the State Capitol. Not sure why Twitter has labeled this "disputed." It is video from the surveillance camera at State Farm Arena where Fulton County election workers scanned ballots late into the night after falsely announcing they were shutting down. https://t.co/IhyMnf7BXo

— David Shafer (@DavidShafer) December 3, 2020
. Regardless of this #intriguing video, why did the counting continue in the middle of the night after first being paused for giving tired counters a break to get some sleep? Happened in a few states, which then broke for #Biden#ElectionIntegrity @realDonaldTrump

— aanpakkuh (@aanpakkuh) December 3, 2020
Via Zero Hedge