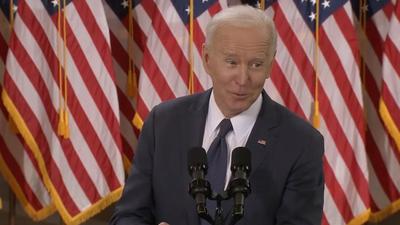 As Amazon workers in Bessemer, Ala. fight to unionize, Biden kicked off his speech with a warm-up act, a worker from a member of the International Brotherhood of Electrical Workers Local 29 named "Mike", to drive home the fact that he's "a union guy" and has "always been a union guy".
After some remarks about COVID, during which Biden revealed he keeps a piece of paper in his pocket with the number of COVID dead written on it, the president launched into the bulk of the speech, which focused on the provisions of his $2.25 trillion "American Jobs Plan", and how the administration plans to pay for building bridges and roads, expanding access to high-speed internet, improving public transit and encouraging adoption of electric vehicles.
Biden says leading economists are now predicting the U.S. economy will grow 6.5% this year as it bounces back, but still there's much more work to be done.
"What I'm proposing is a one-time capital investment of roughly $2 trillion…that will be spread over 8 years." Biden continued that infrastructure investments "are among the highest value investments we can make." He also warned about the risks of "crumbling infrastructure" – "and our infrastructure is crumbling," he said. "We're ranked 13th in the world."

[…]

"I'm convinced that if we act now, in 50 years people will look back and say: This was the moment that America won future."
Addressing criticisms of the tax hikes needed to pay for the plan, Biden said Biden said "this is not to target those who've made it…it's about opening opportunities for everybody else."
He noted that leading economists are now predicting the US economy will grow 6.5% this year, the fastest rate in decades, and closer to levels seen in emerging economies like China.
He then launched into a rundown of various provisions of his plan which includes:
Modernizing 20,000 miles of highways, roads and streets that "are in difficult, difficult shape right now."
Expanding access to high speed Internet in rural areas.
Replacing the nation's lead pipes (Biden cited the crisis in Flint. Mich.)
Ramping up IRS enforcement of corporations, which he said could raise hundreds of billions of dollars.
Establishing a minimum tax of 21% on corporations' global earnings, which could bring in $1 trillion over a decade.
Biden says some on Wall Street have estimated his plan could create 18 million jobs.
While Biden's plan earlier didn't include any details beyond $80 billion for Amtrak, Biden said that money would be used to create high-speed rails.
Contracts will go to American companies, and products purchased will be made in America (proposals first pushed by President Trump).
Creating 500k electric charging stations.
As for how he intends to pay for it, Biden said that "no one can be upset" about a corporate tax increase to 28%, which he said was the level that both Dems and Republicans had once agreed would be more appropriate than the 30%+ baseline beforehand. He added that he would be "open" to new ideas, so long as they don't require raising federal taxes on families earning less than $400K per year.
In a few weeks, Biden says, his administration will release the second half of the plan, the "American Family Plan," the sister proposal to the "American Jobs Plan" introduced today.
Meanwhile, earlier this afternoon, Senate Majority Leader Chuck Schumer came out in favor of lifting the $10,000 cap on state and local tax deductions, known as the "SALT deduction". A group of northeastern House members warned earlier in the week that they would oppose the tax hikes needed to pay for the plan unless the deduction – introduced as part of the Trump tax plan – was scrapped.
While details of the plan were leaked ahead of time, investors will be watching closely to see how cyclicals, semiconductors and EV stocks to see how much of Biden's plan has already been priced in. Notably, as one analyst pointed out, none of the following moved during or after Biden's speech: Amazon, oil stocks, semiconductors, or the Chinese yuan. It's an indication that the plan has either been priced in – or the market remains unconvinced that Biden will succeed in passing the plan in its current form. Speaking on CNBC after the unveiling, BofA's Savita Subramanian said the market was pricing in "the good news" about infrastructure, and that the market is already pricing in $2 trillion in near-term stimulus.
However, "I don't think the market has necessarily priced in the negatives, which is 'how to pay for this'?" She added that we're starting to hear more groans from investors about tax hikes.
She added that corporate earnings could see a five-percentage-point hit due to the revenue-raising aspects of the plan, which includes a minimum tax on corporation's international earnings.
"We're likely to see fiscal spend and infrastructure spending over a protracted period of time, whereas tax hikes hit immediately…that's the risk…and the immediate hit of potential negatives.
Before we go, here's another breakdown of some key takeaways courtesy of Bloomberg:
Biden emphasized that his plan includes the creation of union jobs. That's important because research shows these jobs tend to be paid more and with better benefits, particularly in the manufacturing sector. It's an interesting time for unions- membership has gradually slid over the decades, but some of Amazon's workers are organizing, promising more to come.
Biden made it clear he wanted the plan to be bipartisan. He said he was willing to work across the aisle and bring in any Republican who made good faith arguments. Biden called Minority Leader Mitch McConnell earlier in the day. Throughout his speech he sought to shoot down GOP arguments against the AJP, repeatedly pointing to research that said it would improve the debt, not add to it.
Biden repeated that anyone making less than $400k a year will not see taxes go up, highlighting that it's not about punishing those who've "made it" but ensuring gains are more equal. Biden said a *corporate tax hike will help pay for his infrastructure proposal*, while a wealth tax is broadly expected in the future.
More than anything else, Biden said the plan was important for the country to maintain its competitive edge internationally, particularly against China. He likened it to the space program and said in 50 years people will look back and point to the bill as the moment "America won the future."
Biden and his team are in Pittsburgh – the city where he held his first campaign rally nearly 2 years ago – where he will be unveiling his "American Jobs Plan", the first part of his sweeping "Build Back Better" initiative. As we noted earlier, the infrastructure package, to be called "the American Jobs Plan", will lay out $2.25 trillion to be spent over an eight-year period. Examples of provisions in the bill (according to details that have been leaked to the press) include $620 billion for transportation and $650 billion for initiatives such as cleaner water and high-speed broadband.
Biden's plan would also allocate $580 billion to American manufacturing — which would include $180 billion for the biggest non-defense research and development program on record and $400 billion toward care for the elderly and disabled. WSJ highlighted the fact that the Biden plan will also include some $50 billion to build out semiconductor infrastructure (something Intel, a private company, is already working on by building new production facilities in Arizona).
Pittsburgh is a rust-belt city that has been revitalized by new industries (ie Amazon, which is building a major fulfillment hub in nearby Findlay), which is why the Biden team picked it as the backdrop for what many expect will be one of Biden's signature initiatives. While the administration has been talking a big game about a 'bipartisan' package, it's expected that he will face fierce opposition from Republican lawmakers over the tax increases Biden is seeking to pay for the plan (he's reportedly seeking to offset the cost by 75%).
After weeks of waiting with investors hanging on every new detail, President Joe Biden is expected to unveil the first part of his sweeping economic reform/redistribution plan on Wednesday afternoon.
As Biden's press secretary Jen Psaki revealed over the weekend that Biden and his team are planning to unveil his sprawling "Build Back Better" plan in two parts: The first part of the "Build Back Better" plan, which will be officially unveiled later today, is expected to focus on rebuilding "roads and railways" while the second part, which will be released "in just a couple of weeks", will focus on "social infrastructure" funding, including childcare and healthcare initiatives.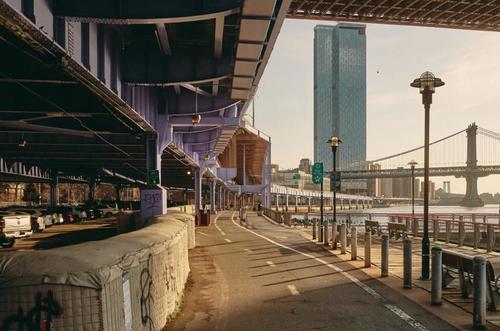 Details of the plan have been leaking out at a steady pace for weeks, although some of the details reported earlier have been changed. According to the leaked 25-page document obtained by the NYT, Biden's "American Jobs Plan" will "invest in America in a way we have not invested since we built the inter-state highways and won the Space Race." The plan, which will carry a $2.25 trillion price tag (that's more than 2/3rds of the $3 trillion marked for "BBB") per the Washington Post, will finance the rebuilding of 20K miles of road, repairs to the 10 most economically important bridges in the country, and the elimination of lead pipes and service lines from the country's water supplies. In total, the plan features $50 billion "in dedicated investments to improve infrastructure resilience".
The plan also includes a long list of other projects intended to create millions of jobs, with the goal of strengthening America's long-term competitiveness. The plan will also address Biden's climate change priorities, by hastening the shift to new, cleaner energy sources, and would help promote racial equity in the economy. The plan includes $16 billion to fund a program to retain fossil fuel workers to transition to new work (we imagine they'll take to learning to code like a fish to water).
Fortunately for Tesla, its shareholders and – most importantly – its CEO, Elon Musk, the plan proposes an additional $46 billion in federal procurement programs for government agencies to buy fleets of electric vehicles, and $35 billion in research and development programs for cutting-edge, new technologies. While more competitors are making their own EV vehicles, Tesla remains the market leader.
Here's a breakdown of the innards of the $2 trillion proposal reported in the NYT (courtesy of Newsquawk):
USD 180bln for research and development
USD 115bln for roads and bridges
USD 85bln for public transit
USD 80bln for Amtrak and freight rail
USD 174bln to encourage EVs via tax credits and other incentives to companies that make EV batteries in the US instead of China
USD 42bln for ports and airports
USD 100bln for broadband
USD 111bln for water infrastructure
USD 300bln to promote advanced manufacturing
USD 400bln spending on in-home care
USD 100bln in programs to update and modernize the electric grid
USD 46bln in fed procurement programs for government agencies to buy fleets of EVs
USD 35bln in R&D programs for cutting-edge, new technologies
USD 50bln in dedicated investments to improve infrastructure resilience
USD 16bln program intended to help fossil fuel workers transition to new work
USD 10bln for a new "Civilian Climate Corps."
In theory, at least, a sweeping infrastructure plan should have strong bipartisan support. But as we learned during the Trump Administration, political priorities can easily scuttle even the most popular package, and while Democratic opposition helped transform Trump's "infrastructure week" into a punchline, the GOP – and a handful of East Coast Democrats – are already digging in their heels over taxes.
Here's a quick rundown of how Biden plans to pay for it all via massive tax hikes, some of which (like the corporate tax hike) have already been reported:
Eliminate tax preferences for fossil fuel companies
Raise the corporate tax rate to 28% from 21%
Overall taxation of profits earned oversees by US megacorps (including raising minimum tax on global profits and eliminating several provisions that allow companies to reduce US tax liability)
Ramp up enforcement of large companies avoiding taxes
Prevent American companies from "inversions" to tax havens
Eliminate loopholes that encourage offshoring
Deny expense deductions for companies that are offshoring jobs
Readers can learn more from a White House "fact sheet" released Wednesday morning that includes detailed breakdowns of the Biden infrastructure plan, and the associated tax plan.
Republicans and business groups have already attacked Mr. Biden's plans to fund the spending with corporate tax increases, which they say will hurt the competitiveness of American companies. In addition, several Democrats including NY Rep. Tom Suozzi and New Jersey's Josh Gottheimer, have insisted that they will oppose the infrastructure package unless Biden repeals a Trump-era limit on state and local tax deductions known as the SALT deduction.
These Dems actually have a lot of pull, and could end up getting their way. Because, as a team of analysts at Deutsche Bank pointed out in a note to clients this morning, Biden can only afford to lose 3 Democrats in the House, and zero Dems in the Senate, if Republicans oppose the plan on a party-line vote.
"Policymakers should avoid creating new barriers to job creation and economic growth," said Joshua Bolton, the president and CEO of the Business Roundtable, a top business lobbying group.
Biden will unveil the plan during a Wednesday press conference in Pittsburgh. He's expected to start speaking at 1630ET, after the market day has come to an end. And with markets mostly closed on Friday, Thursday's session will be critical for parsing the market's reaction to the Biden plan.
"The plans as announced have a long and tortuous journey to make it through Congress and thus the end result is likely to be nine months or more away and may well look very different indeed once it has been through that political wranglings on the Hill," said James Athey, investment director at Aberdeen Standard Investments. "If investors are weighing the risks appropriately, there shouldn't be much impact on markets in the short term."
Via Zero Hedge