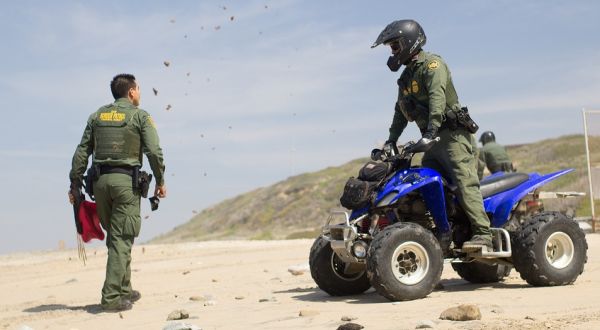 Charging the Biden administration has abandoned the border amid an illegal-immigration crisis, Texas Republican Gov. Greg Abbott announced he is using state resources to close ports of entry, including the National Guard.
Separately, Texas officials on Thursday awarded a contract to oversee construction of a barrier along the Texas-Mexico border.
The governor noted in a statement Thursday the Biden administration reversed a decision to shut down the borders after a massive influx of migrants, now totaling more than 11,000, arrived at the Texas border.
"Six hours after U.S. Customs and Border Protection requested help from Texas to close ports of entry and secure the border, the Biden Administration has now flip-flopped to a different strategy that abandons border security and instead makes it easier for people to cross illegally and for cartels to exploit the border," the governor said.
"The Biden administration is in complete disarray and is handling the border crisis as badly as the evacuation from Afghanistan."
Abbott said he has directed the state Department of Public Safety and the Texas National Guard "to surge personnel and vehicles to shut down six points of entry along the southern border to stop these caravans from overrunning our state."
The border crisis "is so dire," the governor said, that CBP "is requesting our help as their agents are overwhelmed by the chaos."
"Unlike President Biden, the state of Texas remains committed to securing our border and protecting Americans," Abbott said.
On Thursday, the Biden administration shut down a Fox News drone flying over the U.S.-Mexico border after its cameras showed thousands of people who had crossed illegally into the United States crammed under a bridge, waiting to be processed.
The contract for the border barrier, worth up to $11 million, identifies state land for wall construction and find "willing private landowners to facilitate construction," according to the request for proposal, reported Houston's KPRC-TV.
In June, Abbott announced a crowdfunding effort to pay for the wall and other barriers, such as fencing.
'Stunning footage'
On Thursday,  the Federal Aviation Administration, the FAA, said in a statement that "the Border Patrol requested the temporary flight restriction due to drones interfering with law enforcement flights on the border."
The "stunning footage" of more than 9,000 illegal immigrants at the border was shown on Fox News "Special Report" on Thursday, reported the Media Research Center's Newsbuster site.
See the Fox News coverage:
On Friday, Melugin was able to report from the air aboard a Texas Department of Public Safety helicopter.
He said people were going back and forth between Mexico and the U.S. without any resistance.
"This is the most remarkably stunning thing we have seen so far in terms of how bad this problem is," he said.
"Something has got to change pretty quick, guys, because this is unsustainable for these poor agents on the ground who have got to deal with this."
.@BillFOXLA Melugin mentions people are going back & forth between Mexico and the U.S. without any resistance, adding: "This is the most remarkably stunning thing we have seen…Something has got to change pretty quick, guys, b/c this is unsustainable." pic.twitter.com/MmMXbEnY58

— Curtis Houck (@CurtisHouck) September 17, 2021
On Thursday night, Sen. Ted Cruz, R-Texas, posted a video report from the Del Rio bridge:
I am on the ground in Del Rio, Texas tonight. As of this moment, there are 10,503 illegal aliens under the Del Rio International Bridge.

This manmade disaster was caused by Joe Biden. #BidenBorderCrisis pic.twitter.com/VpzkrH1zyb

— Ted Cruz (@tedcruz) September 17, 2021
Via Wnd