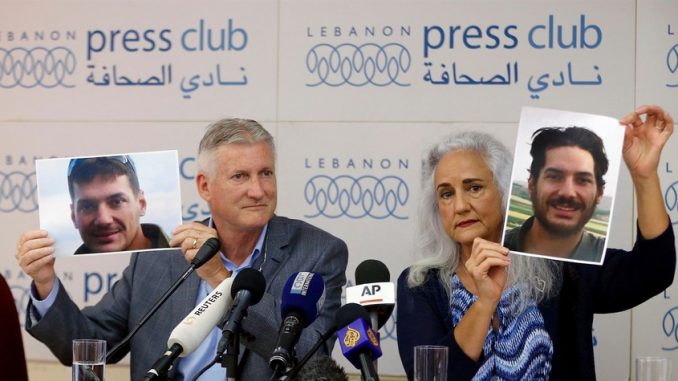 The family of Austin Tice is approaching the 10-year marker of his kidnapping in Syria. Tice, now 41 years old, was covering the Syrian civil war as a freelance journalist. He is a former Marine who is a law student. His parents live in Houston and have been fierce advocates for his release and the return home of their oldest (of seven) child.
Will Joe Biden and the State Department be able to do what previous presidents have not? Debra Tice is hopeful. She cites Joe Biden's willingness to say Austin's name and call upon Syrian officials to release him. She appeared on CNN and said it's good news to see Team Biden taking action.
"Well, I mean, first of all, I'm just so glad that President Biden has said Austin's name publicly, I think that was the first time in that statement," Tice told Berman. "And I think that it's an indication from the president that the United States government is ready to engage with Syria to bring Austin home."

Tice also told Berman that it's "great news" to see the Biden administration taking action to bring detained Americans back home, mentioning the prisoner exchange of former Marine Trevor Reed earlier this year and the ongoing effort to bring WNBA star Brittney Griner and former Marine Paul Whalen. All three were or are detained in Russia.

"Well, I think it's great good news. I think it indicates that this administration understands that in order to bring people home, there's going to have to be engagement, negotiation and concession," Tice added.

"I think they've demonstrated the president is willing to make a hard decision and get that done. And so I think it's really uplifting. You know, Trevor is also a Marine, and I told him he did his brother a good one by paving a highway for Austin to come home."
I hope her optimism and trust in Biden's words are well-placed. Biden has been slow to recognize Americans detained overseas but has had a little success bringing a few home. Debra Tice thinks that the deal for fellow Marine Trevor Reed may help smooth the way for Austin's release. Biden's statement Wednesday called for Austin's release and stated the release of hostages held overseas is a high priority for his administration.
"On the tenth anniversary of his abduction, I am calling on Syria to end this and help us bring him home. There is no higher priority in my Administration than the recovery and return of Americans held hostage or wrongfully detained abroad," Biden said in his statement.

"We stand with Austin's many loved ones, and we will not rest until we bring Austin home. Ten years is far, far too long. So is every additional day," Biden added.
Biden said, "We know with certainty that he has been held by the Syrian regime." That is a statement that previous American presidents have not made. It's been assumed that Austin is being held in Syria but not confirmed. Biden called on Syria to work with the U.S. to bring Austin home. Syrian President Bashar al-Assad has never confirmed that his government is holding Austin. Other top Syrian officials deny detaining him. No group has taken responsibility for his capture.
Debra Tice sounds as though she is wisely taking a trust but verify attitude with her renewed hope that Team Biden is working on Austin's release.
"The United States government has worked very hard to convince me that they're working on it," she said. "My response is: Don't tell me. Show me."

Two Trump officials travelled to Syria two years ago in an effort to bring Mr Tice home. They left after Syrian officials refused to negotiate while American soldiers remained in the country.

Mrs Tice wants to know why the negotiations have not continued.

"I know that the United States government has not reached out directly to the Syrian government to request a meeting," she said.
Austin's parents have tirelessly pursued the release of their son. I've written about Austin's story several times. Biden met with the them after Debra was a guest at the annual WHCA dinner in May. He didn't appear to be aware of her presence, frankly. At the time I questioned if he even knew Austin's story. Unfortunately, the meeting by Trump officials in Syria was not successful. His family has kept the faith that he is alive and Senator Cornyn has worked on Austin's case for years. This is just one press release of several that have landed in my inbox over the years.
Trump was very successful in bringing Americans home. His record is 38 Americans, I think, and though some progressives grouse about that number, most begrudgingly credit him for for changing the status quo on handling these situations and finding success. Let's hope Austin is back in Houston soon with his family and friends.
Via              Hot Air
The Death of Black Coffee:
Latest studies have found that 1 tiny tweak to your morning coffee puts your body into fat-burn ing mode for the rest of the day.
This coffee trick takes less than 10 seconds…
Yet, it instantly ignites your metabolism and boosts your health, energy and well-being at the same time!
Here's to an amazing start to your day 🙂
====> Try This 10 Sec Fat-Burning Coffee Trick!