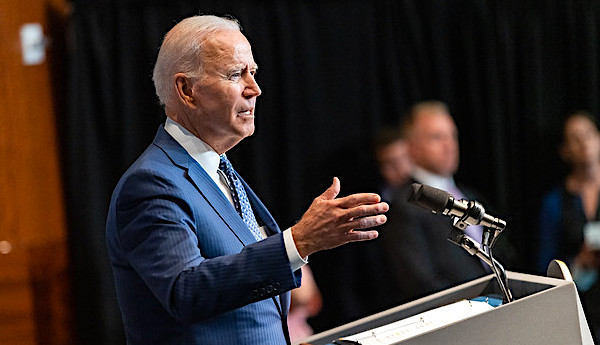 Surveys of American voters indicate President Biden and his Democrats probably will suffer huge losses in their Washington power structure in the 2022 elections.
"His crummy polling after a long honeymoon now suggests that he will lose as many House seats as former President Donald Trump in 2018 and for the same reason: Voters don't like what he's doing on key issues," reported Paul Bedard in his Washington Secrets column.
He reported Public Opinion Strategies pollster Glen Bolger cited Biden's "sinking approval" in predicting "Democrats are likely to lose about the 41 seats Trump lost, 34 more than the GOP needs to take control," the report said.
The report noted the "well-known" fact that Biden's approval from voters has been "tanking," and especially so after his bungled pullout of American troops from Afghanistan, where he left behind hundreds of Americans to be under the thumb of the terrorists of the Taliban.
He also left the terrorists billions of dollars in American war machinery, from helicopters and airplanes to Humvees and grenade launchers.
Bolger explained, "Joe Biden's overall disapproval rating and, more challenging for him, his strong disapproval ratings are right where Donald Trump's were just prior to the November 2018 midterm elections, when the party in power lost the House and numerous gubernatorial seats. I would hate to be in charge of candidate recruitment for Democrats because no Democrat in their right mind and a competitive seat would want to run in this political environment."
Pollsters John McLaughlin and Jim McLaughlin also noted, "In terms of what to expect for the 2022 midterms, our polling of likely voters suggests that Republicans lead the Democrats in the generic vote for Congress 47%-46% with 7% undecided. This means likely voters are more willing to support a generic group of Republicans rather than a generic group of Democratic candidates for Congress."
And, Bedard noted, pollster Scott Rasmussen has found that Trump voters are "very motivated."
The reported noted the Democrats' hope would rest with their ability to spend a lot of money on social programs, stimulus and more.
"The big problem Republicans face is can Biden and the Democrats get their monstrous infrastructure bill passed, which for them can buy enough time to provide more stimulus and pork to keep the economic balloon inflated. That would give Democrats the edge to retain majorities," Zogby suggested.
Zogby said right now the circumstances suggest GOP majorities in both the House and Senate following next year's elections.
Via Wnd