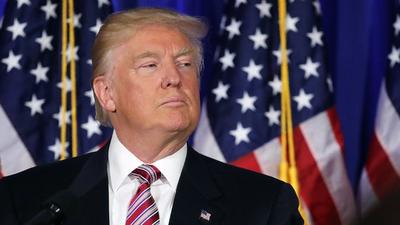 The US Senate on Tuesday voted 56-44 that it is constitutional to hold an impeachment trial against Former President Donald Trump.
Highlights:
Lead Democratic impeachment manager Jamie Raskin played a video montage of Trump encouraging his followers to attend the January 6 "Stop the Steal" rally, followed by footage of mayhem.
Raskin cited several conservative legal scholars who have said it's constitutional to impeach an official after they've left office.
He then listed examples of Constitutional framers discussing the threshold for impeachment, suggesting that it's "inconceivable" that it wouldn't apply to actions committed during a president's last few days in office.
Trump's counsel argued that Democrats want to impeach Trump to prevent him from running again in 2024, and conceded that the Trump legal team changed their presentation "on account that we thought that the House managers' presentation was well done."
Castor then argued that Democrats got what they wanted when Trump was voted out of office.
Schoen then showed a video of Democrats calling for Trump's impeachment beginning in 2017, before arguing that the House conducted a "snap impeachment" following the Jan. 6 riot.
He then argued that because Trump is a private citizen and cannot be removed from office, the trial is unconstitutional – with which 44 GOP Senators agreed.
The 56-44 vote means that the trial will begin in earnest tomorrow. All Democrats and the following six Republicans voted to proceed: Sens. Cassidy (R-LA), Romney (R-UT), Collins (R-ME), Toomey (R-PA), Murkowski (R-AK) and Sasse (R-NE).
The vote is 44-56 on the constitutional issue. Virtually the same as the earlier vote. That means that 44 senators are now on record that the trial in unconstitutional. That would appear to make acquittal effectively certain given this threshold vote… https://t.co/1H4CNOn8qU

— Jonathan Turley (@JonathanTurley) February 9, 2021
Trump attorney Bruce Castor Jr. began Trump's legal defense by condemning those responsible for the violence at the Capitol.
"You will never hear anybody representing former President Trump say anything at all other than, what happened on January 6th in the storming and the breaching of the Capitol should be denounced in the most vigorous terms," he said, before arguing that it's unconstitutional for the Senate to hold a trial to convict a former president, and suggesting that Democrats are really impeaching Trump to bar him from running in the future.
"We are really here because the majority in the House of Representatives does not want to face Donald Trump as a political rival in the future," Trump impeachment lawyer Bruce Castor argues. https://t.co/tpW7rrCNnD #impeachmenttrial pic.twitter.com/JrO8Uz3Zoj

— This Week (@ThisWeekABC) February 9, 2021
Constitutional attorney Jonathan Turley, an impeachment witness during Trump's first Senate trial, appears largely unimpressed, though agreed with Castor making a "Rule 23" argument.
I am surprised by the long discussion of the Senate before getting to such concrete arguments. There is also no focus on the retroactive trial issue as a foreshadowing of the case for dismissal.

— Jonathan Turley (@JonathanTurley) February 9, 2021
Turley then suggested Trump's legal team get to the heart of the constitutional question.
…The defense has eaten roughly half of its time without landing a glove on the constitutional questions. Schoen was said to be the one who would present an "erudite" analysis of the constitutional issue.

— Jonathan Turley (@JonathanTurley) February 9, 2021
Attorney Alan Dershowitz, a member of Trump's first impeachment defense team, is similarly unimpressed – telling Newsmax "I have no idea what he is doing," referring to Castor (h/t @joshdcaplan).
'There is no argument – I have no idea what he is doing,' @AlanDersh on Trump's defense lawyer Bruce Castor 'talking nice' to U.S. Senators – via Newsmax TV's 'American Agenda.' https://t.co/VlT7z8drtO pic.twitter.com/7P7uVk5X19

— Newsmax (@newsmax) February 9, 2021
House Democrats' lead impeachment manager, Rep. Jamie Raskin began the day playing a clip of Trump encouraging his supporters to show up at the Capitol – leaving out the part where Trump told them to conduct themselves "patriotically and peacefully." Raskin then showed a montage of the 'storming', recorded at least in part by a BLM activist who participated in the 'insurrection.'
At one point Raskin invoked his dead son, who committed suicide days before the 'insurrection.'
Raskin's son committed suicide days before the Capitol siege, and left behind a note:

"Please forgive me. My illness won today. Please look after each other, the animals, and the global poor for me. All my love, Tommy." https://t.co/rPu0bZvkaJ

— Greg Miller (@gregpmiller) February 9, 2021
Raskin then asks if inciting the riot isn't an impeachable offense, nothing is – as Trump started a "violent insurrection."
Next, Rep. Joe Neguse (D-CO) argued why the impeachment was constitutional, saying that the chamber has found on multiple occasions that a person can be tried after leaving office. Neguse then argued that if Trump is vindicated, officials could commit heinous acts and then just resign before an impeachment.
Rep. Joe Neguse (D-CO) on the constitutionality of former Pres. Trump's second Senate impeachment trial:

"There is no January exception to the impeachment power, that presidents can't commit grave offenses in their final days and escape any congressional response." pic.twitter.com/wwCbWgaNpl

— CBS Evening News (@CBSEveningNews) February 9, 2021
Next, Rep. Ciciline (D-RI) argued that impeachment 'protects our constitutional system' and safeguards Democracy – suggesting that things could have gotten far worse during the riot, as participants "could have killed" all of them.
House impeachment manager Rep. David Cicilline: "This was a disaster of historic proportion…and make no mistake about it, as you think about that day, things could have been much worse. As one senator said, they could have killed all of us." https://t.co/tpW7rrCNnD pic.twitter.com/hewwf0uciC

— This Week (@ThisWeekABC) February 9, 2021
Former President Trump's second impeachment trial begins on Tuesday, and is expected to begin at 1 p.m. ET. Up to four hours will be equally divided between the House impeachment managers and Trump's legal team to present arguments regarding the constitutionality of the trial.
The Senate will then hold a simple majority vote on whether the chamber has jurisdiction to try Trump. If it's a 'yes,' the trial will proceed on Wednesday – where House Managers and Trump's defense will each have 16 hours over two days to make their arguments.
Watch Live:
The big day has finally arrived: After weeks of lead-up, the first session in Trump's impeachment trial will feature presentations from both sides over the Senate's authority to hear the case, followed by a vote on the matter, which would require a simple majority, and is expected to pass in the Democratic-controlled chamber.
As many as five GOP senators, including Sen. Mitt Romney of Utah and Sen. Susan Collins of Maine, previously sided with Democrats on a question regarding the constitutionality of trying the former president, however at least 17 Republicans will need to join all 50 Democrats to reach the 67 votes required to convict Trump.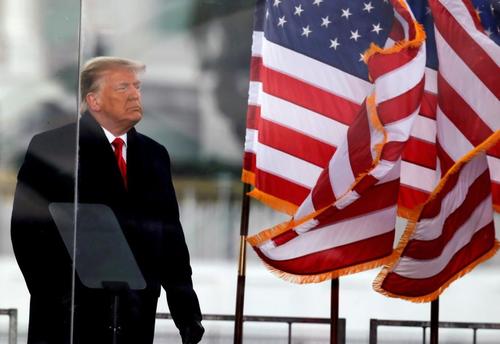 "Presidents do not get a free pass to commit high crimes and misdemeanors near the end of their term," impeachment managers argued in a brief last week, regarding their contention that Trump incited the Jan 6. Capitol Riot, during which a small group of Trump supporters walked through an open door and 'stormed' the Capitol complex.
On Monday, Trump's lawyers said the president didn't incite the crowd and that the rioters who breached the Capitol "did so of their own accord and for their own reasons," adding that Trump used the word "fight" a "little more than a handful of times and each time in the figurative sense," making no explicit mention of rioting. Defense attorneys added that the president was exercising his First Amendment rights.
Democratic impeachment managers, acting as prosecutors during the trial, responded in their own five-page brief, saying Trump "has no valid excuse or defense" for his actions. "His efforts to escape accountability are entirely unraveling."
This is how the trial is expected to unfold, via CNet:
Feb. 9: There will be four hours of debate equally divided between prosecutors and defense on whether the trial is constitutional, followed by a vote needing a simply majority to proceed
Feb. 10, 12:00 p.m. ET: House of Representatives will begin arguing its case; prosecutors and defense will have up to 16 hours each to present their arguments, with neither side permitted to present for more than eight hours per day
Feb. 12, 5:00 p.m. ET: The trial will break through Saturday
Feb. 14, 2:00 p.m. ET: The trial will reconvene Sunday
Arguments will be followed by four hours for senators' questions
If the House impeachment managers want to call witnesses or subpoena documents, there will be two hours of debate by each side followed by a Senate vote on whether to allow this
If witnesses are called, there will be enough time given to depose them, and for each party to complete discovery before testimony is given
Once witnesses and evidence is dealt with, there will be four hours of closing arguments divided evenly between the prosecutors and defense
Lastly will come the vote on conviction or acquittal, for which a two-thirds majority is required
Trump will not testify – having "immediately rejected" the opportunity following a letter from the House's lead impeachment manager, Rep. Jamie Raskin (D-MD) asking the former president to testify under oath. Trump attorney Bruce Castor called the letter a "publicity stunt" before announcing the refusal – which the House will allege "supports a strong adverse inference regarding [his] actions and inaction on January 6."
In the off-chance Trump is convicted in the Senate, there will be a separate vote to bar him from running again – preventing a potential 2024 bid. It would require a simple majority where Vice President Kamala Harris would serve as a tie-breaker if needed. They can further disqualify Trump from the benefits given to former presidents in the Post Presidents Act – including pulling Trump's Secret Service security detail, travel allowance and pension.
Impeached presidents also can't be pardoned, according to CNet, which notes that if acquitted, Trump would have access to all benefits of former US presidents, and would be able to run again for public office.
Via Zero Hedge