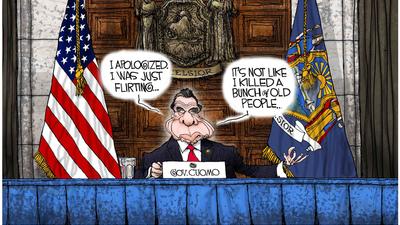 Despite a seventh accuser coming forward NY Gov. Cuomo derided the mounting pressure from his own party as "cancel culture" and insisted he would not bow to it.
New York Governor Andrew Cuomo walks on the grounds of the Governor's Mansion following allegations that he had sexually harassed young women, in Albany. Photo by Angus Mordant pic.twitter.com/8KuRbXyuNL

— corinne_perkins (@corinne_perkins) March 12, 2021
But by the end of the day, Senators Chuck Schumer and Kirsten Gillibrand, two of the state's most powerful Democrats, had also called on Mr. Cuomo to resign.
But by the end of the day, Senators Chuck Schumer and Kirsten Gillibrand, two of the state's most powerful Democrats, had also called on Mr. Cuomo to resign.
"Due to the multiple, credible sexual harassment and misconduct allegations, it is clear that Governor Cuomo has lost the confidence of his governing partners and the people of New York," they said in a joint statement late Friday afternoon. "Governor Cuomo should resign."
As The NYTimes reports, the sudden mass defection of members of Mr. Cuomo's own party marked one of the most stinging rebukes of a sitting governor in the state's history, prompting new questions about his ability to weather the most severe political crisis of his decade-long tenure.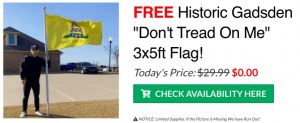 With Gov. Cuomo hanging on by a thread as New York's Congressional delegation turns against him, the governor remained defiant Friday afternoon, holding a press conference about the COVID-19 response.
But just minutes ago, the New York Post published an account from a 7th accuser, who went on the record, and offered detailed descriptions of the alleged misconduct.
The woman is a former Albany statehouse reporter. Her name? Jessica Bakeman. She claimed she had been harassed by Cuomo several times since the start of her career. Bakeman, who was 25 at the time the alleged harassment started and was working for what is now Politico New York (formerly known as Capital New York), said red flags went up, given her "job was to analyze and scrutinize him."
"He took my hand, as if to shake it, then refused to let go," Bakeman wrote. "He put his other arm around my back, his hand on my waist, and held me firmly in place while indicating to a photographer he wanted us to pose for a picture."
Bakeman alleged Cuomo slid his arm around her shoulders while he told stories with her male colleagues at a party at the Executive Mansion for an outgoing communications aide, and then left his arm to linger, keeping her pressed against him.
"He left it there, and kept me pinned next to him, for several minutes as he finished telling his story," she recalled of the alleged 2012 incident, when she worked for USA Today. "I stood there, my cheeks hot, giggling nervously as my male colleagues did the same. We all knew it was wrong, but we did nothing."
During her time covering the governor, Cuomo "never let me forget I was a woman," Bakeman added, claiming he once mocked her for having a purple phone instead of answering a question during a press gaggle. She claimed he humiliated her once in 2014 when she shouted over a male colleague during a press conference. Cuomo later joked about how she had shut the male colleague down, a joke she said she found demeaning.
Bakeman concluded that Cuomo may not have wanted to sleep with her, but that he still routinely uses "sexual innuendo to stoke fear in us."
To be sure, her allegations aren't nearly as salacious as accuser No. 6, who claimed Cuomo placed his hand under her blouse, aggressively groping her, despite Cuomo's insistence that he never touched anybody in a harassing way.
 In his 'normal' 1pmET press conference, NY Gov Cuomo desperately tried to stick to the talking points of his COVID response but was forced to address the six seven eight (we lost count) allegations of abuse. His response came as a shock to the woke…
"I'm not going to argue this issue in the press"

"I did not do what has been alleged… period"

"Women have a right to come forward and be heard"
BUT…
"there are often many motivations" for the allegations.
Cuomo ended by confirming "I won't resign."
Just imagine for one small second what would have happened if any member of the Trump admin, or a Republican anywhere, said such a thing?
What happened to "believe every woman"? #MeToo?
As Democrats in the New York State Assembly and the Legislature press Gov. Andrew Cuomo to resign following reports claiming the governor placed his hand under a young female employees' blouse (reports that have been referred to the Albany Police, according to a statement from the department), some of the most visible members of the state's Congressional delegation have finally broken their silence, and they're pushing for Cuomo to resign.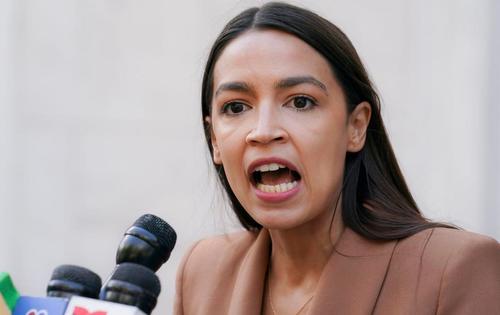 NYC Congresswoman Alexandria Ocasio-Cortez urged the governor to resign in a statement Friday morning. She was joined by Rep. Jamaal Bowman, another New York progressive who defeated establishment Dem Eliot Engel in a Democratic primary last year (in accordance with what's become known as the AOC playbook).
According to Axios, a flurry of House Dems from the Empire State followed suit within minutes. 11 of the 19 members of the US House from the State of New York have officially called on Cuomo to resign. Previously, Kathleen Rice, another House Dem from NY, was the only member of the state delegation to call on the governor to resign. But the list of those who have joined the growing chorus now includes the leaders of the Judiciary Committee (Nadler) and the powerful House Oversight Committee (Maloney).
House Judiciary chair Jerry Nadler
House Oversight chair Carolyn Maloney
Rep. Alexandria Ocasio-Cortez
Rep. Jamal Bowman
Rep. Mondaire Jones
Rep. Grace Meng
Rep. Yvette Clark
Rep. Adriano Espaillat
Rep. Nydia Velasquez
Rep. Anthony Delgado
Rep. Kathleen Rice
The two issued a statement declaring that allegations" against Cuomo have "all been consistent and highly-detailed, and there are also credible media reports substantiating their accounts."
The two progressives were soon joined by Jerry Nadler, the chairman of the House Judiciary Committee, who is perhaps best remembered for his active role in the myriad Congressional investigations launched against the Trump Administration, along with the two impeachment dramas. Nadler said the governor had "lost the confidence" of New Yorkers, echoing a criticism levied by state lawmakers.
The big question now: Will NY's two sitting senators, Chuck Schumer and Kirsten Gillibrand, also turn against the governor? If they do, political analysts believe it would be game over for Cuomo. Schumer has so far refused to comment on whether Cuomo should resign, instead preferring to wait for the results of an investigation being led by NY AG Letitia James.
Following this latest development, the crowdsourced odds of Cuomo remaining in office at the end of 2021 have fallen to 1 in 3.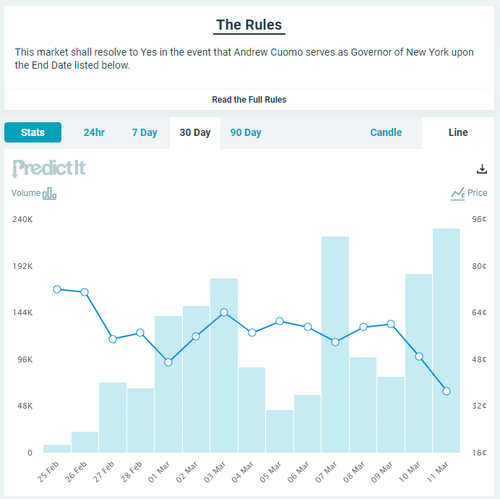 Via Zero Hedge