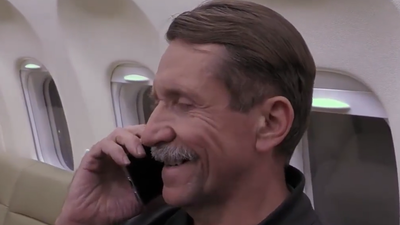 Russian state media has released footage of a moment the Biden administration would probably rather have remained hidden from public view.
TASS released the footage Thursday afternoon, in which Brittney Griner, seen below wearing a red jacket, and Viktor Bout crossed paths on a UAE airport tarmac, both on their way to freedom. Each was handed over to their respected countries' officials, and the groups quickly walked the opposition directions into awaiting aircraft.
In releasing the footage, Moscow appears to be celebrating a 'victory' of sorts over chief rival and adversary the United States. Illustrating this, prominent Russian MP and media personality Maria Butina (the same person had in 2018 been convicted by the US, and later booted from the country, for acting as a unregistered foreign agent) had this to say in a state media interview:
"Russia was pushing hard and that means that we have a very strong position in the world that the United States can't resist."
Additionally, Russia's Foreign Ministry issued the following statement: "Washington categorically refused to discuss including the Russian national in the exchange scheme. Nevertheless, the Russian Federation continued to actively work on rescuing our compatriot."
More footage was made public by the Russian side depicting some of the lead-up to Griner's release. It also showed Viktor Bout aboard a Russian aircraft enjoying his first moments of freedom after serving 11 years of a 25-year term.
Meanwhile, there's a growing body of evidence strongly suggesting the White House had a chance to get ex-Marine Paul Whelon out of Russian prison, despite the administration's current denials of this.
That's one happy arms dealer…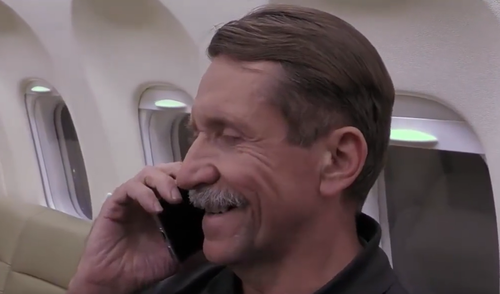 It appears that in the end, the "celebrity" influence and greater PR surrounding appeals for Griner won out in the end, and the administration chose her, despite that she fully confessed to violating Russian law by bringing the cannabis vape cartridges into the country following her arrest last February.
She had been handed a harsh 9-year prison sentence, to be carried out at a remote, notorious penal colony. But now she is returning home to her family.
And then there's this…
For a review of who 'Lord of War' Viktor Bout is, see below:
THIS IS WHO BIDEN RELEASED FOR GRINER
pic.twitter.com/brgwiUkV5q

— The_Real_Fly (@The_Real_Fly) December 8, 2022
Update(1228ET): The Daily Mail is calling it a "deal soaked in blood" after the governments of Saudi Arabia, the UAE, and Russia confirmed that Brittney Griner's release for notorious convicted arms trafficker Viktor Bout came via Saudi/UAE mediation efforts led by Crown Prince Mohammed bin Salman (MbS). Foreign ministry statements by both countries, hours after the now freed American and Russian walked past each other on a UAE airport tarmac, revealed the following per a leading Mideast regional news outlet:
Saudi Arabia's Crown Prince Mohammed bin Salman and UAE President Sheikh Mohammed bin Zayed led mediation efforts that secured the release of two prisoners between the US and Russia, a joint statement issued by both countries' foreign ministries said on Thursday.

"The ministries said the success of the mediation efforts was a reflection of the mutual and solid friendship between their two countries and the United States and Russia," the statement said.
And according to details of the exchange:
A senior administration official would not comment directly on MBS's role but said the U.S. will 'continue to lean on partners around the world' to secure the release of unjustly detailed Americans. 

The swap happened at Abu Dhabi airport, where Griner and Bout had to walked past each other to reach their respective parties on the airport tarmac, Russian state media reports.

The official said Griner was 'all smiles' on the tarmac as she approached the American delegation. 
Amid the outrage that the Biden administration released a "big catch" notorious Russian criminal, also while leaving Paul Whelan behind to languish in a Russian penal colony, many are questioning the timing of all of this coming together a mere two days after the US government dropped the Khashoggi lawsuit against the Saudi leader.
To review of the timeline and chain of possibly connected events, Biden recently gave MbS immunity for the Jamal Khashoggi murder ironically enough at a moment MbS was pushing production cuts through OPEC (which helped Putin and Russian interests)… and now the White House gets Griner back (and perhaps it will quickly be "forgotten" how the Saudis just humiliated the US administration on oil output).
* * *
Update(8:50ET): During his announcement from the White House, with Griner's family present, Biden spent a lot of time defending his administration from widespread accusations that Griner's release was prioritized because of her fame while at the same time other detained Americans were left behind.
"This was not a choice of which American to bring home," Biden said while vowing to continue working on freeing detained US Marine veteran Paul Whelan. 61-year old teacher Marc Fogel is also languishing in Russian prison.
An understandably very frustrated and "devastated" Whelan family has issued the following statement upon the White House announcement of Griner's release:
Despite the possibility that there might be an exchange without Paul, our family is still devastated. I can't even fathom how Paul will feel when he learns. Paul has worked so hard to survive nearly 4 years of this injustice. His hopes had soared with the knowledge that the US government was taking concrete steps for once towards his release. He'd been worrying about where he'd live when he got back to the US. And now what? How do you continue to survive, day after day, when you know that your government has failed twice to free you from a foreign prison? I can't imagine he retains any hope that a government will negotiate his freedom at this point. It's clear that the US government has no concessions that the Russian government will take for Paul Whelan. And so Paul will remain a prisoner until that changes.
* * *
In a huge and unexpected development, Russia has released into US custody WNBA star Brittney Griner, after in October her 9-year prison sentence was upheld by a Russian court. She had already spent weeks in a harsh penal colony some 300 miles southeast of Moscow.
She was freed in a prisoner exchange which took place in Abu Dhabi Airport on Thursday. In return the Biden administration agreed to give up notorious international arms dealer Viktor Bout. US officials speaking to CBS say the deal had been reached by last Thursday, with the logistics details having been hammered out since then. Biden is imminently expected to address Griner's release and the prisoner exchange at 8:30eastern. Watch Live:
"To secure Griner's release, the president ordered Bout to be freed and returned to Russia. Mr. Biden signed the commutation order cutting short Bout's 25-year federal prison sentence," CBS reports.
But the report underscores, "Notably, the Griner-for-Bout exchange leaves retired U.S. Marine Paul Whelan imprisoned in Russia. Whelan has been in Russian custody for nearly four years. He was convicted on espionage charges that the U.S. has called false."
When Russian state media began first signaling that the Kremlin will pursue getting Bout back, and Secretary of State Antony Blinken starting over the summer hinted the administration was actually entertaining the possibility, it unleased a wave of controversy, especially given Griner's own recent public displays which some interepreted as "anti-US"… most notably refusing to stand for the national anthem and even staying in the locker room during its playing.
One commenter previously had this to say in summary of the controversial exchange for Bout:
"It took nearly 10 years for US to apprehend Viktor Bout, and close to 3 more years to convict him for terrorism and arms trafficking. Allegedly, thousands of civilians in multiple African countries, were injured and killed by weapons supplied by Bout. Fair trade for Griner?"
It's likely that the Department of Justice had been vigorously arguing against releasing Viktor Bout, considering it took a significant extradition process (from Thailand) to even get him into US custody over a decade ago.
Before his just-announced release, he was serving a 25-year sentence in federal prison after being convicted in the Southern District of New York for conspiring to kill Americans and conspiring to provide material support to terrorists.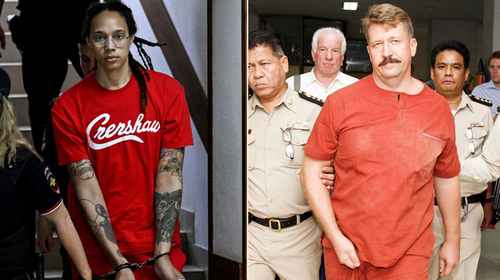 Already there's brewing anger that Paul Whelan, as well as another American locked up in Russia, 61-year old teacher Marc Fogel, over the widespread perception that they've been left behind.
Via Zero Hedge