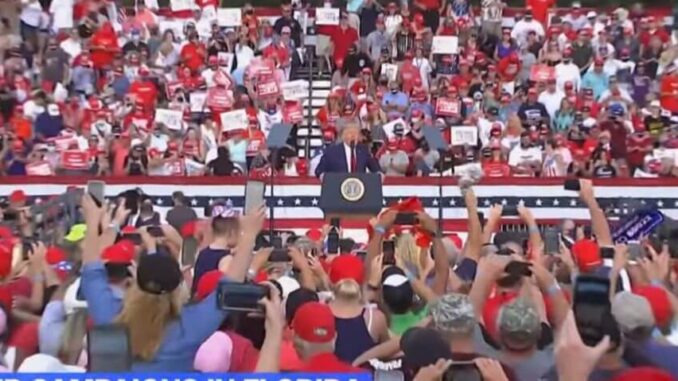 The fight between President Donald Trump and former Vice President Joe Biden to win over voters in the most crucial battleground states for the upcoming November 3 election is on.
This week, even though on the surface it appears that Democrats made an effort to stop the president's momentum at an upcoming rally, it completely backfired after Trump turned the tables by pulling off a calculated power move that presumably left Democrats with their jaws on the floor.
According to Fox News, a rally set to take place in Rochester, Minnesota was originally expected — like his other rallies — to draw tens of thousands of Trump supporters. However, due to the Democrat-run state's harsh rules concerning large gatherings during the COVID-19 pandemic, Trump's campaign was informed that they would be limited to 250 attendees at his rally — which ironically is still more people than Biden can draw on a good day.
While it's speculation at this point, it doesn't take a detective to deduce that the COVID-19 rules were enforced in the hopes that Trump would simply cancel his rally.
But the president, being the masterful political chess player that he is, agreed to the terms.
"Without question, Minnesota Democrats had hoped that the president would simply cancel the event, but he will not allow partisan politicians to deprive people of their First Amendment rights to gather peacefully to hear directly from the President of the United States," the Trump campaign wrote in a notice to those who signed up to attend the rally.
In the statement, the campaign also accused both Gov. Tim Walz and Minnesota Attorney General Keith Ellison of engaging in foul play with efforts to stamp out Trump's presence in the state and attempting to suppress First Amendment rights of Trump's Minnesota supporters.
Not surprisingly, Minnesota Attorney General Keith Ellison denied that they purposely tried to cancel what would otherwise be a 25,000-strong Trump rally.
"We did not cancel this event: Indeed, we have no authority to cancel events and have never cancelled an event," Ellison said in a statement.
Though Minnesota is reporting a spike in COVID-19 cases, that's also the case in several other states in which the president has held massive rallies. Trump has repeatedly stated that the pandemic is on the downturn and points out regularly that the only reason there are more cases is due to the extreme ramp-up of COVID-19 testing.
But even in other states where COVID19 is always a concern, Trump supporters value personal freedom and the ability to choose what level of risk they're willing to take by attending a rally. Though the mainstream media typically says otherwise, at nearly every Trump rally over the past month, rally attendees are often seen wearing face coverings.
While Minnesota only offers a presidential candidate 10 electoral votes, it would be a massive prize for Trump to win, as a Republican hasn't won The Gopher State since 1972. He only lost the state in 2016 to Hillary Clinton by a mere 1.5 percent.