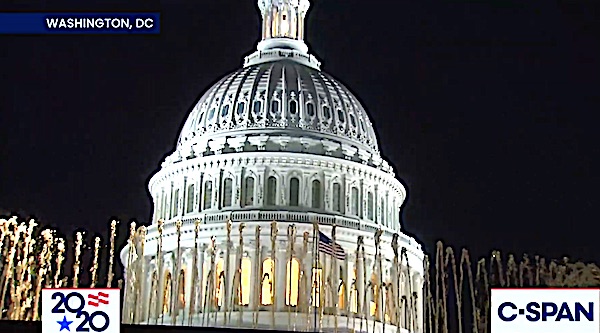 Several dozen members of the Pennsylvania state legislature are urging their congressional delegation to object to the Electoral College count when it is presented in January for confirmation, alleging Democratic Gov. Tom Wolf and other officials have undermined the integrity of the election.
"We the undersigned members of the Pennsylvania General Assembly, urge you to object, and vote to sustain such objection, to the Electoral College votes received from the Commonwealth of Pennsylvania during the Joint Session of Congress on January 6, 2021," they wrote.
Pennsylvania is one of the swing states in which President Trump had a huge lead after the polls closed. Then, in the overnight hours, vote "dumps" came in and were added that gave Joe Biden the lead. In Pennsylvani, Trump had a lead of about 700,000 votes with 65% reporting.
President Trump and his supporters are challenging the results in Pennsylvania and several other states.
The letter on Friday is addressed to Sens. Bob Casey and Pat Toomey, and Reps. Brian Fitzpatrick, Dwight Evans, Brendan Doyle, Madeleine Dean, Mary Gay Scanlon, Chrissy Houlahan, Susan Wild, Matthew Cartwright, Daniel Meuser, Scott Perry, Lloyd Smucker, Fred Keller, John Joyce, Guy Reschenthaler, Glenn Thompson, Mike Kelly, Conor Lamb and Michael Doyle Jr.
The lawmakers explained the legislature adopted changes to the election code, expanding voting access and adding safeguards.
"Unfortunately, Governor Wolf and others quickly set about undermining the many protections provided under this law," they said. "In particular: The Pennsylvania Election Code requires that all mail-in ballots be received by 8 p.m. on Election Day; Governor Wolf ordered that this statutory deadline be waived in some counties during the Primary Election, then sought its waiver statewide for the General Election. The Pennsylvania Election Code prohibits counties from inspecting ballots prior to 7 a.m. on Election Day; Pennsylvania's Secretary of State issued guidance encouraging counties to ignore this prohibition, to inspect ballots, and to contact voters with deficient ballots prior to Election Day. The Pennsylvania Election Code prohibits the counting of defective absentee or mail-in ballots; Encouraged by the Department of State, some county boards of elections ignored this prohibition, and have proceeded to include thousands of defective ballots in the certified count. The Pennsylvania Election Code authorizes poll watchers to be selected by candidates and political parties and to observe the process of pre-canvassing and canvassing absentee and mail-in ballots; Certain counties in Pennsylvania prohibited these authorized individuals from meaningfully observing the pre-canvassing and canvassing activities."
Consequently, the election tabulations are unreliable, they said.
They argued federal law allows Congress "to reject electoral votes that are not 'regularly given' or 'lawfully certified.' The aforementioned conduct has undermined the lawful certification of Pennsylvania's delegation to the Electoral College."
Congress would need to reject the Electoral College votes in at least three battleground states for the presidential election to be thrown to the U.S. House, where each state then would get one vote.


Via Wnd