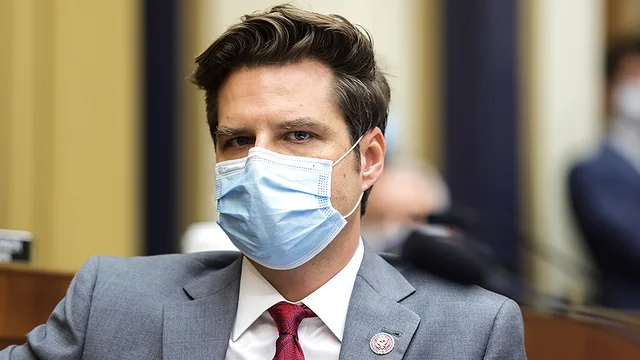 Speaker Nancy Pelosi (D-Calif.) suggested Thursday that the Ethics Committee should launch an investigation into allegations that Rep. Matt Gaetz (R-Fla.) engaged in sexual relations with an underaged girl, a case currently under investigation by the Justice Department.
Pelosi emphasized that if the allegations prove to be true, Gaetz would be subject to criminal penalties falling outside the jurisdiction of Congress to punish its own members, including efforts to strip transgressive lawmakers of committee assignments.
But citing the importance of maintaining "the integrity of the Congress," Pelosi indicated that the Ethics panel could examine the allegations while the Department of Justice continues its probe.
"If, in fact, these allegations are true, of course being removed from the Judiciary Committee is the least that could be done," Pelosi said on a press call. "But again, I think from what we've heard so far, this would be a matter for the Ethics Committee."
Gaetz, 38, a prominent ally of former President Trump and established star of conservative media, has churned countless headlines this week after The New York Times reported that the Justice Department is examining allegations that he carried on a sexual relationship several years ago with a girl who was 17 years old at the time.
As part of the probe, the Department of Justice (DOJ) is also seeking to establish if Gaetz violated federal sex trafficking laws by traveling with the girl across state lines.
Gaetz has denied the allegations vigorously, using Twitter and media interviews to proclaim his innocence. Gaetz contends that he and his family are the victims of a bribery scheme in which a former DOJ official sought millions of dollars from Gaetz's wealthy father in exchange for making the charges vanish.
"I know that there was a demand for money in exchange for a commitment that he could make this investigation go away along with his co-conspirators," Gaetz told Tucker Carlson, the conservative Fox News personality, in an interview Tuesday night.
In a bizarre twist, Gaetz this week has released documents and screen shots that he says reveal the extraordinary plan of the alleged extortionists: They intended to use the $25 million, he says, to rescue Robert Levinson, a former FBI agent, from Iran, where he was captured in 2007.
David McGee, the former DOJ official named by Gaetz, has vehemently denied the allegations.
Some Democrats, including members of the House Judiciary Committee, have called on GOP leaders to remove Gaetz from the powerful panel while the investigation evolves. But House Minority Leader Kevin McCarthy (R-Calif.) seemed to reject that idea earlier in the week, saying Gaetz has a right to remain on the committee unless his guilt is proven.
"Right now, Matt Gaetz says that it's not true and we don't have any information. So let's get all the information," McCarthy told Fox News.
Pelosi is not the only Democrat calling for an ethics probe into Gaetz's conduct. Rep. James Clyburn (S.C.), the third-ranking House Democrat, said he's hoping the matter is taken up by the Office of Congressional Ethics, an independent body that examines allegations of congressional misconduct and refers certain cases to the Ethics Committee.
"Someone needs to get to the bottom of all of this," Clyburn said Wednesday in an interview with CNN.