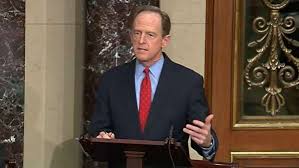 The North Carolina Republican Party condemned Sen. Richard Burr (R-N.C.) on Saturday for his vote to convict former President Trump during the Senate impeachment trial. 
Burr was one of seven Republicans who voted to convict Trump of the charge that he incited the violent insurrection that occurred at the U.S. Capitol on January 6. 
The Senate acquitted Trump in a 57-43 vote, short of the two-thirds majority needed for conviction. 
"North Carolina Republicans sent Senator Burr to the United States Senate to uphold the Constitution and his vote today to convict in a trial that he declared unconstitutional is shocking and disappointing," North Carolina GOP Chairman Michael Whatley said in a statement hours after the vote.
Burr said in a statement after his vote that the former president bears the responsibility for the events that befell the Capitol, and argued that the evidence that the House impeachment managers presented was compelling.
The vote was a surprise, given that Burr voted twice that the trial was not constitutional.
The North Carolina Republican was joined by GOP Sens. Lisa Murkowsi (Alaska), Susan Collins (Maine), Mitt Romney (Utah), Ben Sasse (Neb.), Pat Toomey (Pa.) and Bill Cassidy (La.)
Other North Carolina Republicans slammed the vote.
Former Rep. Mark Walker (R-N.C.), who is running to fill Burr's seat when he retires at the end of his term in 2022, sent out a fundraising appeal after the vote, according to the The Charlotte News and Observer.
"Wrong vote, Sen. Burr. I am running to replace Richard Burr because North Carolina needs a true conservative champion as their next senator," he said on Twitter.
The news is just the latest rebuke by state Republican parties to those lawmakers who have voted against the former president. Following the vote on Saturday, the Louisiana GOP released a statement saying that they would censure Cassidy for his vote to convict Trump.
Via The Hill