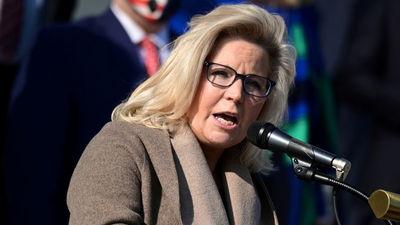 House Republicans voted to oust Rep. Liz Cheney (R-WY) as conference chair in a Wednesday morning vote, following months of brewing friction over her constant criticisms of former President Trump, according to Axios, citing two sources in the room. The decision was made by voice vote – which means there will be no accounting for who voted her out, or who wanted her to stay. According to The Hill's sources, "it was an overwhelming vote against Cheney."
BREAKING: Reports coming in that no one spoke up to defend Liz Cheney before the vote. Not even Kinzinger.

— Petrol Smuggler Poso (@JackPosobiec) May 12, 2021
The move to remove the #3 House Republican over her anti-Trump views "reflects the influence the former president still retains over the GOP," per the report, which adds that it's the most significant turning point in an internal party feud which essentially cements Trump as leader of the party – for now.
In response, Cheney said she vows to "do everything I can" to block Trump's re-election.
"I have tremendous affection and admiration for many of you in this room. I know we all came to Washington to do important work for the nation," Cheney said at the beginning of Wednesday's conference meeting, according to a source familiar with the remarks. "We cannot let the former president drag us backward and make us complicit in his efforts to unravel our democracy. Down that path lies our destruction, and potentially the destruction of our country."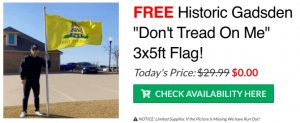 "If you want leaders who will enable and spread his destructive lies, I'm not your person, you have plenty of others to choose from. That will be their legacy," Cheney added.
Rep. Liz. Cheney speaks for after being ousted from House GOP leadership:

"I will do everything I can to ensure that the former president never again gets anywhere near the Oval Office."

Read more: https://t.co/2PNbDVypMq pic.twitter.com/SpWGqPwx9J

— Washington Examiner (@dcexaminer) May 12, 2021
Rep. Jim Jordan (R-OH) said Tuesday night that: "The problem is you can't have a Republican conference chair who continually recites Democrat talking points," adding "You can't have a Republican conference chair who takes positions that 90 percent of the party oppose."
Around 30 minutes before the GOP meeting, Trump weighed in – accusing her of promoting unnecessary wars and spewing "major Democrat talking point(s)."
"The Republicans in the House of Representatives have a great opportunity today to rid themselves of a poor leader, a major Democrat talking point, a warmonger, and a person with absolutely no personality or heart," said Trump in a brief statement.
Na na na na, na na na na, hey hey, goodbye Liz Cheney

— Rep. Madison Cawthorn (@RepCawthorn) May 12, 2021
Cheney, meanwhile, has been dying on the hill of the January 6th Capitol riot – saying in a Tuesday night speech on the House floor that she won't stop speaking out against Trump for trying to cast doubt on the 2020 election.
"Today, we face a threat America has never seen before. A former president who provoked a violent attack on this Capitol in an effort to steal the election has resumed his aggressive effort to convince Americans that the election was stolen from him. He risks inciting further violence. …" she said on Tuesday," adding "Remaining silent and ignoring the lie emboldens the liar. I will not participate in that."
"I will not sit back and watch in silence while others lead our party down a path that abandons the rule of law and joins the former president's crusade to undermine our democracy."
Freedom only survives if we protect it. We must speak the truth. The election was not stolen. America has not failed. pic.twitter.com/H4KrMxkPdy

— Rep. Liz Cheney (@RepLizCheney) May 12, 2021
More via Axios:
How we got here: Republicans have been unhappy with Cheney ever since she sided against Trump in his baseless claims of election fraud. She was one of 10 House Republicans who voted to impeach the former president for inciting the Jan. 6 Capitol insurrection.

In February, the GOP conference voted 145-61 in a secret ballot to fend off the first bid to oust Cheney from leadership.
House GOP Leader Kevin McCarthy supported Cheney at the time and said she "got a resounding shot in the arm" with the vote, insisting that it showed the party was "united."
Since then, Cheney has continued to criticize Trump, who has re-emerged publicly after his election loss and tightened his grip over the Republican Party.

Earlier this month, House Minority Whip Steve Scalise (R-La.) came out publicly in favor of replacing Cheney with Rep. Elise Stefanik (R-N.Y.). Trump soon followed his suit with his own endorsement.

Though McCarthy said publicly the House GOP had "no concern" about Cheney's vote to impeach Trump, he was caught on a hot mic saying he's "lost confidence" in her and "she's got real problems."
On Sunday, McCarthy made his position public and officially endorsed Stefanik to replace Cheney, telling Fox News that the GOP needs to be "united" with a conference chair who will consistently deliver the party's message.
Rep. Elise Stefanik (R-NY) is expected to replace Cheney as the chair of the House Republican Conference – a move endorsed on Sunday by House Minority Leader Kevin McCarthy.
"She's done as a member of leadership. I don't understand what she's doing," one former House GOP lawmaker told The Hill of Cheney's ongoing attacks on former President Trump. "It's like political self-immolation. You can't cancel Trump from the Republican Party; all she's done is cancel herself."