Join The Gateway Pundit and RSBN LIVE for all day coverage from our home state of Alabama as President Donald Trump holds a Save America rally in Cullman.
President Donald J. Trump, 45th President of the United States of America, will deliver remarks at a major rally in Cullman, Alabama, on Saturday, August 21, 2021, at 7:00 PM Central.
This rally will be hosted by the Alabama Republican Party and held in conjunction with the Alabama Republican Party's Summer Meeting. This rally marks President Trump's further support of the MAGA agenda and accomplishments of President Trump's Administration.
We have 5 hours left until President Trump arrives! We knew Alabama would show up! #TrumpRally #Cullman pic.twitter.com/DhC0VjIxiu

— RSBN 🇺🇸 (@RSBNetwork) August 21, 2021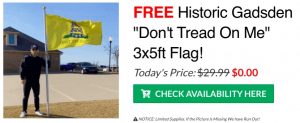 At 5 PM there are already 57,300 Americans watching the RSBN Livestream.