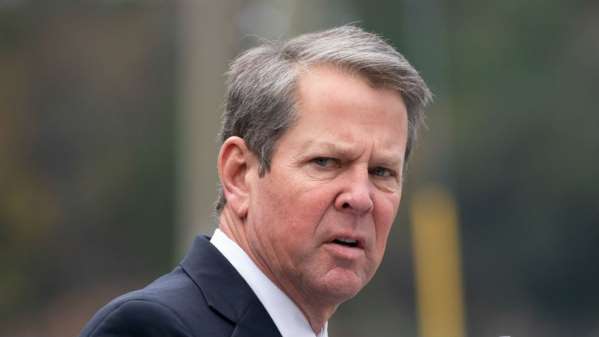 Georgia Gov. Brian Kemp (R) on Friday pushed back on President Biden's statement calling a new voting law "Jim Crow in the 21st century," arguing "it is obvious that neither" the president "nor his handlers have actually read" the bill.
Kemp in a statement shared with The Hill said the legislation he signed into law Thursday "expands voting access, streamlines vote-counting procedures, and ensures election integrity."
"There is nothing 'Jim Crow' about requiring a photo or state-issued ID to vote by absentee ballot – every Georgia voter must already do so when voting in-person," he continued.
He went on to say, "President Biden, the left, and the national media are determined to destroy the sanctity and security of the ballot box," and that "It is obvious that neither President Biden nor his handlers have actually read" the new law.
Kemp served as secretary of state before he was elected governor in 2018 after a race against Stacey Abrams, who has sought to advance voting rights in Georgia since her loss to the Republican.
"As Secretary of State, I consistently led the fight to protect Georgia elections against power-hungry, partisan activists," Kemp said in the statement. "As Governor, I won't back down from keeping Georgia elections secure, accessible, and fair."
The law enacted Thursday evening imposes sweeping voting changes in the state, including reducing the number of ballot drop box locations, requiring photo IDs to participate in absentee voting and reducing the time frame for runoff elections.
The new law also gives state lawmakers new powers over elections, and also allows the secretary of state to be removed from the top role overseeing elections should the State Elections Board determine a vote is in need of review.
On Friday, Biden issued a statement calling the new law "a blatant attack on the Constitution and good conscience."
"This is Jim Crow in the 21st century," he added. "It must end. We have a moral and constitutional obligation to act."
The law has prompted sharp criticism from other Democrats as well. They argue that it will only make it more difficult for certain segments of the population to vote, particularly those in low-income or minority communities.
Several like Biden have compared the law to Jim Crow-era voting restrictions on Black communities in the South, as it could impact the African American voters who turned out in record numbers in recent elections to secure electoral wins for Democrats, including Biden.
Georgia Secretary of State Brad Raffensperger (R), who along with Kemp faced repeated pressure from former President Trump to overturn the 2020 election results in the state, also issued a statement Friday in response to Biden's remarks, claiming, "There's no rational argument against requiring state ID – provided for free to those who don't have a driver's license – for absentee ballots."
"The left said that photo ID for in-person voting would suppress votes. It didn't," he argued. "Registration and turnout soared, hitting new records with each election cycle."
"Their cataclysmic predictions about the effects of this law are simply baseless," Raffensperger argued.
Via The Hill