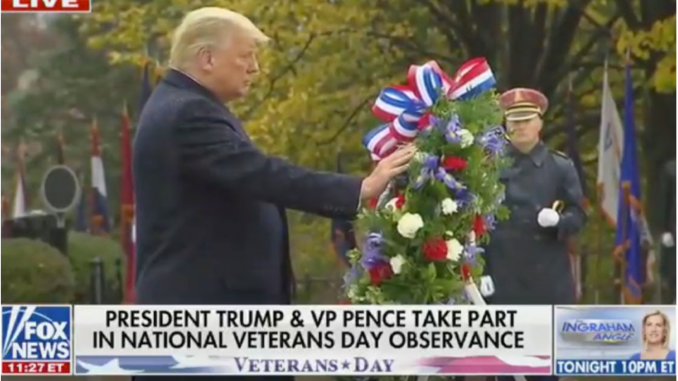 President Trump and Vice President Mike Pence participated in an annual wreath-laying ceremony at Arlington Cemetery's Tomb of the Unknown Soldier Wednesday as the nation honored its veterans and those who served in the military.
Vice President Mike Pence penned an op-ed Wednesday to honor Americans who served in the US military this Veterans Day; saying we gather each year to "pay a debt of gratitude" to those who "answered the call."
"From Bunker Hill to Belleau Wood, from San Juan Hill to Saipan, from the Coral Reef to Kandahar, nearly 50 million men and women have donned the uniform of the United States, and nearly 20 million veterans still walk among us. Today a new generation of American heroes and veterans is being forged around the nation and around the world," writes Pence.
"Our veterans really don't consider themselves heroes — most of them reject the very thought of it. My dad, a combat veteran from the Korean War, used to say with humility that the heroes were the guys who didn't make it home," he adds.
"Before the day is out — whether at home or at work, on a street corner, or over a backyard fence — find a veteran. Whether he or she came home in the last week or in the last century, extend your hand and say those words that veterans never ask to hear but they deserve to hear every day. Find a veteran today and say: 'Thank you for your service.' Because they deserve to hear it every day," concludes the Vice President.
Via Hannity