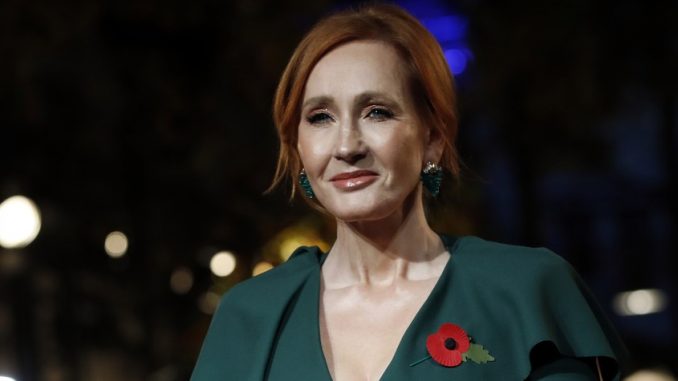 A secondary school in England that specializes in the performing arts has rescinded an honor bestowed to author JK Rowling over her views on transgender rights. Her name was placed on a house shield at the performing arts school and has now been removed. Her name was replaced by that of Olympic hero Dame Kelly Holmes.
The Boswells School in Chelmsford, Essex is "an extremely popular, academically successful, over-subscribed 11-18 school in Chelmsford", according to its website. The school put up for review the decision to name a house on campus in honor of Rowling after some parents and staff lodged complaints last summer. The announcement of the name change was made in the school newsletter.
It said: 'The Boswells House System embeds a sense of community, friendship and healthy competition amongst both students and staff.

'A strong house identity empowers our students to participate and thrive in all aspects of school life, both in and out of the classroom. Here at the Boswells we have 6 Houses which are represented by British citizens who have excelled in an area of our Boswells Learning Bridge which includes integrity, emotional intelligence, grit, resourcefulness, self-discipline and bravery.

'However, following numerous requests by students and staff we are reviewing the name of our red house 'Rowling' and in light of J.K Rowling's comments and viewpoints surrounding trans people. Her views on this issue do not align with our school policy and school beliefs – a place where people are free to be.

'Staff have been invited to put forward suggestions of names for the house. Once shortlisted a vote will go out to the whole school to select a new House name.'
The other schools are named in honor of Sir David Attenborough, Charlotte Bronte, John Travers Cornwell VC, Stephen Hawking and Florence Nightingale.
This is a very different attitude toward Rowling than was expressed when the school named a house in her honor.
They insisted she was perfect for the 'self-discipline' themed house because 'Rowling states that success takes constant practice, self-discipline and requires us to get up when we fail and try again.

'However, if we do not complete the tasks we set ourselves, then we will never create a foundation of self-trust and discipline to improve on in the first place.'
The self-discipline aspect is a nod to Rowling's personal story, which is very inspirational and serves as a good motivational story for young people. The road to getting her first book published was not easy but she persevered and the Harry Potter series of books have been hugely successful. A whole generation of young people grew up with those books, including my own son. I have fond memories of reading the early books in the series with him. I definitely have a soft spot for her as a children's book author. Her views on the transgender community are not out of line with many people, either. The school took a knee to those who were offended but not all parents agree with the decision.
One parent said: 'This is censorship – JK Rowling is a good example of achievement through adversity.

'Not everyone thought she should go, a lot of schools seem to be doing the same thing at the moment sadly.'
While Rowling does not believe that transgender people should receive special preferences and she does not accept the insanity of the use of 'people who menstruate' instead of 'women', she does believe in more than two genders. In other words, she doesn't support transgender women competing with biological women but her idea of genders isn't necessarily a traditional one.
Rowling wrote: 'Small but important point: I've never said there are only two genders. There are innumerable gender identities.

'The question at the heart of this debate is whether sex or gender identity should form the basis of decisions on safeguarding, provision of services, sporting categories and other areas where women and girls currently have legal rights and protections.

'Using the words 'sex' and 'gender' interchangeably obscures the central issue of this debate.

'If you're interested in what I actually said, see this – (in which I literally say 'trans lives matter' and 'trans rights are human rights.').'
So, there you go. The house has been re-named to honor a black Olympian medalist instead of Rowling. Rather ironic, right? Rowling supports women athletes against trans women entering women's sports competitions and she is replaced by a female athlete. I wonder what Dame Kelly Holmes thinks about the subject.
Two months ago, Holy Trinity Church of England Primary School canceled Winston Churchill and JK Rowling for not being diverse enough. The school for young children aged three to eleven, had houses honoring them as well as Sir David Attenborough and Emmeline Pankhurst. Pankhurst is best known for organizing the UK suffragette movement and helping women win the right to vote. The school claims that the young students asked for the house names to be more diverse. Really? Three to eleven year old children? Churchill and Rowling were replaced at that school with England star Marcus Rashford and nurse Mary Seacole.
In December, the Guardian held its Person of the Year poll and asked for readers to participate. Dozens of names were suggested, including JK Rowling. Then a weird thing happened. There were stories online that the poll was pulled by the Guardian because JK Rowling was winning it. However, now Newsweek is running a story that the poll story was a hoax.
A Guardian News and Media spokesperson informed Newsweek that there was no poll and dismissed comments from social media.

The spokesperson said: "Contrary to what you may have read on Twitter, there was no poll, and the Guardian does not run a person of the year feature.

"Nothing has been canceled. We regularly invite readers to share their views on issues in the news."
Clearly, the Guardian asked for their readers to send in Person of the Year recommendations and then wrote about who the readers submitted. Whether or not the publication went on to determine a winner is not clear. But, to say that the Guardian didn't do a Person of the Year feature is a stretch. It's easy to see why people would be taken in if it is a hoax, though, since it is a regular occurrence these days for Rowling to be canceled.
Via      Hot Air