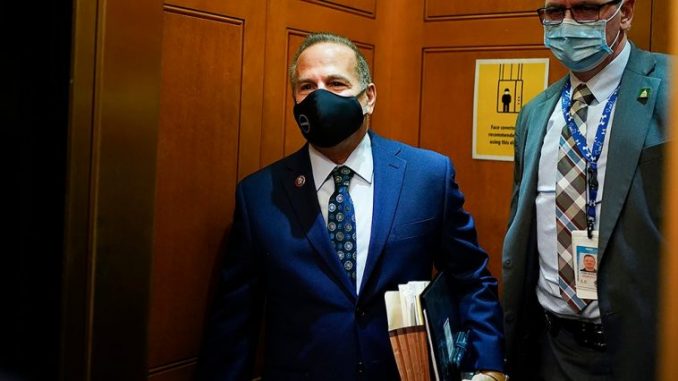 House impeachment managers Reps. David Cicilline (D-R.I.) and Joaquin Castro (D-Texas) wrapped up arguments on the second day of former President Trump's impeachment trial on Wednesday, using their time to make the case that Trump was directly responsible for the deadly Jan. 6 insurrection at the U.S. Capitol.
They showed dramatic never-before-seen video clips of the violence and juxtaposed some of the footage with tweets by Trump during the riot in which Democrats and some Republicans have deemed supportive of the pro-Trump mob overtaking the Capitol. The managers highlighted that Trump never told the rioters to leave, instead urging them to "remain peaceful" and saying he loved them.
"President Trump told his supporters over and over again, nearly every day, in dozens of tweets, speeches and rallies, that their most precious right in our democracy — their voice, their vote — was being stripped away and they had to fight to stop that," Castro told senators. "And they believed him. So they fought."
Cicilline and Castro both noted the then-president's attacks on then-Vice President Mike Pence after Pence said he would not intervene in the counting of Electoral College votes. Castro played a clip of one of the rioters reading a tweet over a megaphone during the riot in which Trump said Pence lacked "the courage" to take action.
Cicilline also noted Trump's attacks on Pence and his failure to "not once condemn the attackers."
"In fact, on January 6th, the only person he condemned is his own Vice President Mike Pence, who was hiding in this building with his family, in fear for his life. In the first crucial hours of this violent attack, he did nothing to stop it, nothing to help us," the Rhode Island congressman said.
Castro similarly hit Trump for failing to issue a call for the rioters to disperse and go home, citing numerous White House officials and Republican members of Congress who appealed to the president to make a statement.
"How simple would it have been to give a simple command, stop, leave," Castro told the Senate. "This was a dereliction of duty, plain and simple."
The Senate is unlikely to reach the necessary two-thirds majority to convict Trump and permanently bar him from office. While earlier only five GOP senators had voted to affirm the trial was constitutional in the first place, a sixth, Sen. Bill Cassidy (R-La.), joined them this week.
Via The Hill